ALBUM REVIEW: 7Horse wagers a straight 'Superfecta'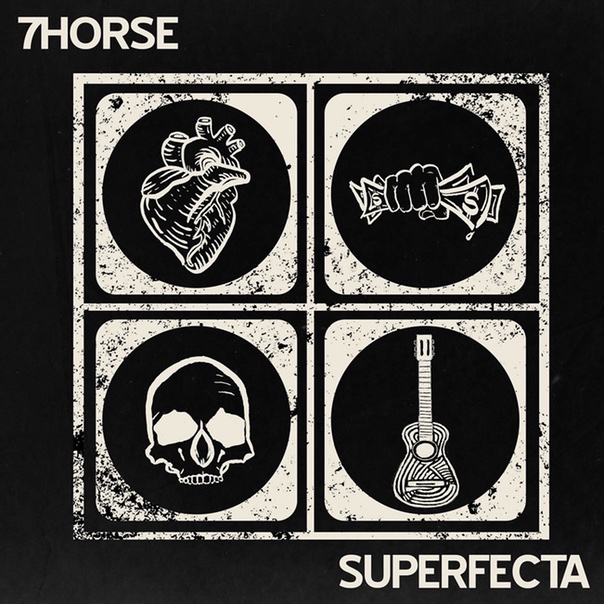 It's been two years since L.A. blues rockers 7Horse released Livin' in a Bitch of a World, and as 2018 comes to a close, Superfecta comes out to play. Singer-drummer Phil Leavitt and guitarist-bassist Joie Calio maintain their love for the hard-riffing blues rock of their previous three records. While experimentation is the focus of 7Horse's Superfecta, the album still sports moments of surprise and diversity.
Superfecta
7Horse
7Horse Music Ltd., Dec. 7
A Superfecta is a type of wager in which the bettor has to select the the first four finishers in a race. It's more unlikely than the better-known trifecta, but has a bigger payoff. 7Horse makes a wager on itself with the record.
"What Kind of Man" and closing track "Burn" provide Superfecta's artistic detours. From the beginning of the former cut, 7Horse evokes an old Western setting where at any moment a shootout could begin. With rustic guitar licks, ringing bells and faint whistle, that rowdy theme is prevalent. The few lyrics on "Burn" are spoken as if taken from an old-timey television news broadcast and the song ends with static taking over completely—like a fire finally encompasses the soundscape.
"VictorioUS" starts off Superfecta with a foot-stomping bang. The immediate clap-along beat drives its anthemic chorus: "We stand and fight/ It ain't wrong/ Yeah and it's all right/ Rise up with us and we'll be victorious!" The section of the song recalls Queen's "We Will Rock You" with stomp-clap backbeat and its call-to-arms. The last half of the track goes on a wild ride of wailing guitar solos. It closes with a continuous chant of "victorious!" leaving listeners feeling, like they, well, just won a prize fight.
"Shining Light" and "All My Friends (Hate Me In The End)" stand out as Superfecta's high-energy tracks. "Shining Light" is a love song filled with a growling detuned guitar and stomping beat that breaks in the middle with an screaming guitar solo. "All My Friends" is filled with infectious drums while singing the title in unison. A sudden hard-stop builds right back up to its energetic chorus, giving it room to breathe and oversaturate its rock and roll energy.
"Kicked In The Door" and "Something You're Not" are the album's bluesiest tracks. 7Horse always packs a few blues songs from album to album. The former has an upbeat guitar-picking pattern accompanied by lyrics sung in a happier tune. The song describes a relationship looking up after a negative spell.
After several lively tracks, the record comes to its most relaxed state with the emotional ballad "Broken String." Joie Calio passionately sings, "Broken string on this old guitar, can't play your song anymore." Calio's slow guitar strums and fingerpicking throughout create a dreamy, melancholic escape along with serene piano accompaniment.
Although Superfecta doesn't differ wildly different from the rest of 7Horse's catalog, it has more than enough variation of sounds and storylines to keep it interesting.