ALBUM REVIEW: Nick Valensi and CRX follow a new obsession on 'Peek'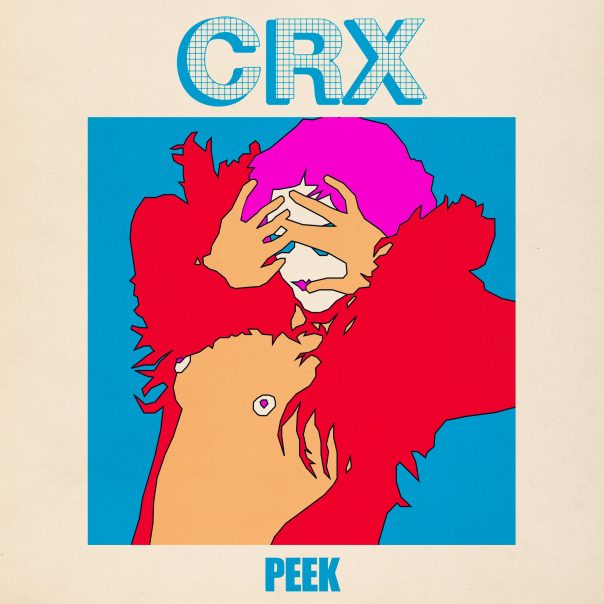 CRX's sophomore album, Peek, tackles both internal struggles and confronts a "back and forth" battle with people we encounter in day-to-day life. The project of The Strokes' guitarist Nick Valensi again blends garage rock, dance pop and punk for an infectious mix that will connect with listeners of multiple genres.
Peak
CRX
Columbia Records, Aug. 23
Peek opens with "We're All Alone," a five-minute disco jam that addresses loneliness that most might not even realize they feel. "Put down the phone and face it," Valensi sings. The song's topic is a frequent one from musicians these days: people are looking for companionship in technology instead of each other. Perhaps it's so popular in songs these days because at most shows, bands see more phones pointed at them than eyeballs.
Valensi, guitarist Darian Zahedi, bassist Jon Safley, keyboardist Brad Oberhofer and drummer Ralph Alexander then move into "New Obsession." This track again presents a heavy disco influence with an undercurrent of rugged rock and roll, the perfect cross-section for the song's lyrical discussion about a somewhat serious topic. The speaker here "loses all control inside" and struggles with the anxiety that comes with infatuation. The song title repeats as the rhythm section, particularly Safley's bass performance, musically reflects this state of unease with explosive, reverberant guitar chords and syncopated synthesizers.
Toward the beginning of "Get Close," Alexander's overpowering drumming takes over with an unwavering half-time groove. His air-tight beat imitates the heartbeat of the speaker as dissonant ambiance and nuanced modulations build the tension to a dazzling chorus. The song's mood shifts from passion to desperation as an electric guitar solo provides a transition from the first chorus into the ethereal second verse.
"I'm at your door/ Why won't you let me in?" Valensi sings. The song brings a dash of irony to the reestablished theme of obsession. While Valensi sings about life moving on, he can't end his fixation, following it wherever it takes him.
On "Falling" and "Criminals," Valensi confronts his internal struggles. These tracks' electronic textures have an underpinning of immersive keyboard ambiance. While the songs are consistently danceable and glossy, the frontman manages to remain true to his emotional quotient within that non-offensive context. His memorable melodies and softer timbre carry raw authenticity.
Lively electric guitar playing takes control on "Wet Paint" to represent a theme of getting back in the driver's seat in life and confronting fears. Valensi says that "all we do is ride, ride, ride" and "run away" when instead we should be steering ourselves to where we want to go. Again, the lyrics repeat; this time to reflect a state of exhaustion and weariness of a personal scuffle.
The dance-punk-meets-death-rock number "Crash" and the glam riffs of "Golden Age" convey the feeling of "drowning in the dust." Both cut the tension presented by others, as Valensi finally reaches his breaking point. The latter song specifically centers on breaking up the monotony in life. However, a personal transformation occurs as he pushes to "make a change." He foreshadows a light at the end of a tunnel.
CRX has a good reason for saving "Love Me Again" for the grand finale. Valensi's sassy vocals bring the finishing touch on the slithering electric punk keyboard playing, conveying a sense of urgency and passion as a theme of revisited love stands out as the main focus. Valensi has found a unique balance between glitzy pop and raw rock and roll, allowing him to croon his way into your heart before breaking it with his unabashed emoting.