ALBUM REVIEW: Guided By Voices stay on the grind with Warp and Woof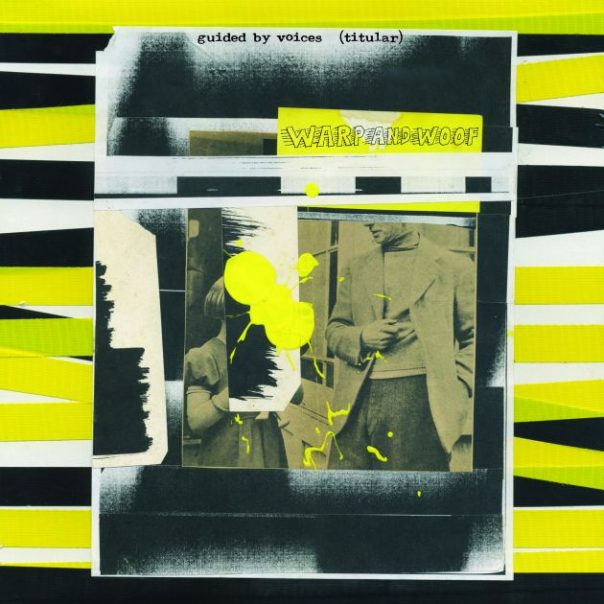 With 28 albums to their name over a career spanning decades, Ohio's Guided By Voices are themselves guided by the industrious creativity of Robert Pollard. His incredible work ethic and unmistakable songwriting have earned the band a hallowed reputation within lo-fi rock. He's hell-bent on pushing the pace, considering this 29th LP comes in hot on the heels of double-album Zeppelin Over China, released back in February It's quite the task, but Pollard and company rise to the occasion with 24 more tracks of gritty, unblemished rock.
Warp and Woof
Guided By Voices
Rockathon Records, April 26
Warp and Woof was recorded in makeshift recording spaces while Guided By Voices was out on tour. It shows in the album's spontaneous momentum. "Bury the Mouse" starts the record with bulldozing riffs and eerie dissonance, hitting hard and getting out quick. This sets the tone for a record full of short and sweet numbers. This isn't to say there isn't variety, as the acoustic grunge flavor of "Angelic Weirdness" maintains the same weight and melancholy of the opener.

The fleeting nature of each idea Guided By Voices present does become a double-edged sword. The minute-long interlude "Foreign Deputies" and the plodding groove on "Out of the Blue Race," while not long enough to become monotonous, feel unnecessary to the album's flow. Not only that, but several of these tracks have already been released on two EPs released earlier this year. The raw delivery and expressive singing is compelling in its own rite, but these tracks prove that lo-fi shouldn't be underdeveloped or derivative.
Those two are the only major low points on the album. Fans of the band's inventive ends from minimal means will have plenty to appreciate here. "Dead Liquor Store" features a pounding, straight-ahead beat and primitive guitar work reminiscent of proto-metal like Blue Chear, along with an inventive time change toward the end. "My Dog Surprise" and "Thimble Society" also represent the heavier end of the spectrum. The former has grimy chords, catchy vocal melodies and inventive lead work, while the latter has lumbering low-end fuzz. For its simplistic foundation, this album benefits from Guided By Voice's compelling balance of noisiness and calculation.
"Even_Next" spotlights the band's soft rock side as an elegant, swaying ballad. The inclusion of strings is unexpected, but their beautiful tones blend into the stark production. The atmospheric "Mumbling Amens" treads a similar path, with arpeggiated guitar leads and a dreamy chorus. Complete with passionate vocal melodies, the song's nuanced production prevails in spite of its rough edges. From the charming solo work and folksy acoustic strumming of "It Will Never Be Simple" to the noise rock tendencies of "The Stars Behind Us," this album deals its hand quickly but smoothly.
Given Pollard's central presence on Guided By Voices, these songs are more a vehicle for his vocal hooks. It's obvious he loves what he does—especially on the sunny alt-rock of "Cohesive Scoops" and the classic blues shuffle of "Photo Range." You'd have to love it in order to put out so much music without burning out. Whether it's a harmonic bass line or spirited vocal melodies, the music has garage rock vibes and substance to spare. It's not exactly for deep thinking, but this band doesn't have to rely on intellectualism. Listening to the janky vamps and Ramones-esque chord progression on "Tiny Apes" or the fast-paced call-and-response singing and rolling tom-toms.

"End it With Light" closes out the album with a jubilant bang and fun-loving punk and roll. That's really what Guided By Voices have built their reputation on: good songs without anything extra. Hardcore fans might be disappointed by the previously released songs reappearing here, but the flow remains cohesive. Warp and Woof is certainly more palatable than the 90-minute opus that preceded it while maintaining the no-frills songwriting chops that keeps Pollard and friends going strong.
Follow editor Max Heilman at Twitter.com/madmaxx1995 and Instagram.com/maxlikessound.