ALBUM REVIEW: HEALTH frees the 'Slaves of Fear' on fourth album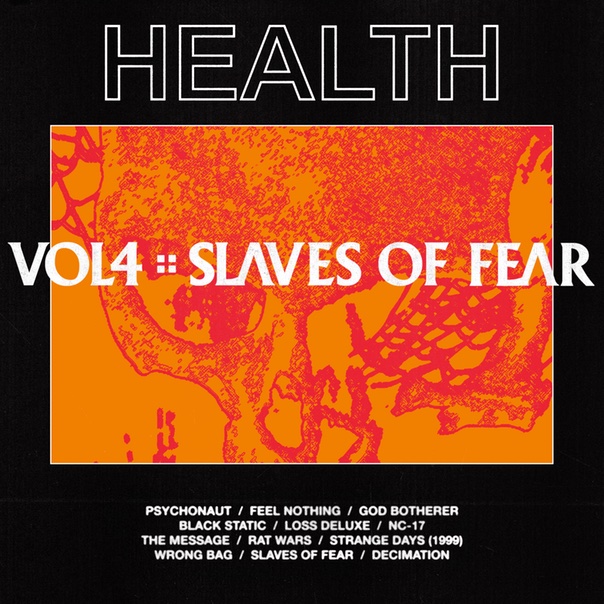 Echo Park's HEALTH stands out in L.A.'s noisy underbelly thanks to a remarkable balance of mind-numbing chaos and lulling vocal melodies. Building from the digital hardcore of 2007's self-titled debut and the hypnotic grooves of 2009's Get Color, 2015 album Death Magic realized the band's brand of "racket music." Elements of industrial rock, intelligent dance music (IDM) and dream-pop find a home on this exhilarating, immersive hybrid. After downsizing to a trio, HEALTH teamed up with producer Lars Stalfors once again to craft another round of artful death-by-rave: VOL. 4 :: SLAVES OF FEAR.
Vol. 4 :: Slaves of Fear
HEALTH
Loma Vista Records, Feb. 8
SLAVES OF FEAR contains some of HEALTH's most punishing material, but leaves plenty of room for hooks and experiments. The folky acoustic guitar playing that begins "PSYCHONAUT" is weird enough, but BJ Miller's drums blast through the pleasantries in fighting Atari Teenage Riot form. Jake Duzsik's somber synthetic voice floats above harrowing sound effects and a grating conclusion, unpacking the transience of life and the challenge of reconciling mortality with meaning.
The singles of SLAVES OF FEAR waste no time in distilling HEALTH's abusive volume and unpredictable arrangements into an infectious attack. The militant drum, synth and guitar hits of "FEEL NOTHING" hit like a jackhammer, but even the song's bleak resignation to escape through drugs finds a foothold on a sticky melody. These dismal themes reach critical mass on the dynamic title track.
As John Famiglietti's echoing bass lick drives Downward Spiral-era guitar riffs, HEALTH contrasts the chorus's four-on-the-floor beat with numerous atmospheric passages. This respect for space allows "STRANGE DAYS (1999)" to amalgamate overwhelming blasts, processed string arrangements and auto-croon trap production to an incredibly natural effect. Nebulous themes of substance abuse and inevitable demise recure as machine-gun rhythms coincide with glacial chords and eery synth lines.
Considering Stalfor's work with the likes of Lil Peep, it only makes sense SLAVES OF FEAR would break out some trap banger production. "RAT WARS" is the most obvious example, with rattling hi-hats, Roland TR-808 percussion samples and rumbling sub-bass. But HEALTH upends trendy sonics with seismic synth strains and eerie dissonance reminiscent of old-school U.K. dubstep. Ethereal guitar-synth ambiance and spectral vocoder melodies hover above the fray, reminiscent of latter-era Sigur Rós.
The underlying hip-hop production on "BLACK STATIC" finds another foil through a stark foundation of Godflesh-style detuned guitar chugs and a destructive backbeat. "Is the world ending/ Life is gonna break us down/ I say softly to myself/ Fuck your armageddon," Jake Duzsik sings in defiant nihilism, amid session guitarist David Sponaugle's celestial soundscapes.
While SLAVES OF FEAR favors brutish half-time over speedy IDM, "LOSS DELUXE" and "THE MESSAGE" provide some vital doses of adrenaline. The latter's explosive guitars get a harder edge from the feral snarls of Code Orange's Jami Morgan, while the former's post-apocalyptic synth-pop takes an unexpectedly accessible form—ironic, considering its despondent lyrics. Noise-mongering follows alongside the genre-bending, uniting this album's twists and turns in an interdimensional rave.
HEALTH isn't overly concerned with distinguishing each ingredient in its sonic soup, so long as the flavor tantalizes. It may be unclear where the guitar ends and synth bass begins on "GOD BOTHERER," but that doesn't lessen the effectiveness of monolithic drones and tectonic drums.
"NC-17" also revels in its instrumental ambiguity, with white noise stabbing through sci-fi noir ambiance. The band's disdain for boundary remains grounded in its cohesion as a musical unit. Their sonic ventures are always guided by dreary vocal melodies, depth-charge downbeats and blood-boiling riffs.
"WRONG BAG" encapsulates SLAVES OF FEAR's contrast between obliteration and serenity, divided almost in half between fracturing electro-industrial and glittering synth swells. Even so, HEALTH never loses sight of its human element. No matter how abrasive and odd these songs get, they sound like they were conceived and performed by people, not an algorithm. It's the closer, "DECIMATION," that brings this sentiment full circle as a heartbreaking ballad.
"If we're to fall/ What can I do/ Not of the flesh/ Alive in my head," Duzsik sings of a deceased loved one. His guitar and voice take on a crestfallen alt-rock form at first, but it's evolving beat inflates and final electronic crescendo inflates his harmonious chords to cinematic proportions.
HEALTH's left-field songwriting chops serve the band well on SLAVES TO FEAR. This fourth album manages to diversify and refine the band's sound with sticky choruses to spare.
Follow editor Max Heilman at Twitter.com/madmaxx1995 and Instagram.com/maxlikessound.