ALBUM REVIEW: Kadavar takes trad-metal to Transylvania on 'For The Dead Travel Fast'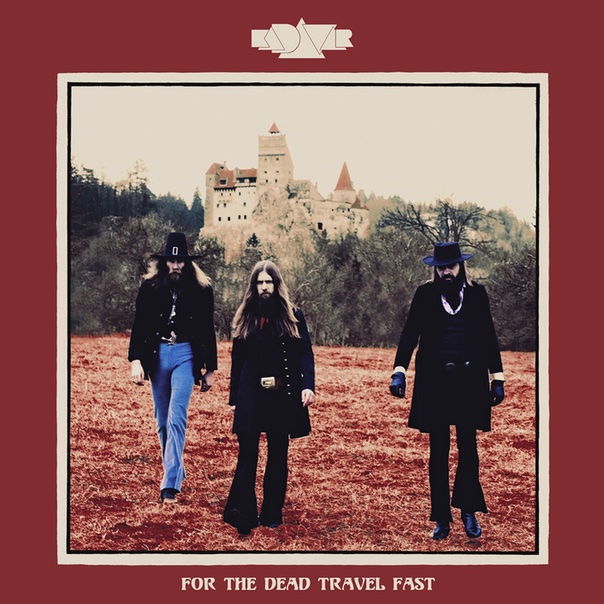 Germany's Kadavar harkens back to a time before heavy metal fully distinguished itself from rock. Almost half a century ago, bands like Black Widow, Goblin and, of course, Black Sabbath pushed the boundaries of hard rock with distorted, theatrical occultism. Alongside Sweden's Witchcraft and Graveyard, the trio reverently revitalizes that proto-metal blueprint with the knowledge of where it would eventually lead.
For The Dead Travel Fast
Kadavar
Nuclear Blast Records, Sept 20
After 10 years and four albums, Kadavar now embraces the fearful underbelly of its stoner-tinged doom rock. For The Dead Travel Fast taps into an energy similar to the B-list horror movies soundtracked by Goblin during the '70s. This album's unnerving aura and themes impart staying power to Kadavar's heavy metal thunder.
The haunting guitar chords, howling winds and ghostly singing of intro track "The End" immediately pave a path into the darkness. Kadavar took this malevolent presence very seriously, taking a trip to Transylvania (where the band took the album's cover photo in front of the castle purportedly home to Dracula. Singles "The Devil's Master" and "Children Of The Night" capitalize on this overarching theme while remaining true to Kadavar's established sound. The former's dramatic chords build to a bulldozing shuffle, while the latter crescendos via psychedelic synths to simple, catchy riffing.
The chemistry between vocalist-guitarist Christoph "Lupus" Lindemann, bassist Simon "Dragon" Bouteloup and drummer Christoph "Tiger" Barteltis is apparent right away. Their riffs evoke the legends, but grit and vitality seep through like a shrouding fog. These massive yet tasteful ideas reach critical mass on "Evil Forces."
Arguably the album's centerpiece, it sees Lindemann vocally embody Ozzy Osbourne and King Diamond, while his guitar channels everything from Sabbath to early Scorpions. The quarter note triplets at the midsection have obvious doom metal appeal, but Kadavar's guitar work relies more on metal's foundational power than low tunings and filthy distortion. The song just feels intense, especially with the witchy laughter topping off the song's overwhelming conclusion.
Both "Dancing With The Dead" and "Poison" bump the tempo up with propulsive beats and some simple, sticky guitar leads. The former's chorus benefits from devilishly catchy singing in the chorus and the latter engages in some tasty call-and-response licks from vocals and the instruments. Both cuts are able to incorporate complex atmospheres and multifaceted arrangements without resorting to proggy indulgence. Kadavar impresses not necessarily with technical ability, but with how the band executes its ideas. It also helps to have authentic analogue production backing up crunchy guitars and earthy, syncopated percussion, as the romanticized horror narrative deepens the album's sense of dread.
Though initially envisioned as a synth-heavy album, For The Dead Travel Fast has a solid array of sounds from within its core instrumentation. "Demons In My Mind" takes a wah-wah pedal to a wall of guitar noise over rapid-fire drum fills and anthemic vocal melodies. "Saturnales" stands out for its dreary, ambient feel—with no percussion or distortion getting in the way of its forbidding sentiment. Lindemann's lyrics naturally stand out in this environment, recalling a time when bands emphasized macabre fantasy over tear-stained love stories. The album's synthesis between storytelling and musicianship is pronounced but open-ended, allowing room for interpretation.
The nearly eight-minute "Long Forgotten Song" ends For The Dead Travel Fast with its heaviest and most diverse track. Exploding from a swaying three-count waltz to a hammering doom riff, Kadavar saves its most emotive passages for last. Rapturously vocal melodies, brain-bashingly heavy guitar strains and intensely dynamic percussion help this track vividly realize this album's efforts. It solidifies Kadavar as a true standard-bearer for retro rock, reflecting passion and conceptual depth.
Follow editor Max Heilman at Twitter.com/madmaxx1995 and Instagram.com/maxlikessound.