ALBUM REVIEW: K.Flay looks to family and finds hope on 'Solutions'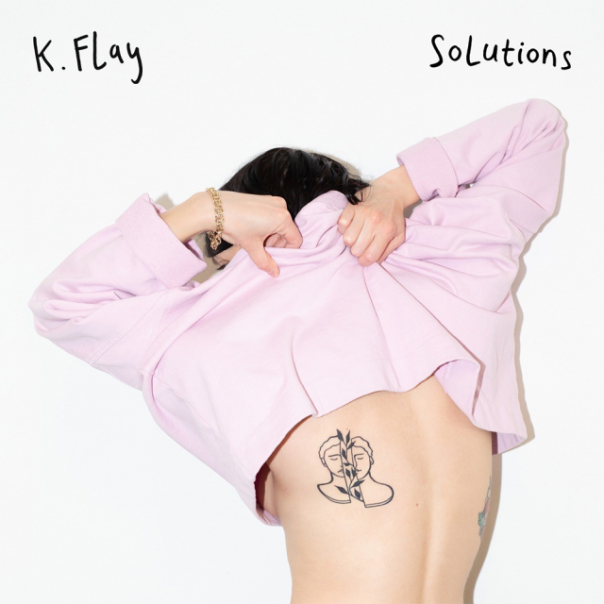 Kristine Flaherty, better known by her stage name, K.Flay, returns with her third LP, Solutions. The album presents a very personal and introspective take on the rapper turned alt-pop singer-songwriter. The album is less of a stylistic transformation, instead showing a natural progression of Flaherty's sound. The hip-hop flow is still there, but it manifests far more melodically and lyrically than K.Flay's past overt rap delivery. Lyrically, much of the album is an emotional response to the world around her, and looking for a positive light in an age when it's easier than ever to be lost in a shroud of negativity. The heavy lyrical content is mashed up against huge, danceable and infectious pop rhythms.
Solutions
K.Flay
Night Street/Interscope, July 12
Nowhere is the album's mission more evident than the bastion of energy that is the opening track, "Bad Vibes." Driven by frustration with the societal and cultural trend of constant negative energy, K.Flay channels her social interactions into song by proclaiming, "You're the sequel that sucks," at the worst offenders. The song's grandiose synths and firm backbeat provide an antidote, ushering in the album's positive message and tone.
Flaherty shares these sentiments on "Good News," a bouncy electro-pop track about overcoming the seemingly overwhelming barrage of bigotry and hate. Her powerful hooks and intense delivery drive home her resolve to transcend complacency and fight against malicious messaging.
Themes of family also plays a major lyrical influence throughout Solutions. Early track "DNA" serves as a heartfelt, bittersweet tribute to her birthfather's struggles in comparison with her own personal development. "My mother says I'm tough like you/ Even in the ways that she don't like," she sings. The family motif returns later in the album on "Sister," an upbeat anthem about the unconditional love between siblings over airy, synth-heavy instrumentation.
One of K.Flay's best qualities is her lyrical realism, which conveys relatable everyday emotional struggles. Songs like "I Like Myself" tackle the process of falling victim to an unhealthy obsession and overly competitive societal standards: "Everybody wants to count their calories, and money and their likes/ Baby, my job is just to rhyme and I'm fine with that." The song acts as an anthem of self-worth and realizing that being "OK" is OK.
Flaherty touches on the disfunction of relationships in the quirky and experimental, but oddly infectious "Ice Cream." The upbeat ballad "Nervous" seemingly covers Flaherty's journey to newfound love with fellow musician Miya Folick. The two came out publicly with their relationship earlier this year.
The album's overall focus is on overcoming—whether it's negativity, complacency or conformity. "Not In California" embodies the apathy and compliancy many feel toward the battle against climate change, touching on the greater problem of hiding from issues behind a hopeful, carefree spirit. The album closes out on a more positive note through the bass guitar-heavy alt-rock groove of "This Baby Don't Cry." It's an anthem to freedom and individuality, co-penned by Imagine Dragons frontman Dan Reynolds.
Solutions provides a raw and heartfelt look into the emotional psyche of K.Flay. Though the arrangements fall very much in line with her usual style, this album abounds with relatable and infectious pop songs about overcoming the odds.
Follow writer Mike DeWald at Twitter.com/mike_dewald.