ALBUM REVIEW: Knocked Loose hones its sound with 'A Different Shade of Blue'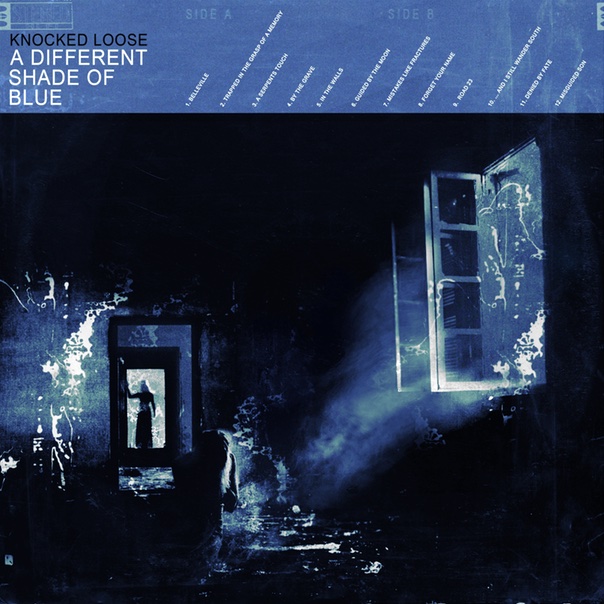 Hailing from a formerly dry county in Kentucky, the five sludgecore warriors in Knocked Loose pick up right where they left off with 2016's Laugh Tracks—slamming ears. For its second LP, the band again teamed up with engineer Will Putney to deliver a crisp artifact of punishing sound.
A Different Shade of Blue
Knocked Loose
Pure Noise Records, Aug. 23
The band still revels in scooped rhythm guitar chunks from Cole Crutchfield, the toxic spidery leads of Isaac Hale and Kevin Kaine's robust drumming, while Kevin Otten thickens things up on the bass end. Tasty cohorts are evident in Knocked Loose's sound. The favorable comparison is Converge, and the marginal comparison Pantera—minus Dimebag Darrell—but spooky Southern gothic gloom a la Eyehategod, and Swedish death metal influences also appear. Though it could have benefited from more forays into the aforementioned styles, A Different Shade Of Blue sees Knocked Loose hone its skull-cracking craft.
Right off the bat, the cover of A Different Shade of Blue signals the band's rising ambition. Its trim layout evokes a meld of 1960s jazz records and 1990s art punk, suggesting a certain level of vintage sophistication. It's a tonal contrast to the graphic novel aesthetic of Laugh Tracks.
Eschewing the brevity of its debut, Knocked Loose demands your full attention this time out. This collection of ragers scarcely wastes a breath as it constructs a sonic pillar of mosh soundtracks specially built to crush the listener. Each musician is meticulous in molding the band's aural intensity.
Arguably, these guys try a bit too hard to be dark—must every song be about regret, or life wasted in the darkness? However, Knocked Loose conjures convincing drama, like the stark, death-metal-inspired riff that introduces "By The Grave," or the creeping, almost blackened dirges of "Guided by the Moon."
Vocalist Bryan Garris' screams inhabit the treble range, adding an arresting clarity within the low-end ferocity employed by the rest of the band. Garris invites us into his personal hell with anguished lyrics and torturous delivery. "Died from silence when I cried out/ I cry out for an answer," he wails on lead single "Mistakes Like Fractures."
But no answer is forthcoming in his bereaved world, leaving him to howl for it all to make sense. He lets out a gloriously raw scream to kick off opener "Belleville," and sustains this virulence throughout the entire album. Though not quite on the level of "Last Words" from the debut, Garris paints a convincing picture of eroded faith.
Knocked Loose continues to triumph in terms of rhythmic precision. A Different Shade of Blue comes tightly packed with surprise stops and surgical tempo changes. "A Serpent's Touch" brilliantly exercises the band's trademark, accentuating the heaviest aspects of an idea via diabolically subtle changes in slowness without losing power. In this case, Knocked Loose executes a slow-to-slower ego drag-down that ends bitterly.
This proclivity for breakdowns works against the band when it disrupts the album's flow. There's little here to suggest the band is interested in transcending the model of thuggish beatdown riffs. There are so many slow parts, their quantity detracts from their heaviness. "Denied By Fate" begins as though Knocked Loose is finally going to pummel you with something unapologetically reckless. Within two minutes, the track reverts back to headbanger chugs and the mere rumination of future antisocial acts.
Listening to this album can create a longing for something to come flying out of left field—whether it's speedier, more energizing songs or Chuck-Schuldiner-style guitar solos—but that never fully materializes. Still, it's a compliment to Knocked Loose's abilities as a band to at least dabble in the elements that would push it toward greatness.
For all this, Knocked Loose comes through with a tentative, burgeoning feel, inhabiting a suffocating headspace between bated breath and breath held. "…And Still I Wander South" is a synthesis of all the band's recipes, featuring clanging arpeggiated guitar leads and conjuring specters with a haunted atmospheric outro. Knocked Loose strategically builds tension to bushwhack its way back into the fray with sludgy breakdowns. Though certain sections can feel like filler before the crowd-pleasing mosh parts, the barbaric frenzy hits like a psychopathic self-driving semi truck.
The niche Knocked Loose finds in the hardcore scene makes its second album a worthy listen for fans of blood-pumping metallic hardcore. A Different Shade Of Blue presents a concise, intentional and more developed package than much of its competition.
Follow writer Alexander Baechle at Instagram.com/writheinsmoke.