ALBUM REVIEW: Madonna attempts to make 'Madame X' relevant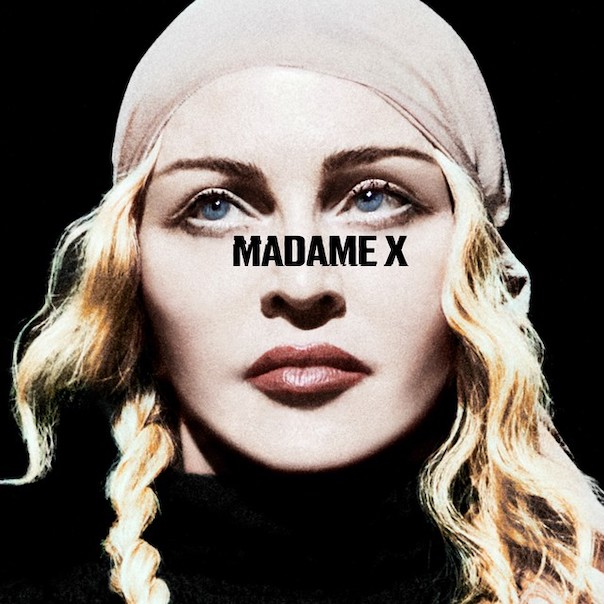 Ever since she stepped into the spotlight in the '80s, Madonna has been putting out iconic pop anthems that transcend time. She's reinvented herself many times, so it's surprising that her newest album Madame X falls flat in comparison. The album lacks a central theme, leading to a disjointed listen. The songs don't flow into each other, which would be OK if they each had their own respective worth. Unfortunately, few of them stand out enough to be played on repeat. Even features from Maluma, Quavo, Swae Lee and Anitta can't bring Madame X the relevancy Madonna needs this far into her career.
Madame X
Madonna
Interscope Records, June 14
The second song on the album, "Dark Ballet," was very difficult to get through. She has said it's inspired by Joan of Arc, and it comes through in really obvious ways—just not very well. The metaphor is shoehorned into a forgettable song, composed of two distinct halves that don't go together. The difference is jarring. Piano, synth and even lyrics fall short. The song ends with the words, "Can't you hear outside of your Supreme hoodie/ The wind that's beginning to howl?" which sounds like grandparents trying to be "hip and cool with the kids." No one who follows designer clothes cares about Supreme anymore, and it's clear she thought she was making a cutting point.
"Future," the album's fourth song, features Quavo of hip-hop trio Migos. This collaboration might seem a little out there, and that's apparent on the song's arrangement. A tropical, upbeat rhythm, the guitar playing and horns contrast with its somber, political meaning. She is critiquing society's inability to learn from past mistakes like genocide, war and many of the other tragedies that have occurred and still continue to happen. It could have been a clever juxtaposition, but Quavo isn't exactly the right vessel for irony. His verse feels like it was added as an afterthought. It didn't add anything to the song, which is the exact opposite of what the audience would expect considering the weighty subject matter and the iconic nature of the collaboration.
The following "Batuka" is a bit better. She enlists the help of the Batukadeiras Orchestra for supporting vocals, adding deeper dimensions to the song. The entire song has a callback structure that could have gotten repetitive, but the backing vocals constantly change to keep listeners' interest. The instrumentation combines hard-hitting tribal percussion with contemporary synths, while its lyrics again engage in the modern political climate—this time of President Donald Trump. She has been an outspoken critic of his policies and business ethics, so this song ties into a real and passionate part of her life. While the song is not particularly engaging, it rises above the low bar "Future" set.
Madam X follows a mountain structure in the sense that the best songs come in the middle. It's an uphill battle to get through the first half to get to "Crazy" and "Come Alive," and it's a fast fall back down on the second half.
"Crazy" is the eighth track and it is the high point of the album. Its stripped-down feel uses almost no synth, allowing you to focus on the accordion and her voice. This song is more of an homage to her previous works with references to "Like a Prayer" and her Erotica album. It's about a lover who is intimidated by her, leading her to want him gone for the sake of her peace of mind. The chorus is sung half in English and half in Portuguese, following a similar callback structure to "Batuka." It's the mellowest song on the record, but her voice is powerful enough to keep the listeners' interest.
"Come Alive" is lyrically repetitive. It's dominated by the hook—"Come alive"—which seems to take up 90 percent of the words. The instrumental is what saves it, providing a large variety of beats and arrangements. The opening line, "I'm in the sky where I oughta be at/ I've been watching you," sounds like she's singing as though she is God, a relatively appropriate vantage point considering her massive pop culture status. The song is about manifesting and speaking one's dreams into existence and taking charge of one's own destiny.
The album ends with "I Rise," on which Madonna samples Parkland Florida high school student Emma Gonzalez's speech at the March For Our Lives rally. The song centers on government's irresponsibility on gun control. In short, this song is all over the place. She tries to cover as many social issues as she can in under four minutes, a decision that dilutes the overall message. The contemporary, dynamic instrumental does reach some head-bobbing summits, but the directionless concept is left wanting.
Madame X is an underwhelming release from the queen of pop. While there are a few compelling passages, it drags on too long. Without a potent message or memorable production, it's more of an attempt at relevancy than a solid comeback.
Follow reporter Aarushi Nanda at Instagram.com/aarushi_nanda and at Twitter.com/aarushi_nanda.