ALBUM REVIEW: Ought's Room Inside The World is an image-altering success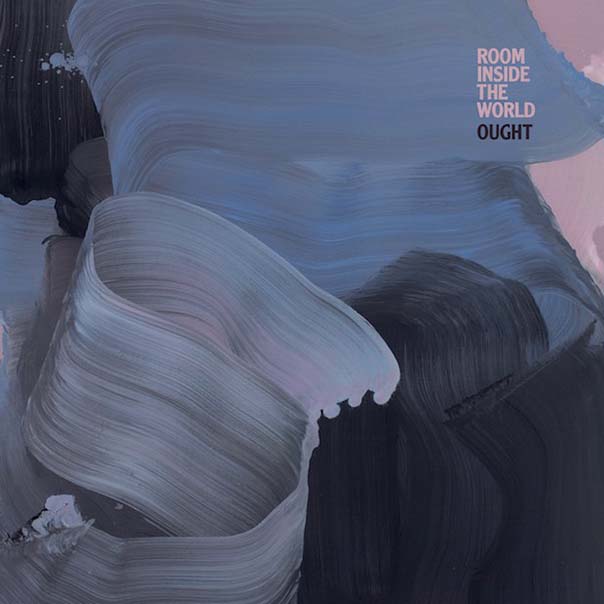 Over the course of seven years, the Tim Darcy-led Montreal quartet Ought cemented itself within the top tier of the recent wave of contemporary post-punk. It succeeded in unearthing beauty and comfort with a suburban lifestyle and all of its mundanities with its first two albums, More Than Any Other Day and Sun Coming Down. With the band's third LP, Room Inside the World, Ought is politically charged lyrically, yet produces a paradoxically less brash but just as bold approach to sound while staying true to its zany ethos.

Room Inside The World
Ought
Feb. 16
For a label that has gained notoriety for releasing artsy indie-rock, Merge is the most appropriate label to release Ought's latest, as Room Inside the World is a record that sees the Montreal outfit refine its post-punk sound into a less noise-oriented, art-rock emulation of musical maturity.
But before getting excited over the band's development, take caution: This album is what most people would call a "grower."

Outside of the record's first three singles, "These 3 Things," "Disgraced in America" and "Desire," Room Inside The World demands listeners' undivided attention in order to truly appreciate it. There are weighty lyrics that take time to unpack and there's a progression in instrumentation and nuances within that only reveal themselves through multiple spins and a leap of faith.

Nevertheless, the band is coming into its own, delivering a more refined post-punk suite that drips with grandiose production against textured backdrops, and never veers too far into experimental extremes.

Take the track "Pieces Wasted," for instance: It's clear that Ought is more confident in its post-punkisms, yet the band predominantly relishes in less boastful moments and opts for slower builds—a stark contrast considering the band's past success with agitated sounds and production. By adding more space to its sound, Ought give itself room to breathe and strikes enough of a balance between artsy and anthemic to make for a really fantastic listen.

Exactly half of Room Inside The World, songs five through eight, possess the anthemic sensibilities of dreamy art-rock, some of which recall more melodic and dreamy modes of no wave, like Dirty-era Sonic Youth or Holy Money-era Swans. The other half is a more frenetic and sprawling gape into the heart of a post-punk world with hints of new wave beneath as melancholic guitar lines and subtly percolating synths suture together little tessellations of what Ought has become. First single "These 3 Things" is the centerpiece of that evolution.
"These 3 Things" is an exhilaratingly concise example of Ought's prowess and maturation within its field. This is economic art-punk of the highest order; it's less post-punk, fuzzy production and instead more new-wave-y with crisp and clean production. There's a heavier filling of synths, vibraphone and even a 70-piece choir on the album's marvelous, emotionally nuanced third single, "Desire."
With an expanded sound, Room Inside The World may end up disgruntling avid Ought listeners. The post-punk specialists eschew some of the heavier grooves from tracks off their previous album, like "Men for Miles" and "The Combo," in order to progress toward a more melancholic and refined version of its debut. That is obvious on tracks like "Take Everything" and "Into the Sea." Because Ought has reinvented itself with the latest record, we also see the band push its polished, slow-burn approach into genre-bending territories. It has finally shed its flattering-yet-inseparable description of "Talking Heads meets Television."

Now to the band's biggest draw: Singer-guitarist Tim Darcy's vocals remain as eccentric and electrifying as ever. Darcy is a subtly theatrical vocalist. His voice is, for the most part, calm and collected. But he'll occasionally jump into a Bowie-like yelp. Because he can easily and quickly swich between styles, his uncanny ability translates almost perfectly on songs like "Pieces Wasted." He exaggerates his timbre here, but fluctuates into foreboding ranges channeling his inner Michael Gira near the end of the track. That being said, Darcy's voice never sounds out of place as he mutters his way through the record with levity and true singularity, like Scott Walker fronting Wire. His vocal performance on "Disgraced in America" and "Desire," the latter a towering centerpiece, is astounding.

While Ought shed its sonic comparisons to the Talking Heads, Darcy's witty lyricism remains eerily similar to David Byrne's. On Room Inside The World, Darcy continues to make a habit out of rendering mundanity surreal and abstract. With the heavily political "Disgraced in America," Darcy's words are hard to distinguish because the lines are so short and choppy: "What if I said/ They built it themselves/And it feels so good." Is this about Trump's wall? Nevertheless, Darcy's usual sarcastic sneer and sense of cynicism prevails.

With these elements coalescing harmoniously, Room Inside The World is an album perfectly pitched between delusion and hope, tension and release. But the most profound aspect of Ought's new direction is that the band finally uncovers its inventive, vulnerable core, and it's all the more magical and reinvigorating with Darcy leading the progression.
Follow writer Kyle Kohner at Twitter.com/kylejkohner.