ALBUM REVIEW: Poliça and Stargaze reach beyond genres on Music For The Long Emergency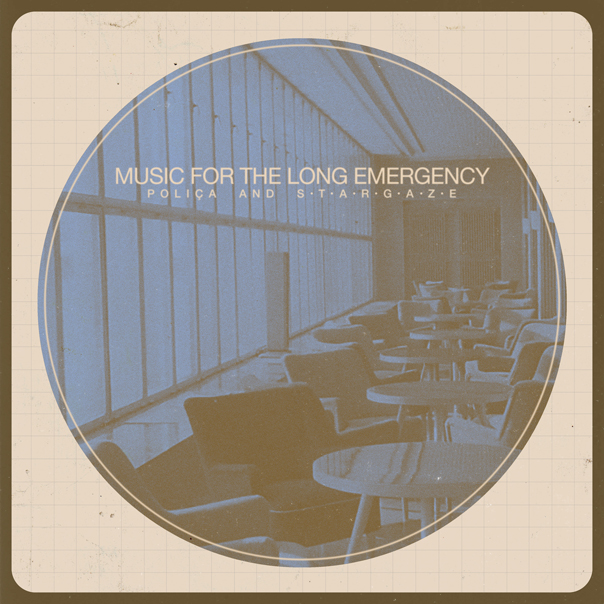 Spurred by the success of their initial collaboration back in 2016 and their 2017 rendition of Steve Riche's "Music for Pieces of Wood," Minneapolis indietronica experimenters Poliça and Berlin contemporary ensemble Stargaze have furthered their joint efforts. As both groups discovered how naturally their respective approaches could synthesize, the resulting cross-genre LP Music For The Long Emergency come as a courageous stand for truth and beauty in the midst of turbulent times.
Music For the Long Emergency
Poliça and Stargaze
Feb. 18
The lengths Poliça and Stargaze took to balance out their creative input pay off spectacularly. The hallmarks of both acts have room to blossom without one overpowering the other, co-piloting the album's direction. Opener "Fake Like" immediately emphasizes this seamless integration. Drummer duo Drew Christopherson and Ben Ivascu's slow-and-steady backbeat and Chris Bierden's melodic bassline set the foundation, as strings, woodwinds and horns expand the song's dynamic and harmonic texture while remaining nestled within the song's structure. The striking results allow vocalist Channy Leaneagh to reconnect with her classical roots to a beautiful effect, setting a tone for a natural meeting of minds.
"There was a lot of space in their music, in those electronic soundscapes," Stargaze conductor André De Ridder said about Poliça's ambiance. With in-house producer Ryan Olso's aid, the band excels in minimalist electronics, an aspect De Ridder sought to elaborate upon. "Agree" exemplifies the fruits of this labor, with classical instruments imparting acoustic warmth to synthetic drones. Christopherson, Ivascu and Bierden's rhythm structure flourishes in this new context, as does Leaneagh's angelic singing. She effortlessly matches the music's melodious nature, sending her tales of romance in chaos into the heavens.
Though Music For The Long Emergency centers around the struggle to retain humanity in the face of worldwide calamity, these seven tracks mostly translate as separate ideas, providing unique perspectives on an overarching concept. "Marrow" certainly shifts gears with its unrelenting electro-funk half-time, bass synth stabs and distorted sing-screaming, emphasizing Poliça's evolving rhythms and Stargaze's capacity for harrowing dissonance. Instead of shoehorning cinematic proportions into a synth-pop banger, or vice versa, the symbiotic relationship between these players steals the spotlight as they push each other into exciting creative realms.
De Ridder made an intuitive decision to lean away from the traditional timbre of his orchestra's instruments to assimilate them to Poliça's keyboard patches, as exemplified by the opening French/English horn melody "Speaking Of Ghost." The inherent resonance in these instruments abounds, but players' chosen affectation coincides with Poliça's alt-R&B flavor, even as flutes and strings elevate Leaneagh's soaring melodies far beyond expectations.
This musical synergy translates just as well into the aggressive breakbeat driving most of "Cursed." Animalistic vocalizations cadence the song's nihilistic diatribe through agitating noise, concussive percussion and spiraling trills, which end the song like a collapsing supercomputer. This record pushes both groups far beyond expectations even before the final two tracks increase its impact tenfold.
Noticeably more fleshed out, "How Is This Happening" provides the perfect setup for the album's finale. Its dreary aura derives from the shock and uncertainty brought by the election of Donald Trump. Leaneagh's semi-improvised lamentations drift through the amorphous gloom, illustrating the emotions of everyone involved as they struggle through feelings of dread and hopelessness. As plodding rhythm and lonesome horn lines creep into the mix, synth manipulations and monolithic orchestral strains branch from song's basis in isolated grief—to which the closer provides the perfect foil.
Finding its footing in a recurring low piano thud, the title track's majestic modulations send its dynamic range soaring through the atmosphere, but not before otherworldly textures throw listeners for one last loop. Poliça's tight indie rock rises to Stargaze's Richard Strauss levels of symphonic power, and still fades away in harmonious resolve—closing out one of the most impressive outings in both of their careers. With electro-acoustic music gaining traction in contemporary music circles, Music For The Long Emergency is an indispensable example of fringe indie pop and modern classical music together painting a dazzling picture of the human soul enduring through tragedy. As astonishing as it is infectious and as emotive as it is proficient, this collaboration will surely stand the test of time as a cross-genre triumph.
Follow writer Max Heilman at Twitter.com/madmaxx1995.