Album Review: London's Pumarosa gets supernatural on debut album, The Witch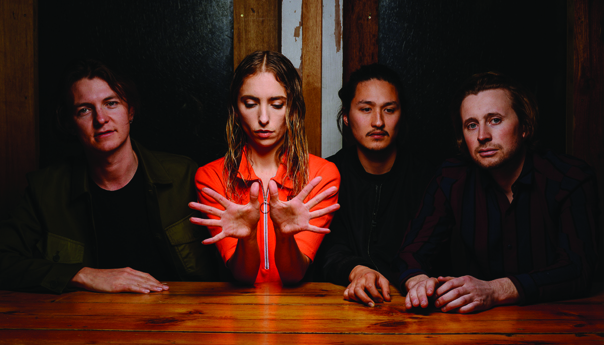 Listening to "Dragonfly," the opening track on Pumarosa's debut album, it's easy to imagine how the song could fill the abandoned Italian theater in which the band honed their sound. With bass riffs that would echo off cavernous walls, distortion that might vibrate from floor to ceiling and frontwoman Isabel Munoz-Newsome's Bjork-like vocals, "Dragonfly" helps set the scene for The Witch, as well as the band itself.
The Witch
Pumarosa
May 19
London-based Pumarosa's origin dates back to a failed rehearsal for a project for which only Munoz-Newsome and now-drummer Nick Owen showed up. The two eventually added bassist Henry Brown, saxophonist Tomoya Suzuki and guitarist Neville James before an artist offered them a residency in his unused theater in southern Italy.
That setting, combined with Munoz-Newsome's theatrical background, helped develop the band's hypnotic brand of alien pop previously displayed on their 2016 self-titled, three-track EP. With the help of producer Dan Carey, the band was able to produce The Witch, a haunting, yet danceable 10-song album with possible influences ranging from Blonde Redhead to Jagwar Ma to Florence and the Machine.
It opens with "Dragonfly," an alt-rock anthem about opening up to new experiences, despite the emotional risk of doing so. "The more you give/ The more you have to lose," Munoz-Newsome croons.
From there, the album bounces around to the more uptempo "Honey," which is layered in synth and guitar, to saxophone-laden "Priestess" and electro-pop "My Gruesome Loving Friend." Though the sound varies considerably from one song to the next, Munoz-Newsome's lyrics focus on female archetypes.
"Women's characters and feelings, sexual or otherwise, are comparatively unexplored compared to male-female relationships or male-male," she said in a statement. "'The Witch' is the song around which everything revolves. She is the female effigy meant as a warning to women, but taken as a symbol of resilience and power.  She's branded as negative, sent underground and burnt at the stake a thousand times. But she's still here, and we love her."
Loose, yet mesmerizing, angsty, yet freeing, The Witch is a solid debut for the five-piece band as they explore new sounds–hopefully far beyond the walls of that Italian theater.
Follow journalist Brandi Smith on Twitter, Facebook and BrandiSmith.me.