ALBUM REVIEW: Russian Circles go for the jugular on 'Blood Year'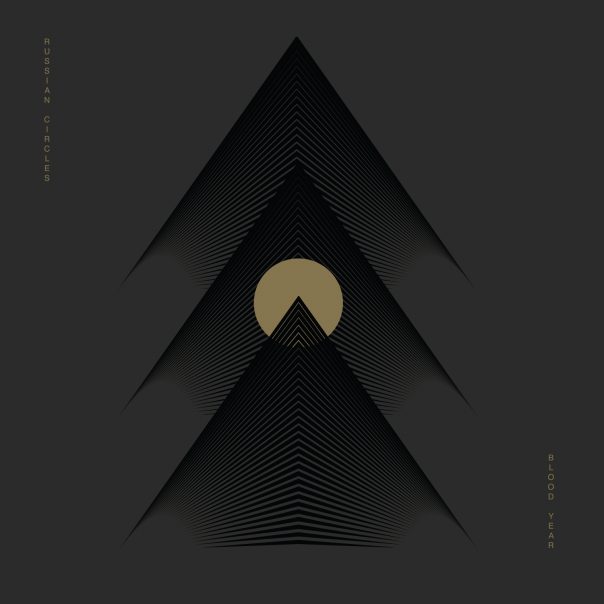 While Russian Circles didn't set out to mold 2016's Guidance after that chaotic year, the album's dramatic ambition carried an undercurrent of uncertainty. Chicago's post-rock standard-bearers spent the next three years pondering their evoltion, but their season of exploration led them back to a blunt approach. While Blood Year maintains the genre hallmarks of repetition, layering and crescendos, the album unapologetically leans into apocalyptic heaviness. Topped off by Kurt Ballou's immaculate production, Russian Circles' effectively concentrate their detailed arrangements into a shotgun blast of visceral riff-mongering.
Blood Year
Russian Circles
Sargent House, Aug. 2
The atmospheric clean guitar layers and ghostly drones of "Hunter Moon" aren't out of character for Russian Circles, but this soft intro has a decidedly more live sonics. Where many instrumental post-rockers rely on studio trickery and expanded instrumentation to achieve their expansive sound, this song feels like it was played by just guitarist Mike Sullivan with a loop pedal. The same is true with the circular patterns of "Ghost on High." Alongside intuitive embellishments by bassist Brian Cook, Sullivan intentionally approached it the way it would in a live setting—playing the part, looping it, then moving on to the next layer. Russian Circles set out to make an album true to how the band really plays together, with electrifying results.
Dave Turncrantz's beat at the start of "Arluck" spotlights Ballou's legendary drum production. Dynamic, punchy and defined, he may as well be playing in the same room as you. This sentiment expands to every facet of the album, dispensing with sleepy crescendos and going for the jugular with sonic battery. Cook's growling bass tone interlocks with Turncrantz to form the song's central groove. Sullivan gradually emerges with a spine-chilling tapped two-hand riff, compellingly evolving a catchy motif. The character of each instrument remains distinct, taking its time before dropping into the unified treble-picked riff. Melodic ideas and rhythmic variation abound, but the band never lets up the aggression. 
Blood Year teaches that atmospheric metal doesn't always mean "soft to loud." Russian Circles can both hypnotize and obliterate, as seen on the Neurosis-meets-Wolves-in-the-Throne-Room vibes of "Milano." Cook proves that he can handle all of the low-end as Sullivan explores haunting tremolo lines and dissonant arpeggios. Turncrantz's drumming stands out as well, whacking around the rest of the band with intense fills before careening into a full-throttle blast beat. Still, the lumbering groove remains central, effortlessly leading the band back to the original riff.
Russian Circles are fine with leaving space in their arrangements, trusting the pristine tones to carry themselves. "Kohokia" does just that with a slow but punchy beat filled with inventive subdivisions and the best snare tone you'll hear all year. Bass and guitar hang in the air at first, slowly surmounting the plodding rhythms. Though crescendo-based at its core, these songs implement raw viscera rather than ambience. The band not only generates a seismic sound but continuously tops itself in terms of tone manipulation and incrementally developed ideas. Recording without a click-track proves to have been a good decision, allowing the band to push and pull each other as the excitement ramps up and dies down.
Fading in after the demure interlude, "Sinaia" lends itself to the post-rock traditions with a staggered back beat, leading the soundscape to a predictable yet satisfying culmination. The cut's blackened tremolo melodies and massive chords come to an abrupt drop at the midpoint, providing the perfect mood switch. Turncrantz builds tremendously from skeletal rim clicks to devastating cymbal crashes. The band locks into a riff worthy of the Nordic masters, letting drumsticks splinter and strings rattle in an overwhelming display of volume worship.
Russian Circles maintain a surprisingly diverse body of work, considering the more stripped-down nature this time around. In fact, Blood Year saves the primitive sludge metal riffage for last on "Quartered." The band knows exactly how long to sit on the decimating chug-fest, elevating the relative simplicity with remarkable chops and inexorable heaviness. This album's huge arrangements don't come from overzealous overdubbing, inflating ideas using what's immediately available. Blood Year sounds like the recording of three people, but it packs the power of an army.
Follow editor Max Heilman at Twitter.com/madmaxx1995 and Instagram.com/maxlikessound.