ALBUM REVIEW: Shabazz Palaces get preachy on Quazarz double-album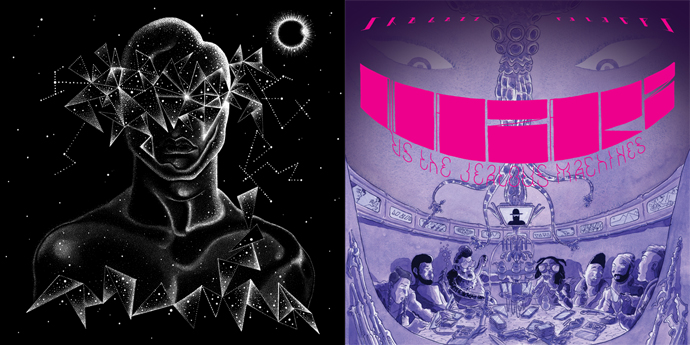 Back in 2011, Black Up by Shabazz Palaces shook up the rap game with its unique take on abstract lyricism and wonky glitch-hop production. Death Grips and Danny Brown were also dabbling in similar experimental techniques, but Butterfly and Baba made it their own with a more relaxed tenor.
Quazarz: Born on a Gangster Star & Quazarz vs. the Jealous Machines
Shabazz Palaces
July 14
Today's experimental hip-hop is often accompanied by an MC who sounds like he was screaming in a power-violence band before deciding to take a swing at hip-hop. The production, in a similar harsh vein, layers distorted 808 drum machines turned up to 11 with industrial percussion, as if purposely straying away from hip-hop's dance-oriented past.
Shabazz Palaces have a deep history, but it doesn't stray too far from the traditional hip-hop sound. Most notably, Butterfly used to be in trio Digable Planets, who pioneered the East Coast "jazz rap boom bap" sound in the early '90s, along with A Tribe Called Quest, Organized Konfusion and De La Soul.
With this mash-up of influences, what does Shabazz Palaces actually deliver? What the production lacks in aggressive, cathartic momentum, it makes up for with dingy, slow-moving and surreal production. Instead of going for distortion, Baba smooths over the production until it sounds like a trumpet solo from Kind of Blue, while still maintaining an ambiance as dark and wide as space.
Despite this change of production, Butterfly can still flow like it's 1993. If anything, he's become a more skilled rapper, being able to handle beats where the rhythms are more complicated than a 4/4 kick-kick-snare. In fact, on Quazarz, some of the production is so ambient that there's no real spine to the song, which makes it sound like Butterfly is rapping a cappella with a Boards of Canada song layered under it.
Quazarz isn't perfect, lyrically. Butterfly sometimes gets in cycles of repetitive flows. An example is "30 Clip Extension," on which the rhythm of his voice suggests he is just singing one long chorus. His attempt to carve a groove with his vocal repetition results in the song sounding drawn-out.
Quazarz is an album of two distinct parts, Born on a Gangster Star and Vs. the Jealous Machines. While it's not a stream-of-consciousness concept album, it still comes back to certain subject matter. Butterfly uses tasteful humor and pop culture references to critique society, including the modern use of phones.
Most of the time, Butterfly touches on themes heavy on the introspection and Baba's production is consistently interesting, but some songs could have been cut to make one solid album. Throughout the album but especially on "Gorgeous Sleeper Cell," he raps about phones sucking people out of the real world. It's an overused concept. When I hear a rapper lecturing about my phone usage, it reminds me of my high school English teacher, telling me to put my phone away.
Regardless, Quazarz is a noble attempt at a double-album and demonstrates growth for the duo.
Follow writer Michael Massaro at Twitter.com/michaelcmassaro.