ALBUM REVIEW: Soilwork perseveres in triumphant melody on 'Verkligheten'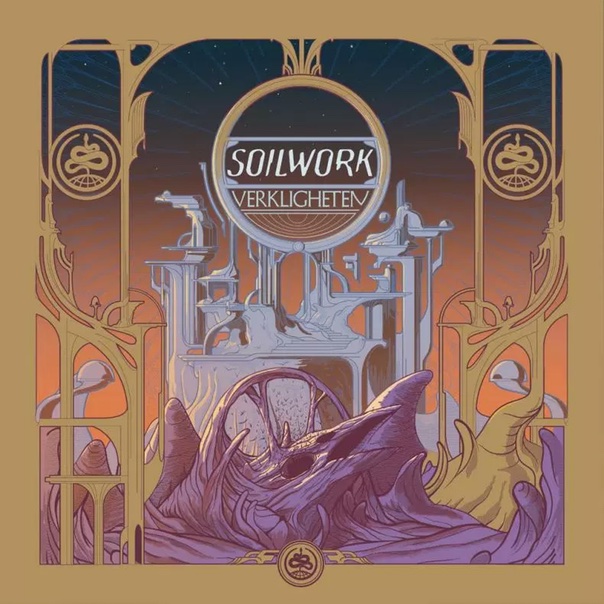 Like fellow Gothenburg metal rockers In Flames and At The Gates, Soilwork may always live in the shadow of its early work. Elitists will die on the hill of 1998's Steelbath Suicide, but the impact of 2000's melodic death metal classic The Chainheart Machine lives on in countless modern metal bands. Also in Gothenburg tradition, Soilwork's current lineup has no original members save vocalist Björn "Speed" Strid.
Verkligheten
Soilwork
Nuclear Blast Records, Jan. 11
Soilwork soldiered on admirably with 2013's double-album, The Living Infinite, and 2016's The Ride Majestic, on which Sylvain Coudret and David Andersson proved to be incredible replacements for founding shredders Ola Frenning and Peter Wichers. This paved the way for its 11th album, Verkligheten. While Soilwork's latest doesn't divert from the band's chosen path, it's still a solid, multifaceted slab of melo-death.
Verkligheten is Swedish for "reality," stemming from Soilwork's arduous history and its struggles with the inescapable passage of time. The title track sets this somber mood with a heartbeat bass drum and a haunting guitar line. Though underdeveloped like most metal album intros, it introduces Strid's and Anderson's joint songwriting chops before "Arrival" charges out of the gate like the Riders of Rohan, from Lord of the Rings. This track has the ultimate melo-death combo: infectious triplet rhythms, blistering riffs, harmonious soloing and war cry vocals. Strid's voice packs equal power in his triumphant melodies and wraith-like rasps, emboldening both ends of Soilwork's sonic spectrum.
Soilwork's recent propensity for melo-death with more "melody" than "death" takes center stage on Verkligheten's other two singles. "Full Moon Shoals" might be the textbook example of why Chainheart fans jumped ship, but it also features an early contender for 2019's catchiest metal riff. Unlike many extreme bands that are more accessible, the rockish vocal harmonies and Sven Karlsson's sci-fi synths never diverge from death metal techniques—whether it's drummer Bastian Thusgaard's 32nd-note bursts or a surprise death-thrash bridge. Thusgaard's continuous double-kick roll gives "Stålfågel" a tough-as-nails foundation for Strid's blood-pumping falsetto jumps.
Verkligheten does a remarkable job of balancing Soilwork's brutality and accessibility, as "Bleeder Despoiler" exemplifies. Thusgaard and bassist Taylor Nordberg contrast heavy-duty four-on-the-floor rhythm with syncopated start-stop beats. But they manage to break down the bridge for Coudret and Andersson's classic metal dueling harmonies. "When The Universe Spoke" packs unnerving excitement that's generated by a jackhammer blast beat. A machine gun double-bass drives a cinematic single-note melody. This song remains thrashy throughout, elevating Strid's usually predictable good-cop-bad-cop vocals as he bemoans the loss of purpose: "Cease and desist/ The ones that we fought for/ Are no longer missed."
"The Nurturing Glance," the album's longest song, features an impressively diverse structure. Through Megadeth-like riffs on the verse, Strid layers vocal melody over the guitar, subverting the metal cliche of singers following the guitarists. It also features one of a handful of shredding guitar solos, in contrast to the "lead solos" that permeate most of the album.
"Witan" embodies this less-is-more approach with tenacious singing and galloping arpeggios akin to latter period Amorphis. The cut, along with the poppish "The Ageless Whisper," brings the intensity of metal without having to push out of hooky choruses. "Do you remember choosing death when we were young?" Strid asks on the latter as Karlsson's short keyboard part lends texture to the second memorable guitar solo.
Soilwork's formula works swimmingly for the most part, but "The Wolves Are Back In Town" slacks off a bit with a forgettable main riff and a pre-solo passage a bit too similar to the verse of "Bleeder Despoiler." The guitars also follow Strid's vocal line too closely for comfort, considering how intricately they otherwise play around each other. Other than that, Verkligheten remains consistent with deep cuts like "Needles and Kin." Its mosh-pit-igniting fury maintains the morose aura of its string arrangement intro—via polyphonic singing and tremolo-picked guitars. By juxtaposing palatable structure with barrel-chested execution, Soilwork is able to establish the severity of disillusionment and uncertainty while evoking a resolve to remain strong.
With a 16th note hi-hat groove, victorious wordplay and soaring leads, "You Aquiver" ends Verkligheten on a high note of palatable intensity. On this final declaration of bravery in the face of adversity, Soilwork obliterates its detractors who say the band lost its brawn by drifting from its death metal roots. The current incarnation manages to write memorable songs while melting faces and taking names, doing justice to the good name of Swedish heavy metal. Soilwork may never return to its original sound, but its musicianship has clearly withstood trials far beyond a change of pace.
Follow editor Max Heilman at Twitter.com/madmaxx1995 and Instagram.com/maxlikessound.