ALBUM REVIEW: Soulfly observes a metallic rite of passage with 'Ritual'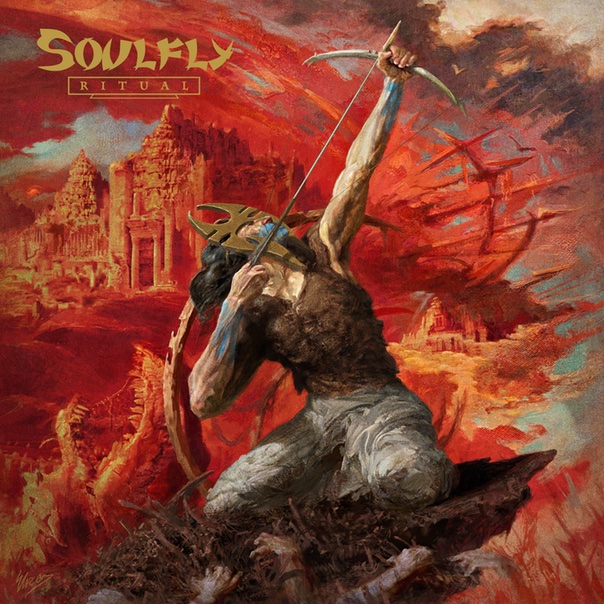 Throughout the band's 20-year journey, Brazil's Soulfly has remained a vehicle for frontman Max Cavalera's spirituality and cultural roots—his ongoing relationship with indigenous tribes like the Navajo and his undying love for heavy metal. While increasingly similar to the groovier side of his old band, Sepultura, his vocals and riffs remain undeniably vital due to the influence of newer bands like Nails and Full of Hell. On his 11th album, Cavalera doubles down on aboriginal mysticism, time-tested riff-mongering and gleeful genre-hopping. Ritual is nothing short of a blood-pumping dose of groove metal goodness.
Described by Cavalera as a "tribal thrash" album, Ritual uses primitive rhythms as a springboard into a multitude of styles. "Ritual" opens the album with a classic stomp-riff and shrill feedback stabs, recalling Soulfly's inception as Brazil's response to acts like Korn and Deftones. The title track partly stems from producer Josh Wilbur's desire to recapture the feeling of the first three albums, which explains the guttural scatting over gargantuan breakdowns.
Lead single "Evil Empowered" evokes Nails' "You Will Never Be One Of Us" with its unrelenting double-kick and bone-crushing chugs. But its emphasis on wah-wah guitar solos and tasteful use of auxiliary percussion and tribal gang vocals give it a distinct feel.
Anyone familiar with Soulfly's past work or any of Cavalera's other projects won't find anything too unfamiliar here, but Ritual still sports a surprising breadth of ideas. The harmonious, almost classically inspired acoustic intro of "Demonized" gives way to machine-gun double-kicks. It also juggles frosty black metal and battle-hardened melodic death metal.
"Demonized" remains incredibly catchy. Cavalera and guitarist Marc Rizzo combine frostbitten tremolo melodies and glass-gargling shrieks. Those coincide with jackhammer thrash beats and three-count riffs. Even its chaotic guitar solo drops back into a breakdown that would make the likes of Knocked Loose and Code Orange wet their pants.
"The Summoning" covers all the bases necessary for a solid banger with a blast beat intro, thrashy two-step riffs and sludgy triplets. After what seems to be the final beatdown, the song inexplicably drops into pulsating electronics. It still revolves around the same 16-note alternate-picked guitar pattern, keeping it in line with Cavalera's lyrics of solidarity: "Will you take my soul/ Will you take my world/ I fear no one/ The strength I summon." This wealth of material never feels overdone, maintaining an accessible structure even when things get weird.
Though initially notable for "Jumpdafuckup," Soulfly's lyrics now balance simplicity with artistry. Cavalera explores relevant ideas while maintaining classic heavy metal hyperbole. "Expose the pain … now you reap what you sow/ Plague and storm/ They will return," he snarls on "Under Rapture." This death metal massacre features the ghastly growls of Immolation's Ross Dolan, effectively brutalizing a pondering on the inevitability of death and the necessity of spirituality to reconcile one's existence.
Speaking of vocal features, Randy Blythe marvelously compliments the Slayer-worshiping "Dead Behind The Eyes" with his signature rasp. Amid pummeling percussion and sticky guitar licks, Cavalera uses Cenobites from the Hellraiser movies as an allegory for the dangers of gnostic religious zealotry: "Eviscerate your own impressions/ Die along with your transgressions/ Menace, penance/ Horrific path to ascension."
Indigenous people and cultures remain the heart of Soulfly. Gary Elthie's flickering flute melody provides an archaic atmosphere to "Blood On The Street," but the song's lyrics themes hit home. "With the coming of caustic hordes/ Casualties become the norm," Cavalera barks, decrying the police shooting of a Navajo woman named Lourel Tsingine. This song also highlights the skills of drummer Zyon Cavalera (Max's son) with a bludgeoning tribal beat.
Ritual has natural chemistry. Each member provides exactly what each song needs to achieve maximum heaviness and infectiousness. Such cohesion makes a fairly predictable cuts like "Bite The Bullet" fun listens. This song's breakdowns and dissonant panic chords function like a straightforward hardcore song, but the band's intuition keeps it from becoming another brain-dead mosh anthem.
Mike Leon's fleshy bass tone takes precedence in the middle of "Bite The Bullet," adding heft to the song's powerful chords. Some might connect these passages to metallic hardcore acts like Hatebreed, but Cavalera literally paved the way for all of those tough guys in camo pants. He just loves chunky riffs too much to stop playing them, and knows exactly where to spice things up with ethnic percussion and primal groove.
Soulfly maintains an incredible balance of emotive musicality and musical blunt force trauma. "Feedback!" and "Soulfly XI" represent both ends of the spectrum. The former is blitzkrieg rock and roll, recalling Motörhead and Venom. The latter is eclectic jazz, ending Ritual with saxophonist Mark Damon trading bars with Rizzo's flamenco guitar. Neither track feels out of place.
Cavalera is a force to be reckoned with, even at 49. Ritual more than contends with modern metal, because it came from the mind of a co-author of the modern metal handbook.
Follow editor Max Heilman at Twitter.com/madmaxx1995 and Instagram.com/maxlikessound.