ALBUM REVIEW: Sum 41 doesn't mince words on ferocious, politically charged 'Order In Decline'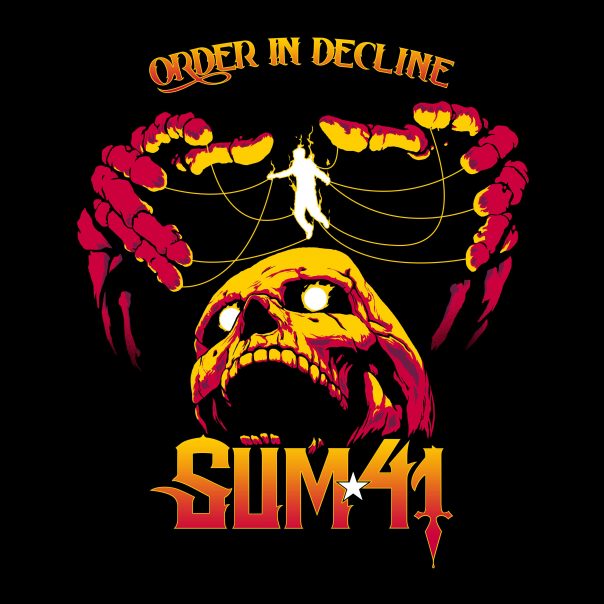 Rarely can a pop-punk band reemerge from the brink of collapse with new material that eclipses its predecessors. Thus is the case for Canadian stalwarts Sum 41. In 2014, frontman Deryck Whibley faced a personal and public battle in his struggles with alcoholism, leaving him hospitalized—on both his figurative and literal deathbed. Whibley persevered and overcame the ordeal, and rejoined his bandmates of 23 years. Along with the return of founding guitarist Dave Baksh, who left the band in 2006, drummer Frank Zummo has now entered the fold. The result is Order In Decline; a reinvigorated, re-energized album from a band playing with vitality unmatched in its history.
Order In Decline
Sum 41
Hopeless Records, July 19
The band experienced a dramatic shift from its prior singalong pop-punk anthems like "Fat Lip" and "Over My Head (Better Off Dead)" with 2016's 13 Voices. The songs fed on heavy, raw and aggressive energy, turning Sum 41's metal-influenced punk stylings up to the highest level. Order In Decline takes that blueprint and ups the ante in just about every facet. The album presents Sum 41 at the top of its game in both arrangement and performance—and with something to say. These ingredients mix together to create one of the most hard-hitting rock releases of 2019.
Vocally and lyrically, Whibley puts himself on a higher plane. He gives some of his best performances on record. His range has grown far more dynamic, not just on the band's more aggressive songs but also with a tender falsetto to level out quieter moments.
Lyrically, it's not difficult to discern the target of the band's angst. With may of the songs directed squarely at the country's highest elected official, as well as the perceived societal complacency that made it a reality. Sum 41's classic metal influence and occasional political undertones aren't necessarily new, but these songs are elevated with an urgent delivery.
The album bursts open with "Turning Away," which grows from a haunting piano line to a building drum and bass interplay buoyed by Whibley's dark falsetto. The song's dynamic mood and melodies shift from alt-rock to punk metal riffs in just under four minutes. "Out For Blood" brings the aggression hinted at on the previous track.
The additions of Baksh and Zummo play just as important a role to the band's sound as Whibley's turn to form. Baksh's skills go far beyond punk riffs. His hyper-speed solos wouldn't sound out of place on Metallica's Master of Puppets. Rhythmically, Zummo and bassist Jason 'Cone' McCaslin are locked in step, with many of the songs allowing the low-end thump to cut through.
Groove-heavy rocker "The New Sensation" is a resistance anthem with a shot of harmony, showing heaviness and hooks in equal measure. "A Death In the Family" brings a thrash metal sound supplemented with a loud-quiet-loud dynamic energy. Whibley's performance gets a near-bluesy inflection on "Heads Will Roll," again showcasing his developed range. Listening to Order in Decline, it's difficult to imagine this is the same band that released singalong radio-ready pop punk a decade ago. Sum 41 has grown up and graduated.
On the heavy side, the album's highlight is "45 (A Matter of Time)"—a direct rebuke toward a political leader referred to only in numerical form. "Not worthy of name/ A number you'll get/ A symbol of meaninglessness, void of respect" Whibley sings, the song pulling no punches at its target.
From this ferocity, the album's lone ballad, "Never There," stands out much more. Themes of familial separation, regret and forgiveness help Sum 41 reinstate its power ballad prowess. Whibley's earnest lyricism and vulnerable performance serve not only as a strong musical counterpoint to the intensity but become a highlight in the band's reservoir.
The energy ramps right back up with the distorted fuzz washed riffs of "Eat You Alive" and light-speed thrash riffing of "The People Vs" before closing out with the Kings-of-Leon-meets-The-Cure alt rock on "Catching Fire." Order In Decline sees Sum 41 wholeheartedly embrace new territory. Where their contemporaries attempt to maintain pop status, these guys write what they want.
Follow writer Mike DeWald at Twitter.com/mike_dewald.