Interview: Swedish sister trio Baskery looks back, moves forward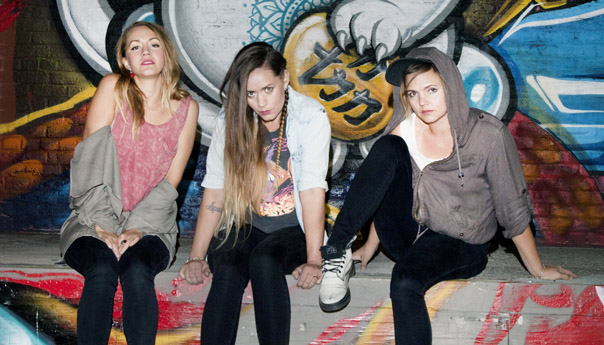 There could be something in the water of Sweden that leads to strong familial harmonies of sibling bands like First Aid Kit, The Hives and reaching farther back to Ace of Base. But Sunniva and Greta Bondesson of sister trio Baskery have more practical reasoning.
"I'm surprised there are not more family singers … because it's the easiest way to sing," says guitarist Sunniva, the younger sister. "You grow tight. You have the same influences, and it's almost telepathic when you're family and you perform together. I'm actually surprised there are only this many famous singers that are related. I think there should be more."
Swedish families grow close, agrees banjo player-guitarist Greta, the older sister, and the Bondessons, including bassist Stella, the middle sister, are no different. But the other factor, Greta says, is Sweden's love of American culture that dates back to the 1950s. The national mentality is that their own country is itself a little sibling to America, with the larger country providing protection to the smaller one. That's why nearly everyone speaks English. Swedes particularly like American folk music.
"I think we're pretty good at making our own genre out of it; 'Nordicana,' as we call it," Greta says. Adds Sunniva: "We are all already familiar with [it]. It's part of our legacy [with] old Americana records. … Sometimes, when [Americans] go to Sweden, you think you'll hear Swedish folk music, but that's not what people listen to.
"What we do in Sweden is we sing a lot of harmonies. We sing in choirs, and it's part of every occasion we celebrate. Somebody's birthday: You sing and people add harmonies. That's what we do."
The Bondesson sisters grew up with music in their home like many in Sweden, but their father was also a working musician. Janåke Bondesson played the bar circuit, covering American country and blues songs as a one-man band, kick drum, pedal bass and all. Their early influences included Bob Dylan and Neil Young, Muddy Waters and other blues greats. In the '90s, when they were in school, they got a taste for rock like Green Day and Nirvana, and Britpop like Oasis.
"We always sang together," Greta says. "We weren't really composing anything, but the first song we wrote together, we were probably about 10, 12 and 14. We started pretty early to write songs together, plus we were writing individually as well."
There were musical instruments lying around the house, and it was a matter of time until the sisters formed a band with their father.
"We were born, and he realized we had an interest for music," Sunniva says. "He just invited Greta to start playing, and then a few years later he was like, 'Stella can join in on bass.' So he gradually skipped his one-man band to go into a band with us, but it was just happening without us really noticing that we were forming a band, and we started playing official shows."
Only when fans at shows started asking what the band was called did they realize they had a band, Greta says.
As the Slaptones, they gained some national attention and even opened for the Brian Setzer Orchestra. With their father as drummer, they released two albums in 2003 and 2004. But the Slaptones' story took a negative turn when the national media turned on the band, Greta and Sunniva say, for the same reason that American media initially took a liking to Haim. The Angeleno sister trio got their start in a similar fashion, playing with their parents. But in Sweden, that wasn't seen as cool, and the band was pressured to drop their dad.
"Some of the reviews we got in Sweden were just terrible," Greta says. "They were just trying to tear us apart. How can there be so much hatred?"
In 2006, he left the band, saying he wanted to spend more time at home with the sisters' mother and not spend so much time on the road. In hindsight, Greta says, he wanted his daughters to write their own songs and to move away from rockabilly covers, and because the strain of negative "shit in reviews" was too much.
"I think that's one of the reasons why he withdrew from the band, to be honest, [but] he never said that," Sunniva says. Adds Greta: "In America, when people found out that we played with our dad and we actually toured with him, [they] loved it. … It's Sweden it's dorky. 'Why do you play with your dad? Why aren't you rebelling against your parents?' I think he just couldn't take it."
After the sisters started Baskery in 2007, the public perception of their band changed. Suddenly, they were a hot commodity, playing a genre the same press termed as acoustic dance music (ADM), mud country and banjo punk. Baskery has since released three LPs: Fall Among Thieves in 2008, New Friends in 2011 and Little Wild Life in 2014. They have built a following in the Venn convergence of Haim, Mumford and Sons, Shovels and Rope and The Staves.
"When we started Baskery, suddenly people were nice to us, but we're the same people, the same songwriters," Greta says. "Why is it OK when our dad is not in the band?"
In the meantime, their success has continued to grow. After releasing their first three albums on indie labels, Baskery signed with Warner Bros. Records for album no. 4, slated for release later this year.
The sisters spent parts of the last few years living and recording in Nashville and Los Angeles with producer Andrew Dawson (Kanye West, fun.). The album is wrapped, and they are back in Europe, with Greta in England, Sunniva in Germany and Stella still in Stockholm.
The first single, "Love in L.A.," was released earlier this year and marks yet another new direction, away from Nordicana and toward dance pop. Spacey guitar picking and a four-to-the-floor drumbeat make one wonder what a collaboration with another Swede—Robyn—would sound like.
But the Bondesson sisters are more interested in bringing back another collaborator: their father.
"We try to bring him back, and we will," Greta says.
Follow Roman Gokhman at Twitter.com/RomiTheWriter and RomiTheWriter.Tumblr.com.