Welsh singer-songwriter Betsy attempts leap from farm to pop success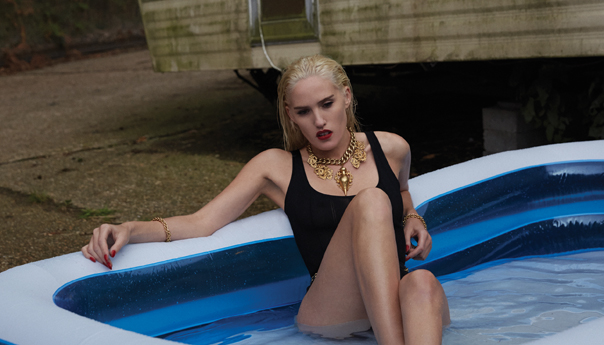 Welsh singer-songwriter Betsy has her feet firmly entrenched in her country's past, while her eyes are looking at the possibilities in front of her.
The mononymous artist, who recently signed a record deal with Columbia Records, was raised on a livestock farm in remote, rural Wales. At first, her parents tended sheep, cows and pigs. After a neighbor moved away, they were bestowed with his geese. As a teenager, Betsy's father started giving her more responsibilities.
"At Christmas, I would do all the gutting and the plucking and the gruesome things like cutting their heads off," she said. "It was pretty full-on."
Despite her early rural years, Betsy, now 25, always dreamed bigger. She and her three brothers had plenty of exposure to the arts, listening to everything from Vivaldi to Sade and Fleetwood Mac, to Led Zeppelin and Bob Dylan. Her father and uncle played in a band together. Rural Wales wasn't all sheep and geese.
"I'm inspired by lots of different [genres]; classical, particularly, because of the string aspect of it," she said.
Music was her first love, but her first opportunity came in the fashion world. Fashion was an extension of her interest in the arts, which she studied to an advanced degree in the U.K.'s "A levels" curriculum, and earned her way to London's Central St. Martins art school, where she studied and specialized in runway women's wear. Two years before she would have gotten her degree, she accepted an internship with Belenciaga, a prestigious fashion house in Paris. After the internship, the company offered her a job. She never returned to school.
But for someone for whom fashion was always a second option to making music in London, the new career didn't stick.
"One year into the job, I was finding it too soul-crushing," she said. "I quit and went back to my parents' farm and made a demo in my brother's bedroom."
That bedroom was actually a rusted-out trailer, in which she lived and wrote music. She began learning GarageBand. She came up with melodies by humming them and then trying to transcribe the note progression to her keyboard. When she finished several songs, she burned some CDs, stuck a photo of herself on them, and began handing them out. One of the songs was "Rosie," which ended up making it to her EP.
On the recording, overpowering a creaking chair and background noise—she had no microphone and recorded the vocals straight to her laptop—Betsy mournfully hums and sings in vibrato that seemingly comes close to tears about a friend who was killed in a car wreck in her teens.
Nothing came of handing out the CDs or posting songs online. Finally, Betsy gave a CD to a friend whose brother works at a London PR firm. He kept it in his desk. One day, the man who would become one of her two managers walked into the friend's brother's office looking for a singer. After listening the CD, he was sold.
The managers gave Betsy £500 and told her to go back to her trailer for two months and write more songs.
Q: What goals do you have as a singer-songwriter? Is it something you want to be a long-term career or are you experimenting with all your passions?
A: My aim when I sit down is to write something that really means something to me. I want to write something that will resonate with people for years and years to come. I want my grandkids to be playing it on their iPhones. Well, they probably won't have iPhones, but you know what I mean. My main aim is to write one of those songs that really means something to lots of people… to write that song that lasts 100 years.
With her computer, keyboard and a guitar, she wrote two other songs that, with "Rosie," comprise her debut EP, on Columbia Records. One of those was "Fair," a piano, synth and vox "ballad," which is better described as a collection of feelings trying desperately to avoid an emotional breakdown.
"I know it ain't right/ I know it ain't fair/ to hold on to love/ a love that's no longer there," she sings, with violins swirling behind her. The song chronicles a love extinguished, on its last gasp.
To date, everything Betsy has released is either biographical or something that has impacted those close to her.
"It has to be personal, because if I can't connect with it… I can't write about 'nothing,'" she said.
That includes her most recent single, "Lost & Found," an upbeat dance tune set against a wretched narrative about Betsy's first love, who kept reappearing in her life for years even as she tried to put the relationship behind her. She compares the emotion and feeling to being haunted.
"It's like they're on your back and you can't shake them off," she said. "It's about not being in love with someone anymore, but about [having] this obsession. … It was a reoccurring theme."
Besides the melancholy themes, Betsy's voice is the other constant. A contralto, her range parallels fellow Wales native Marina Diamandis (Marina and the Diamonds), especially when she sings in vibrato. Betsy counts Annie Lennox, Billie Holiday, Tina Turner, Aretha Franklin and countrywoman Shirley Bassey among her inspirations.
"They sing like their hearts are on fire; like the devil is coming out of the pits of their belly," she said.
Q: What are your interests or hobbies outside of music and fashion?
A: Fast. Cars. I love my car. The "Lost and Found" video? That's my car! And love old cars. I've also got two little dogs that I'm obsessed with. They're called Charles and Archie. I love a good dance and a good drink, unfortunately, which leaves me hung over far too often.
Betsy found the look for her persona in Bassey, a national figure in Wales who shares similarities with Betsy's mother's side of the family, especially her grandmother. Both grew up in middle-of-nowhere Wales, knows as the "Valleys."
"They're very hard-working women, but also incredibly glamorous: The feather boa, the gold jewelry, the big hair," she said. "That's something that Shirley Bassey has got, and I suppose it's very familiar to me, like my gram and my aunt."
Image is important to Betsy, which is why she keeps her last name private; she said it's too Welsh and not glamourous enough to share. When she visited the U.S. for the first time last spring, a trip to New York and Los Angeles to meet her Columbia team and record some songs, she was blown away by the cities' lavishness.
But her past holds equal weight, which is why she doesn't flinch when talking about the farm on which she was raised and worked and the geese that would arrive by the thousands as little furry, yellow chicks, in crates.
"My little brothers would lie down in the shed with them," she said. "It's just more of a way of life. At least you know where your food comes from, and if you need to sort your dinner out, you can."
Follow Roman Gokhman at Twitter.com/RomiTheWriter and RomiTheWriter.Tumblr.com.