Dreamers soaking in Seattle roots, turning to grunge on LP2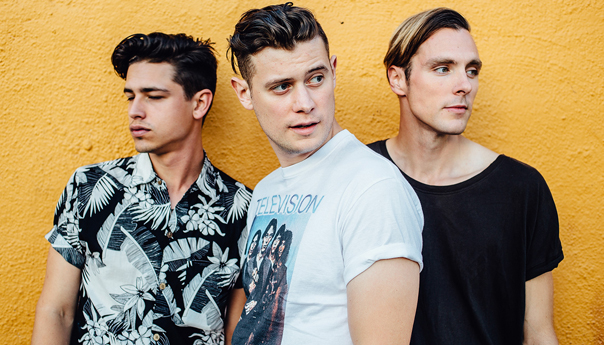 Dreamers formed in New York, which gave the rock trio an appreciation for punk rock. They currently reside in Los Angeles, which has given them a collaborative spirit they rarely got elsewhere.
New Politics
Dreamers, The Wrecks
7:30 p.m., Wednesday
The Fillmore
Tickets: $27.50.
Lead singer and guitarist Nick Wold, however, is from Seattle. And that's his biggest and most important music influence.
"My best friend in high school lived right next door to Kurt Cobain's house," he said. "There's a little park next to it where people write memorials and stuff; they call it Kurt's Park. We used to always go down there and hang out. It feels like it's in our genetic makeup."
That's most obviously reflected in the band's makeup; a trio of guitar, bass and drums, mirroring Nirvana's lineup. But it's also reflected in the grunge songs they cover during shows; for example Blind Melon's "No Rain." Fans who see them open for New Politics at the Fillmore and nationwide can expect to hear is The Cranberries' "Zombie," which they recently released.
"We finished the recording before Dolores [O'Riordan] passed away [in January], so we were all totally caught off guard by that. But now it's become a tribute," Wold said. "We're doing it on this tour, and we have an audio recording of Dolores talking, saying some really meaningful stuff. We shout her out when we play it. And everyone loves the song and sings along, even the young kids."
The '90s alternative rock roots run so deep, that Dreamers' first major tour, after they released their first EP, was opening for Stone Temple Pilots. That is a little unusual.
"One of our songs played on [Sirius XM] Alt Nation, got into the Top 18 for quite a few weeks," Wold said. "I guess Stone Temple Pilots listened to Alt Nation and they liked our song. They picked us out of something like 500 bands."
A meeting with long-time Seattle resident Bill Nye helped encourage his music career. Wold met Nye when he was 10 years old and told him he was into music, so Nye signed an autograph, "Hey Nick, music is science!" Wold won't confirm that it mostly inspired his current career, but lets assume it helped.
Musically, that Seattle influence is only going to increase. While their first album was more upbeat–a "fun in the sun, summer record" as Wold describes it–their next will be more grunge-influenced. He expects the next album will be a progression of the band's sound, but because of the three members' growth and the overall state of the world, it will likely have a deeper, heavier, darker sound, he said. As for that new music, Wold says to keep your eyes peeled for "a deluge" of new songs and videos starting in May.
But before that Wold and his band will be coming through the Bay Area, for which they have a fondness despite residing in Los Angeles.
"I think I identify with the Bay Area more," he said. "It's bohemian, definitely has a more unique character. L.A. is just a good, warm setting to do your own thing."
"Opening for Stone Temple Pilots, we played the Fillmore, which was incredible," he said. "When I'm there, all I can think about is Janis Joplin and Jimi Hendrix and all the crazy stuff. That's my favorite stuff; that happened there."
Follow editor Daniel J. Willis at Twitter.com/BayAreaData.