Elbow: Little Fictions and alternative songwriting in times of Brexit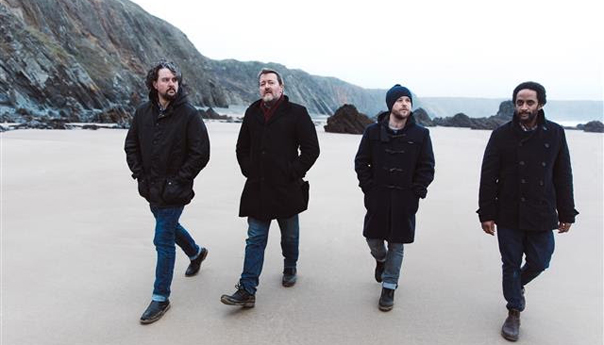 Manchester band Elbow didn't intend to release an album called Little Fictions in the age of alternative facts, but Brexit did weigh heavily on them as Guy Garvey and his bandmates wrote and recorded during most of 2016.
"It was a bit of a shit year for everyone last year," keyboardist and singer Craig Potter said during a break from tour rehearsals at the band's studio in Salford. "When we first started writing, I think it was the week that Bowie died."
One album track approaches the topic directly: "They only know the villains at the tiller/ And they gambled the farm on a headline/ Jesus/ Getting harder to see what they're doing 'til it's done/ And they're never gonna make an arrest on Fleet Street."
The rest of Little Fictions also deals with the emotionally and politically volatile time, albeit more abstractly. The band, which also includes guitarist Mark Potter and bassist Pete Turner, wanted to create a positive atmosphere with its music to combat the consequences of England's departure from the European Union and American upheaval.
"All Disco," one of the album's first singles, was inspired by a conversation between Garvey and Pixies' Frank Black, who described his songbook self-deprecatingly. Elbow's song, which sonically draws from '60s psychedelia, is about not taking their work too seriously.
"[Guy] thought, 'Don't give everything to your song, as much that it pulls you under, and eventually might get on top of you.'" Potter said. "It was that sort of feeling [where] we do this, we do that, but at the end of the day, it's all disco. It is important music, but it's not everything in your life, and it shouldn't be."
First single "Magnificent (She Says)" is a truly uplifting tune, with strings, a big chorus, and a video doubling as a montage of inspirational scenes in far-flung locales.
The creation of Elbow's seventh album began ominously as drummer Richard Jupp left the band. Potter said that by that point, it was clear to everyone in the band that he had lost interest in writing with the others. After the surprise and sadness dissipated, the rest of the band pressed on with stereotypical English stoicism.
"We sort of got on with it," Potter said. "To be honest, we've been together for 25 years, so I think someone would always have to go first."
The absence of Jupp forced them to write differently and explore new percussion patterns, loops and samples. That, in turn, created the energy that pushed them forward.
Little Fictions was recorded at a cottage in Scotland and Garvey's attic in Manchester. While things began regularly for the band members, who typically write by themselves before meeting up and sharing ideas, the change of direction came just before the initial Scotland writing session.
"We'd all written individually before that, but we decided to leave those ideas at home and just start fresh together," Potter said. "It was the four of us. Rich [Jupp] was supposed to be there but he wasn't. That was the biggest difference, really."
Eventually, they brought in session drummer Alex Reeves, a string section and a choir. As with the previous three Elbow albums—2014's The Take Off and Landing of Everything (Elbow's first No. 1 in the U.K.), 2011's Build a Rocket Boys! and 2008's Mercury Music Prize-winning The Seldom Seen Kid—Craig Potter produced.
Besides the already-released songs, Little Fictions has a handful with nontraditional names. "Charm" was named for the cleaning solution spray. It was the working title and stuck after the song was finalized. Another is called "Nate." A third is "Molena," which is Portuguese for mill.
"It's quite an unusual set of titles, isn't it, really? It just comes from the theme of the song," Potter said. "There was no discussion about the more unusual titles, it's just worked out that that's what the themes are about."
Then there's the eight-minute title track, the longest Elbow has ever written and completed. That was never the goal, and the song started in a typical linear progression at first, with a Beatles-esque bass and guitar solo. Then the band members began to mess with the structure, and it quickly lost a verse-chorus-bridge pattern.
"We thought, 'Right, lots of space is what it needs now,' because it felt quite claustrophobic up to that point," Potter said. "It's very much, what happens next?"
The third single from Little Fictions is "Gentle Storm," a quivering dedication of unceasing love. For the accompanying video, Garvey turned to Kevin Godley, of Godley and Crème fame, to recreate the duo's tear-jerker video for 1985's "Cry." In both videos, a dozen people face the camera and emotively mimic the singing, their phases morphing from one to the other.
Garvey felt that while the songs are different sonically, the emotion they conveyed was the same. The initial idea was to mimic the video. Eventually, they asked Godley to come and direct, and after the initial confusion of "why," he agreed because it would introduce the original video to a new, younger audience.
The video starts with Garvey singing before other faces appear, including Godley himself, as well as actor Benedict Cumberbatch, the latter a friend of the band.
"I sat at the same table at Guy's wedding, quite recently," Potter said. "Guy bumped into him … and Benedict just loved the idea of [the video].
While the band has been writing and recording the new album in 2016, Garvey was married in June and is expecting his first child. Craig Potter has three children of his own, and Turner has two and a third on the way.
"We're very much family men, and it's always been like that," Potter said. "We only made it—as in, got quite big—quite old."
Their family lives play a large role in their lack of interest in long tours that often help young British bands break big in the U.S. But Elbow is content in its role of a seminal English rock band.
"It'd be lovely to get bigger over there, but at the minute we've got a nice following, and we've played some great venues," Potter said.
The band is about to hit the road in the U.K. and in Europe. An American and Mexico tour is in the works for next fall, and Potter still hopes for more widespread success in the States.
"We'll keep coming over, you never know what might happen," he said.
Follow Roman Gokhman at Twitter.com/RomiTheWriter and RomiTheWriter.Tumblr.com.