Oakland's Ghost & The City mind-meld for new EP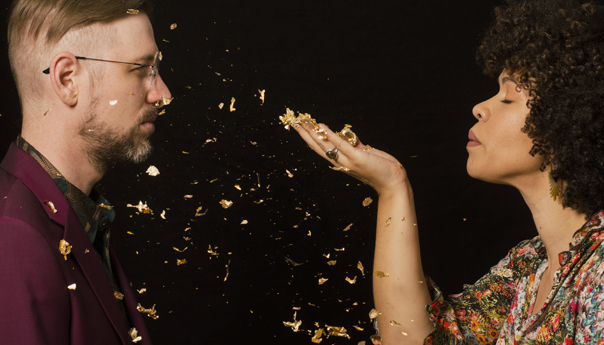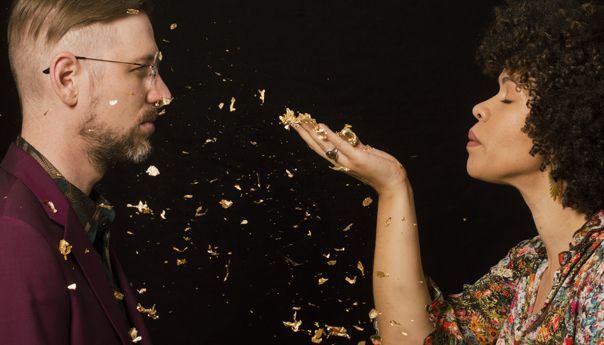 Although Ash Maynor started Ghost & the City in 2008, the current incarnation of the soulful jazz and trip-hop group is essentially a new beast. The large lineups of session musicians are no more, and the blues and big band influences have taken a backseat to electronica and progressive jazz. The constant remains Maynor himself, who around 2012 began working with vocalist Kia Fay, and more recently brought in drummer Will Jenkins.
Ghost & The City, others
7:30 p.m., Thursday, April 5
SoFar Sounds secret show
Tickets: Apply for tickets.
The Oakland trio, which opened for their heroes Shabazz Palaces at Noise Pop in February, is set to release a new EP on March 30. TIME is actually the latest of several records for the group, but it's the first composed with Fay as a decision maker. Produced by local Aki Ehara (Trails and Ways), the songs seductively slink through environments that recall both the 1930s and Blade Runner-esque futurescapes.
"We have been able to really let our creativity fly free without any boundaries, without any modifications," Fay said earlier this month. "Then when I look really deeply at the music that we are making now, especially on this new EP … all of the foundational work that we put in for all these years, I hate to negate it in any way because I can see glimpses of that art. …When I really delve into the lyrics and the motivation behind what we're doing, I can see where we've come."
Maynor, who previously played guitar in indie rock band Push to Talk but was heavily involved in the local jazz scene (he worked for SFJAZZ and is now marketing director for Yoshi's in Oakland), started Ghost & the City in 2008 as a studio band that was never supposed to play a show.
The name of the group was a reference to the disconnect people often have from their environment and from each other. That's still something both Fay and Maynor feel at times, both in their day-to-day lives and in the music community.
"Our music has never necessarily been super easy to categorize," Fay said. "We're just trying to make what feels right. That can also contribute to that disconnect when you don't necessarily feel like you fit into a pre-designated mold."
When Ghost & the City started playing shows, live lineups varied from nine musicians, with big band brass sections, to as few as two or three members. By the time Fay became a full-time member of the band, in 2013, Maynor was scaling down.
The two first met because they shared rehearsal space in Jack London Square. She sang in a different band, while working as a web developer and marketer for a tech company. The band eventually ran its course, and her day job zapped her happiness. Eventually, she left that to start The Curl Consultant, a hair salon in San Jose that serves primarily people of diverse backgrounds, like herself.
"Despite having so many folks here in the Bay Area who are [a] commingling of different ethnicities, they're not necessarily represented in all facets of society," she said.
After hearing Fay sing from across the hall, Maynor asked her to perform Michael Jackson's "Thriller" with his band at a Halloween show. The band members like to joke that she just stuck around afterward. Over time, the two became close. These days, Fay said, the two can tell what one another is thinking.
"Ash and I tend to operate on sharing one brain half the time," she said. "The [lineup] iteration we have right now is really something special," she said. "We're really grateful to be able to be make the music that we've wanted to make for a really long time."
That's not to say the trio doesn't play well with others. Trumpeter Ross Eustis recorded the brass parts on the records and sometimes performs with the group. Bassist Michael Shiono Shinodo also contributed on the record. The band members call Ehara their "fifth Beatle."
Until recently, the group's lyrical content has come from Maynor. Even before Fay joined, he didn't sing often. The reason for that is a practical one: With so much work required to create the band's sound on stage, he lets Fay take the vocals. At the band's Noise Pop show, he played a keyboard and three synthesizers, ran a laptop and triggered many different beats.
"In time, our aim is for him to do some more of that [singing]," Fay said. "There's definitely a place for it. You don't really hear a ton of really rich baritone bass vocals."
Fay is a contralto, usually singing tenor and baritone, and said she wants to explore more harmonies between her voice and his. In the past couple of years, Fay said, she has had more autonomy to write songs with Maynor.
"All of our creations are really just a conversation, just a back-and-forth between the two of us," she said. "We often joke that we are on 'mind-fi;' not Wi-Fi, but mind-fi, where it allows us to pull from our own individual experiences but also be really empathetic to the experiences of the other."
The seven songs on TIME are a collective effort and include six originals and an electronic cover of Bobby Womack's "Please Forgive My Heart." Fay said that she connected with the song's themes of redemption and forgiveness, which are universally relatable. Elsewhere, there's trumpet-accentuated, downbeat lead single "N.W.T.A.," an updated "Steady Trippin'," which had been released before, and arena-ready R&B track "Grazy."
"Time is relative," Fay said of the record's central theme. "Savoring time and remembering that time is what you make of it; those are things that stand out to us, and we hope that folks that listen to this album really feel those themes that relate to the passage of time and how precious it is."
Follow Roman Gokhman at Twitter.com/RomiTheWriter.