Outside Lands: Goldroom brings West of the West to Lands End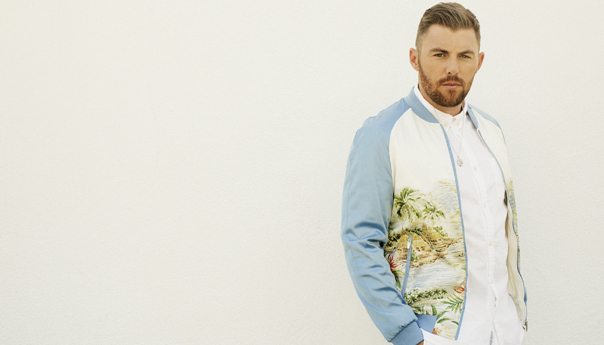 Less than two months ago, Josh Legg was lying in a Cancun hospital bed, coming to terms with a neck broken in two places, the result of a sneak wave that picked him up and crashed his body head-first into the sand while he was bodysurfing.
Goldroom at Outside Lands Music Festival
7:40 p.m., Panhandle stage
Sunday
Golden Gate Park
Tickets: $150-$400.
Sunday, Legg, who performs as Goldroom, will take the stage at Outside Lands. He may be wearing a neck brace, but he was able to recover from the near-catastrophic experience without the loss of any motor function or even needing any surgery. It's not lost on the water-loving DJ and singer-songwriter that he was taken out of commission from his "High Seas Boat Tour" by the very thing he often celebrates in his music.
"That's the true definition of irony," Legg said on a recent evening from his home in Los Angeles, where he's been recovering for four weeks following his return from Mexico. The next day he set out to Japan and Korea for his first shows following the injury.
Legg grew up in coastal Massachusetts, where he fell in love with the Atlantic Ocean on sailing trips with his father. Some people take to hiking, but the two of them had a 27-foot boat that they'd cruise from harbor to harbor along the New England coastline, as far north as Maine. They would boil hotdogs on a little gas stove and Legg's dad would drink Old Milwaukee beer.
"Most of my sort of formative memories from being a kid are just me and my dad, in this boat," he said. "I wasn't around friends, I wasn't around other peers, and so I ended up doing a ton of reading and listening to a ton of music. It's also something that I associate with peace and thinking about life and respect for nature and all those things [I] have carried with me."
Legg moved to Southern California to study psychology at USC. There, he and a classmate formed synth-pop duo NightWaves as well as a music label called Binary Records in 2007. He would DJ on the side, taking the name Goldroom from a bar in Echo Park. By 2011, the Goldroom project was picking up steam, and his partner decided to go to law school (he's a media attorney now). NightWaves and Binary were both put on the backburner. Still, he credits the label for paving the way for Goldroom.
"I love finding new music and I really love introducing people to new music," Legg said. "I think that's one of the reasons why I like DJing so much. But, I miss having a label in some cases because I love finding up and coming talent and working with them. So, running a label is definitely something I'd like to do again in the future."
Goldroom has been releasing songs in batches since 2011, always combining a folk mentality with electronic music. A strong sense of nostalgia is present in each sun-bleached melody. But Legg considers himself neither a pop musician nor an EDM scenester, though he fits closer to the latter and has played numerous EDM festivals.
There is a clear demarcation between Goldroom the DJ and Goldroom the musician. His sets are either full-band electric—and that's what Outside Lands is getting—or a DJ set. In the studio he uses live instrumentation and focuses on the melody rather than the beats.
"I'm certainly a part of that world, but I feel very little kinship with it," he said. "You know, most of the ideals that a lot of the EDM DJs believe in and a lot of the culture that goes along with that, I have a hard time identifying with. … The indie rock world is much more akin to what I like to do."
Following a handful of EPs, Legg released his full-length debut in 2016. He had been waiting for the right moment for years, until he built up enough deserving songs to demand listeners' attention from start to finish. He is well aware that music is consumed differently these days but held on to the "romantic" notion that the right collection of songs would succeed.
West of the West was a term pulled from a Teddy Roosevelt speech upon his first visit to California. To Legg, the term describes a watery oasis, a paradise where he can go sailing whenever he wants. The Pacific Ocean was his muse while making the record.
The album radiates images of California, the beach and adolescent love. It's electronic, ruminative and radio-appeasing: a cross between Tycho and Passion Pit. Legg splits the vocals with singer-songwriter Rooty, which adds a female counterbalance to Legg's presence.
He's looking forward to playing the new album at Outside Lands. His most fervent followers are in the Bay Area, where he has played more shows than anywhere else. The Fox Theater in Oakland is the largest venue he has ever headlined. On top of that, he first got the idea for his annual High Seas Boat Tour, where he performs DJ sets in front of hundreds on bay cruises in coastal cities, on a San Francisco Hornblower cruise.
That said, he's also excited just to attend Outside Lands and soak in the atmosphere. He will attend all three days, possibly sporting his neck brace. His presence at Outside Lands came dangerously close to not happening.
The water was not particularly choppy when he was bodysurfing near Tulum in Caribbean Mexico. His 8-year-old cousin was with him in the water at the time. Yet only he was somersaulted by a wave into the sand.
"It wasn't even the most violent event, but my head just hit the sand in just the wrong way, and I came up out of the water and my left arm had gone completely numb and dead, and I knew I had done something wrong," he said.
Legg was rushed to a hospital, then another in Cancun. Over the next few days he learned about the country's healthcare system (requiring payment in advance for the uninsured). He was able to avoid surgery, though that could still change if the healing does not go according to plan. He was planning to see his neurologist today, and if he gets permission, he'll perform brace-free for the first time. If not, he's good with that, too.
"I feel like I can own it," he said. "I'm proud that I'm getting up and getting on stage with this injury."
Follow Roman Gokhman at Twitter.com/RomiTheWriter and RomiTheWriter.Tumblr.com.