Great escape: Aussies Sticky Fingers pull fingers out to deliver best yet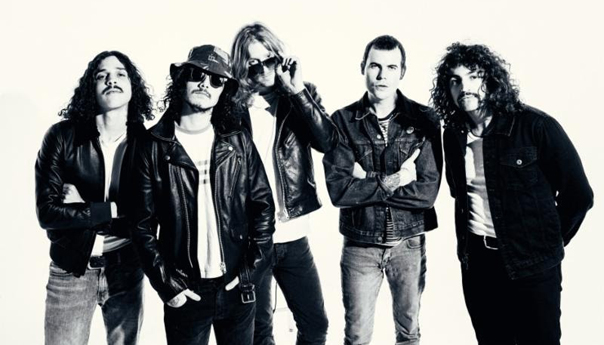 Sticky Fingers is not a Rolling Stones tribute band. However, the Sticky Fingers album did inspire their moniker, and the Australians do have a reputation for misbehaving. Just after the release of their successful sophomore Land Of Pleasure two years ago, they made the news for a transgression at a festival in New South Wales—public indecency was involved.
More recently, they incurred the ire of up-and-coming indigenous metal band Dispossessed for apparent racist taunts at a gig. The band boiled it down to a misunderstanding and denied making the remarks, but Dispossessed's lead singer still took to Facebook to lash out. In the face of Dispossessed's angry, hardcore, death-to-white-colonialist agenda, Sticky Fingers and their larrikin attitudes with easy-going tunes are easy fodder.
When asked about these troubling occurrences, co-founder Paddy Cornwall responds disarmingly, "It's only rock and roll. It all depends on how seriously you want to take it."
Sticky Fingers, King Shelter, Carlos Lara (of Bootleg Rascal)
8:30 p.m., Saturday
Rickshaw Stop
Tickets: $20­-$25.
Speaking on a Skype call from Sydney, where the band is preparing to release its third album, Westway (The Glitter & The Slums) on Sept. 30 and kick off its American tour, bassist Cornwall downplayed the tiff.
"Some people say that you only have haters when you are successful," he said. "In Australia we have the Tall Poppy Syndrome. We saw it happen to Jet and The Vines. Once big Aussie bands … start to achieve some success, there is always someone at your heels waiting to see you fall. We have to take it all with a grain of salt. Laugh. And continue to use the band as a platform to spread the love."
On their Australian tours, Sticky Fingers organize music workshops for displaced children. It keeps the band, composed of frontman Dylan Frost, keyboardist Freddy Crabs, guitarist Seamus Coyle and drummer Beaker Best, on the straight and narrow. Despite his burly demeanor, Crabs held a respectable job with a Sydney all-boys school, teaching music, before the band took off.
He suggested they pitch in and do something to help disenfranchised kids or those in marginalized and aboriginal communities.
"It keeps us out of trouble during the day, sober for the shows at night, and we're earning some cosmic karma for ourselves to atone for sins we've committed in the past," explained Cornwall, only half-joking.
The karma must be working, as the band seem to emerge from these sticky situations relatively unscathed and have a growing fan base. And their music which has continued to garner acclaim.
Their sights are now firmly set on America, which they haven't toured nearly as much as Australia and Europe. With its production finesse, poetic lyricism and caliber of musicianship, Westway (The Glitter and the Slums) could open more doors here.
However, the third album almost didn't happen. Last year, the band was on the verge of a breakup: Fistfights and cancelled tours; delayed shows and visa troubles; and even a blacklisting by Qantas Airlines.
It looked like a classic rock and roll unraveling as the band members struggled to cope with success. As the tour for Land of Pleasure finally came to a close, they sat at a huge divide.
Some were eager to write new songs and head back on tour, but others wanted to go home.
"Certain members were exploding and others were quietly imploding," Cornwall said. "It seemed like we couldn't get into the States for our debut American tour, [but] then Dylan's visa miraculously came through one day before. … We were carrying our guitars and amps past the audience four or five hours late for the gig. It was our sloppiest gig ever. It felt like it had been such a long time since we were all even standing next to each other on stage. But then the next thing you know, we were on the up. This album tells our story of a band that is breaking up."
The new album was recorded at Thailand's Karma Sound Studios. Incidentally, that's where The Libertines went to record their comeback album to ensure that Pete Doherty would not relapse into drug use.
The escape proved restorative. With the help of longtime producer Dann Hume (Courtney Barnett, Matt Corby), they left a month later with a shiny new album in tow.
"Dann gets us as a band, but also knows each of us, and we are five very different personalities," Cornwall said. "He just knows how to … get the right sound for each track."
The album wraps listeners in a warm embrace and transports them elsewhere; sometimes to goofy pot-tinged episodes, others to pure heartbreak.
Opening track "One By One" ambles along with a light melody akin to Blur's "Coffee & TV" while Frost sings of picking up the pieces, one by one. "Our Town" echos the nostalgia of "Australia Street," the breakthrough off their debut. It melds laconic reggae feels with a Stone Roses vibe punctuated by Frost's lilting rap. He intones the need to escape: "I'm not coming back no time to/ Gimme something to feel/ Gimme something to hold."
Love song "Amillionite" comes to terms with the impossibility of sustaining a meaningful relationship and the guilt and regret that brings. The clean melody and Frost's raw vocals recall a younger Alex Turner, but also supersedes it in terms of sheer bareness. Lyrically, so simple without being trite. There's no clever imagery to hide behind. Everything is exposed.
Closing track "No Divide" is a dark, sparse trip hop-meets-skittering-Radiohead beat that speaks to the divide that grew between co-songwriters, Frost and Cornwall.
"We have a very intense relationship," Cornwall said. "We are both self-righteous, ignorant and have very different ideas. When we start arguing, the others roll their eyes, because we really fight. But we love each other very much."
Cathartic as it was to let it all out, it also brought old wounds back to the surface.
"We were about 30,000 feet in the air, between Sydney and Bangkok, when Dylan and I got into an argument, then fist-to-cuffs, and [then] it escalated to an all-out fight," Cornwall said. "It was a pathetic display on our parts. I remember Dann took me and held be above the bathroom cubicle and said, 'Paddy, if you don't stop, I am not going to be your friend anymore,' and I burst into tears. We were like lost kids trying to escape these things we were going through.
"'No Divide' is about us, how [we] struggle and push each other, but we've come far and now there's no divide," he said.
Perhaps Sticky Fingers will make it after all and not become another cautionary rock and roll tale.
Follow Celine Teo-Blockey at Twitter.com/CelineT_Blockey.