Kentuckian Kelsey Waldon takes her first train out West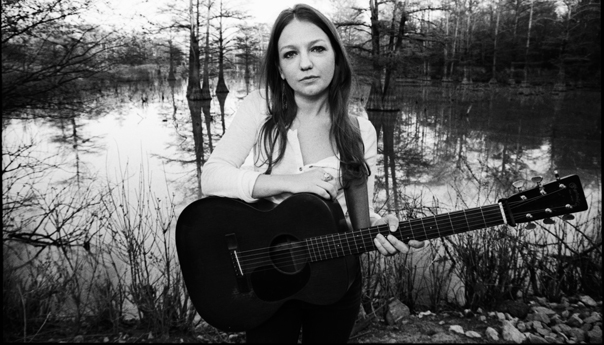 For an up-and-coming country artist, Kelsey Waldon doesn't stay up-to-date on some of the biggest names in the genre. Instead, the Kentuckian puts her head down and focuses on gritty, straight-shooting, honest and organic country music.
Kelsey Waldon, Blue Water Highway, Sikemor
8 p.m., Thursday
The Hotel Utah Saloon
Tickets: $10.
"I'm a little bit under a rock about certain more mainstream stuff," Waldon said in a phone call from her home in Nashville.
Waldon's music is the latest to bubble out of the same spring as Chris Stapleton, Sturgill Simpson and Margo Price, with whom Waldon came up in Nashville—the kind of country that avoids poppier tropes and instead shines a light on coping with hardship and finding a way to make it out alive. That kind of country music has connected so well with fans of indie rock.
"Country music has certainly always had a rock 'n' roll attitude even before any of us came along," Waldon said. "Starting with the early days of Jimmy Rogers; it's pretty punk rock. The attitude is still there, and the stories. … There's certainly an audience out there for what we're doing."
Waldon grew up in a small, unincorporated town in Kentucky called Monkey's Eyebrow, right across the Ohio River from southern Illinois. The town is 160 miles northwest of Nashville, even further from Chicago, and a 40-minute drive to the closest Wal-Mart or mall. There's no post office. It lies alongside other communities with idyllic names like Shady Grove. Her father owns a hunting lodge. Because of its proximity to the river, the land flooded every season. Like many of its residents, Waldon was proud of her Monkey's Eyebrow upbringing.
"I never thought it was weird until I moved out," she said. "I'm always fascinated that people actually think that's not a real place as if I would just make up a name. … That's not really my style."
The land is also tobacco country, and Waldon's first job was planting the crop. She'd sit on a track hoe, setting the plants in rows, and stripping the leaves off the plants by hand, though that laborious task usually fell to others.
"It was the biggest, at least legal, cash crop that people were growing," she said. "You get up very early and sometimes work until the sun goes down; even afterwards. In the real heat of summer, I'd come home with sun blisters on my ears."
Waldon's parents divorced when she was 13, and she turned to music as a coping mechanism. By then she had already become a fan of bluegrass musicians like Bill Monroe, as well as Ralph Stanley, Loretta Lynn, Merle Haggard and Tammy Wynette. Waldon's parents and grandparents didn't play music, but her great-grandparents played in bluegrass bands. Waldon picked up the guitar and eventually what started as an escape turned into a calling.
At 19, after graduating from high school, she bypassed college and moved to Nashville on a whim. She worked at a minimum wage job, struggling to find a stage on which to perform, and eventually returned home with tail tucked between her legs.
Her parents helped her recover from the setback but made her promise that if she pursued music again, she'd have to go to school. So Waldon enrolled in Nashville's Belmont University, majoring in songwriting and music business. She was the first in her family to graduate from college.
She recorded her first collection of songs in 2014 at the home of country singer-songwriter Anderson East, who also engineered the tracks. The Gold Mine, was produced by Michael Rinne. And that's when Waldon began to build a reputation as a sharp-tongued, eyes-opened songwriter.
"High in Heels" highlighted the rampant drug abuse in Kentucky's coal mining towns: "We waited on the job but it took too long/ Brother got in trouble, now the money's all gone/ Mama said, hand out some bottles at the mule/ And people still ask me why I didn't go to school/ Now you might say, 'how could they live that way?'/ If they learned to love a dollar they'd have it their way/ But daddy's gone, mama tried/ Everybody's got their own kind of suicide."
Other tracks centered on the desperate and the broken-hearted. "I've been here alone/ Not a stranger in this bar/ Now if I didn't come home/ But I've made it this far/ And no, it's not my first time," she sang on twangy confessional waltz "Not My First Time." Her songs drew some comparison to another to another country straight-talker, Kacey Musgraves, though more sincere.
But Kelsey Waldon pulls from many influences, including those outside of country like Bill Withers, Al Greene, Led Zeppelin and Kendrick Lamar.
"I hadn't heard anything that raw [as Lamar] in a long time," she said. "I would almost consider Ralph Stanley as raw and inspiring as Kendrick Lamar. Ralph is a bluegrass legend … but I don't see a lot of difference in that. They both come from the same desperation."
Waldon kept her bartending job following the release, using her savings to fund 2016 sophomore album, I've Got A Way.
The record, also produced by Rinne, is a considerably more personal one to Waldon. Rather than focusing on life around her, she points the spotlight at herself.  She sings about succeeding outside of her hometown, and dealing with men, some of whom mean to do her harm.
Kicking off with honky tonk track "Dirty Old Town," which is a statement about Nashville and not at all influenced by The Pogues, the album segues into "All By Myself." The song is more or less a mission statement for the album. "You Can Have It" and "False King" are both kiss-offs to the falsities and negative influences surrounding Waldon. Self-empowerment is a theme that runs throughout I've Got A Way, even on the two covers she chose to record: Bill Monroe's "Traveling Down This Lonesome Road" and the Gosdin Brothers' "There Must Be a Someone."
Waldon said she's already got most of the material for her third album, and has set aside time in October to record. Until then, she is making her first trip to California. While she visited San Francisco as a child, it was so long ago that she doesn't remember much and is not sure what to expect from her first tour here. The mini-tour, which includes dates from the Northwest to Southern California, is anchored around her first Pickathon performance. While she's been touring for nearly two straight years, Waldon has largely stuck to the Eastern side of the Mississippi.
"It takes a little while to get the train out west," she said.
Follow Roman Gokhman at Twitter.com/RomiTheWriter and RomiTheWriter.Tumblr.com.