Interview: Lydia Ainsworth's Darling explores individual 'sound worlds'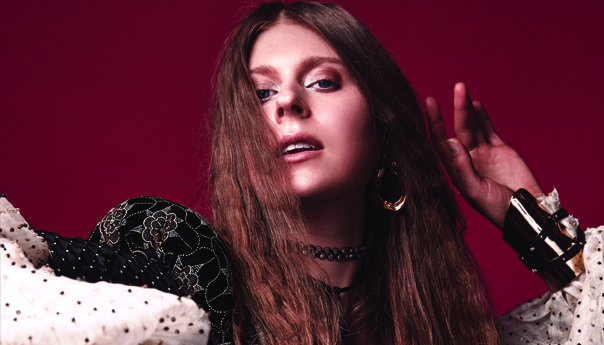 You could call it "pop." Or maybe "dance." Even "mystical." Lydia Ainsworth's second album, Darling of the Afterglow, seems to defy labels, and she wouldn't have it any other way.
Lydia Ainsworth
8:30 p.m., Saturday
Swedish American Hall
Tickets: $13-$15
"I feel like there are a lot of bands today that have one particular sound in every song," says the Toronto-based artist, composer and producer. "I'm not into that. I feel like with every song that I write, I like to escape into a sound world of its own."
While critically lauded, Ainsworth says her first album, 2014's Right From Real, was a learning experience above all else. Having written most of the songs in her bedroom, she says she didn't have many opportunities to perform before its release. Afterward, she toured Europe, performed at several music festivals and provided support on other tours.
"I really learned a lot about using my voice. I think that's like the main difference for me, personally, on the new record," Ainsworth says. "I brought those experiences into the studio and focused more on my vocal presence."
The arts have been an important part of her life for as long as she can remember. Her father, a singer and songwriter, had eclectic music tastes that exposed Ainsworth to "anything from the Beatles to Arvo Pärt to Björk," she says. Her mother was a visual artist, while her grandmother was a painter.
"I think that feeds into my love for drawing from visual inspiration," Ainsworth says.
That is certainly a tool she uses on Darling, though she also relies on pure emotion. "I couldn't take the long way home/ Guess that I was frightened/ I thought that I could face this storm/ I'm only good when sun is shining," she sings on the icy "The Road."
Creating is something that, on the surface, appears to come easily to Ainsworth, who composed films before she decided to write her first album. Though the experiences are quite different, she says she leaned on one for the other.
"When I started out writing for film, I learned how to program and how to orchestrate. That was helpful for me when I was starting out writing songs, but it's a completely different mindset," she says. "When I'm writing music for a film, I'm serving the narrative of that film and serving the vision of someone else, like a director or producer."
Writing her own album was a much more personal experience. Instead of projecting a mood on the listener, as she did in her film work, she simply tries to express herself honestly.
Now out on her first North American headlining tour, Ainsworth says she's traveling with a drummer. However, they're meeting and playing with a new cellist in every city. That's largely based on budgetary reasons, but she says it's provided an interesting opportunity to see how others interpret her music.
"There are a lot of really interesting sides to not going that standard route. It's been really fun," Ainsworth says. "It's exhilarating to have all these things to think about for each show, so it's not monotonous. It changes all the time."
She says she's already found the cellist who will play with her when she performs in San Francisco. But that's not all fans can expect.
"They can expect a really fun, moody, mystical evening with ghosts and minstrels," Ainsworth says. 
She brings her version of pop – or whatever you want to call it – to Swedish American Hall on Saturday.
Follow journalist Brandi Smith on Twitter, Facebook and BrandiSmith.me.