Needtobreathe finds success in the space between mainstream and gospel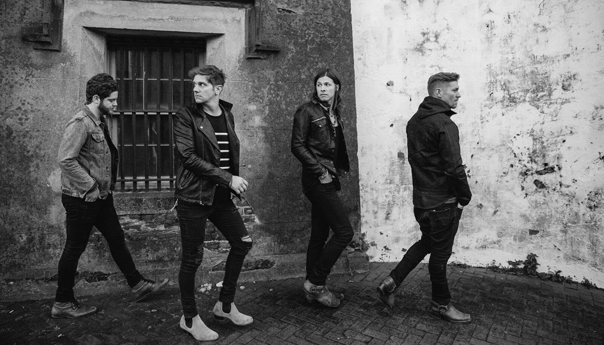 No sentient soul could ever accuse Needtobreathe of laziness. Long before the band hit the road on its own headlining tour, the Grammy-nominated band opened for Train, Collective Soul and Taylor Swift. The band has crisscrossed the country, played international tours and braved outdoor festivals like Forecastle and Bonnaroo in the heat of summer. And the band members are happy to share the spotlight. Their "Tour de Compadres" featured a multitude of other bands and acts they'd befriended over the years.
Needtobreathe
The Brummies
8 p.m., Wednesday, Nov. 1
The Fillmore
Tickets: $37.50.
It's possible to look at Needtobreathe's third headlining tour, then, as the payoff for years of hard work. A wide-ranging conversation with bassist-singer Seth Bolt began with the band's vision for its "All the Feels" tour, which will be making a stop at The Fillmore in San Francisco on Nov. 1.
"It's been a long time since we've been able to play a two-hour show," Bolt says. "We've been a band for so long, we've got a lot of songs. It got to where every song was just one verse and the chorus; it was like a medley. So we wanted to stretch it out and take our time and enjoy some of the moments that come when you go off the page and off script."
Needtobreathe also chose to play its favorite rooms rather than the largest venues, even when it meant not selling as many tickets as they're used to. So while the tour is front-loaded with six amphitheater shows, it also includes stops in historic venues, including The Fillmore.
"I'll never forget the first time we were at the Fillmore in the dressing room, dreaming about selling out the club one day, and having our poster on the wall with all the other musical acts that have gone through there," Bolt says. "Now we've been able to do that. When you're standing on that stage, looking out at all your fans, and you're also seeing all the chandeliers and historic posters of bands that played there decades ago–it just feels like a really special place. You can pretty much look everyone in the eye."
The last leg of the "All the Feels" tour will be acoustic.
"We've wanted to do an acoustic tour for a really long time, just to get all the loud noise out of the way and present these songs in the way they were first written, the way we perform them when it's just us backstage," Bolt says. "We've been playing together since we were kids, about 5 and 7 years old. I think that plays into it too, somehow, the fact that we've sung together for so long. We've got tons of chemistry, inside and outside of music. So we just kinda wanted to … turn the amps off and play it out there in its rawest form."
The band members' beginning as kids in small-town South Carolina is still a big part of who they are today. Brothers Bear (vocals, guitar) and Bo (guitar) Rinehart's father was a preacher, which allowed them access to church music gear.
"We would make a mess every week between Sunday services," Bolt says. "We'd set up the stage like it was ours, and get in trouble for when they would come in for service, and everything was in the wrong spot."
But as the boys grew up and continued to play, the church provided a vital concert venue. They were still too young to perform at bars.
"I think that's a lot of musician's stories, because [the church] is a place that fosters creativity and exploration, musically," Bolt says.
While it might be a familiar story, few musicians have existed so consistently in the space between the mainstream and Christian markets. While Needtobreathe has found success in faith-based markets and released tracks like "Cages" and "Testify," songs that are hits with a Christian fanbase, the band has long resisted being labeled as Christian.
"I think that gospel music gave us a desire to write a chorus that you could sing with a lot of people, and have the message be something that everybody could believe in, regardless of what their faith is," Bolt says. "We make music for everybody. We've always hated the idea that the label of Christian would scare people away."
Bolt is quick to point to one of the band's influences, Bruce Springsteen.
"He's very respectful," Bolt says. "He'd sing about his faith, maybe about Christianity, about Jesus and God; he'd treat it with utmost reverence. And he never used his faith to make money, by selling songs easily because it connects with that subculture."
"We get push-back from both sides," Bolt explains, choosing his words with care. "We're told that our music isn't Christian enough–which, that's fine. But then, without a doubt there's discrimination against our band from the mainstream because of that label."
What the band loves most about music is its power to bring people together. Needtobreathe appreciates having fans from both sides of the political aisle and from every walk of life.
The Southern rock band blends elements of pop, R&B and gospel into its music, leaning hard into its powerhouse anthems. In addition to Bolt and the Rinehart brothers, the band includes keyboardist Josh Lovelace. Needtobreathe has released six albums, with 2016's HARDLOVE the most recent. It was followed up last August with the EP HARD CUTS: Songs From The Hard Love Sessions.
By any metric, Needtobreathe's success is undeniable, but music isn't the band's only passion. The Needtobreathe Classic in Charleston, South Carolina, has become an annual event—a celebrity-filled charity golf tournament benefitting OneWorld Health.
The organization provides healthcare for developing parts of the world where people cannot afford private healthcare and public healthcare poses its own health risks.
"OneWorld Health is bridging the gap, and making quality healthcare affordable to people in those developing countries," Bolt says.
Needtobreathe has been to Uganda and Nicaragua, and in 2016, with the help of its fans, the band built a health clinic for the people of Tola, Nicaragua. A dollar from each of the band's ticket sales goes toward OneWorld Health, and another clinic will be opening soon.
"It's probably one of the coolest things we've ever been a part of, getting to meet the local doctors who are going to be working there," Bolt says.
Each experience the band members have influences their songwriting, from touring and traveling to marriage and babies. And the families are definitely part of a bigger conversation when it comes to the band's future.
They still love touring but now want a better balance between playing shows and bring present for their families. Bolt doesn't have children of his own but can't imagine going on tour for months and coming back to see a child having grown in the interim. For now, the band members are bringing their families on the road.
"Sound checks are hilarious now because there's all these little wannabe rock stars­—kids under the age of 5," he says. "They're dressed up, with their boots on, they've got their miniature guitars, mic stands that are their height. They love the sound checks."
For a band that got its start at a young age, playing in a venue made possible by their parents? That sounds about right.
Follow writer Hillary Manton Lodge at Twitter.com/hillarylodge, Facebook.com/hmlfiction and hillarymantonlodge.com.