East Village upstarts Public Access T.V. get older but don't grow up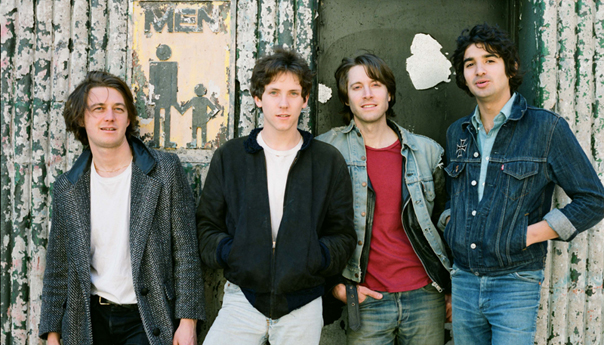 Expect the next record from New York rock quartet Public Access T.V. to be less "boyish," but not more mature.
"I think that's … a cop-out to say on any big follow-up record," frontman John Eatherly said in a call recently. "Most of the time, when someone says that; it's bullshit. That means they've put piano on the record, and the songs are six minutes long, now."
Public Access T.V. released its debut, Never Enough, in autumn 2016 after two years of hype and build-up. Eatherly, the primary songwriter, already has an eight-track mix of the band's sophomore record completed. He expects the band to record this fall and for the album to be released next spring.
"I just think it's a different approach," he said. "The first record [was] maybe a bit bitter. There's a little bit more hope, lyrically [on the new songs]; a little bit more 'not everything is so fucked.'"
Eatherly, now 26, worked for years on his band's original songs. In some instances, he was a teen when he wrote them. He grew up with his parents in a tiny Tennessee town west of Nashville. His parents had moved them from Texas in the '70s because his father wanted to pursue a career as a songwriter. By Eatherly's account, his father did not succeed.
"When I was younger, I had my heart set on not choosing music to be any kind of career," he said. "Part of me didn't want to do that because I saw what he went through."
Still, the allure of rock and roll was too much too pass up. Eatherly grew up playing in bands. When some of his classmates struck gold with short-lived success Be Your Own Pet and invited him to go on tour as a drummer, he dropped out of high school at 16. Even as he quit high school, he was considering college. But primarily, he said, he just wanted to delay adulthood and real life.
Eatherly had no idea what he wanted to do with his life at the time, and wanted to buy time to figure it out. Eventually, he came to accept the decision that music would be his life.
"I'm happy with it now, and I've been happy with it for a long time," he said. "I don't see myself going back to any kind of school. At 16, I hated school. I was so excited that first week [of] junior year, because I already knew that I was going to drop back. It was a lot of fun going there, having the teachers give me my homework and just crumpling it up and throwing it in the trash."
Be Your Own Pet was fun until the band imploded in 2008. Teenage personalities don't mesh well confined to the same space for too long. The same year, Eatherly and his bassist friend Max Peebles decided that small town living didn't cut it anymore, and set out for New York. He had always longed for the big city that was home to so many of his rock idols like David Bowie, Lou Reed and the scene at CBGB. He lived in Brooklyn for two years, but that wasn't the New York he wanted.
"The New York I envisioned moving to as a teenager was Manhattan. It was the romantic Woody Allen version I had in my head," he said.
For two years, Eatherly played the role of hired gun as a session and touring musician. He spent time with Eleanor Freidburger and the Fiery Furnaces, the Smith Westerns, and the Virgins, who were managed by his friend Ben Goldstein. Goldstein had managed a band that opened for Be Your Own Pet. On the side, Eatherly continued to write his own songs, which he had been doing on the side during the Be Your Own Pet days.
"I really wanted to be in control of my own time," Eatherly said. "I figured if I had my own band, not only would it be more rewarding, but also I would have control of my own schedule and my own work."
By 2014, he already had several demos, some of which he recorded on his phone. They included "Summertime," a song called "Metropolis" (later retitled as "I Don't Want to Live in L.A.), and "Manaco." Goldstein took the initiative, uploading the latter to Soundcloud. Then, things began moving quickly.
NME took notice of his song and dubbed Public Access T.V. a band to watch. That led to a label deal—before Public Access T.V. had yet to play a gig. Eatherly was then offered a gig at a New York club. There was only one problem: He did not have a band. That's when he called on Peebles. Guitarist Xan Aird was brought on-board as well. Eatherly had gotten to know him by frequenting the same bars. Drummer Pete Sustarsic, was the final addition; a friend of a friend.
"I had been lying about already having a band together, saying we had been rehearsing and everything," Eatherly said. "We kind of felt that we bullshitted our way into this record deal, but at the same time, I had done all the writing and done the demos. It was very backward. The years after that we spent working out the kinks and being an actual band."
From the outset, image was important to Eatherly, who fits in better in the New York of 1979. His love for the city also came from films like Taxi Driver. The dirty, smoke-filled streets of Times Square and the artist haven of the east Village, so associated with the rock and roll of the time, could also set the scene for Public Access T.V. The band plays a blend of new wave, pop and punk that's both nostalgic of that time but also feels fresh.
"So much of what we go for with the imagery and everything that we like goes with that era, those '70s New York movies," he said. "I'm happy to be where I am … but we'd probably fit in better then because more people were playing rock and roll. At least more people were playing guitar."
Eatherly wanted Public Access T.V. to have its own, new story. He knew that his convoluted background would complicate people, and he didn't want the musicians' histories to be used as marketing. So Eatherly began telling people that Sustarsic was "Pete Star."
"If only Pete had the luxury of making that decision on his own," he said. "He didn't actually choose Star, or know about it. … I thought it was funny to change Pete's name and he didn't realize it 'til later."
Never Enough was a rambunctious mix of angular and jangly guitar rock, power pop and glam rock. The album was released on Cinematic/Sony just a few months after the band members, who shared an East Village apartment, lost their home and all their possessions in the massive gas explosion that leveled three buildings and caused the loss of three lives. The band was on tour in Los Angeles at the time and watched the tragedy unfold on T.V. They've been able to recover their losses and still live in the same neighborhood.
In the year since the release of the debut, Eatherly has been hard at work on the band's follow-up. He still wrote the songs by himself, but this time he had Aird and Peebles to give him feedback and suggestions. Many of the songs on the debut now feel old and outdated to Eatherly. He said listeners will find the biggest difference in the new material in his approach.
"I haven't used any old ideas," he said.
The first song from the new album, "Shell No. 2," could be released as soon as the end of September. He's not ready to talk about the meaning of the name—shell game, perhaps?—but said the new material has a similar balance of pop and rock.
"It has guitars, but as far as structure and melody goes, I think it's in the same vein of trying to write a pop song and cram a lot into three or four minutes," he said.
"I'm not trying to make the same thing twice. The most important thing is to keep things interesting … and feel like I'm making progress."
Follow Roman Gokhman at Twitter.com/RomiTheWriter and RomiTheWriter.Tumblr.com.