Zak Starkey and Sshh Liguz deal with 'Issues' on SSHH covers album
LOS ANGELES – It's three days after the election and President-elect Donald Trump is about to head out to the White House. I, meanwhile, am at the Hollywood Hills bungalow that Zak Starkey and his longtime partner, Sshh Liguz, call home when they're in Los Angeles. They've stayed here several times over the last year, busy making music as electro-punk band SSHH.
Like much of the world, Liguz, an Australian who now lives in the U.K. with Starkey, has Trump on her mind. Among a host of other concerns, she worries about climate change and the destruction of the Great Barrier Reef.
Win an autographed Issues vinyl
Like RIFF's Facebook page and share the post for this story
One winner will be selected in a week and get the LP!
"So much of the coral is now dead—not just bleached, but dead," she says. "That's astounding. And Trump doesn't believe in global warming. We don't think about the big picture. Not just as a band, or brand, but in life—the difference that one individual can make. If a million people thought like that, we would have a movement. It's scary times and we need to all not just be concerned about our own well-being but how the person next to us is feeling."
Today, SSHH released Issues. And they are excited. Liguz created the artwork, inspired by the U.K.'s Big Issue, a publication committed to providing income for the homeless and unemployed. The album features 11 covers, including hits by the Sex Pistols, Blondie, The Ruts, David Bowie, The Big Pink, Primal Scream and Bob Marley and The Wailers.
The project took off when Sirius FM asked for covers of artists who inspired their music. The pair previously released music under the moniker Penguins Rising.
Their label soon went under and they lost their record deal, but Issues started to take a life of its own. Named so because "all bands have issues," they decided to use the rhythm sections of several of the original artists. Within three weeks, they recorded two albums' worth of tracks in London and L.A. At Pledgemusic fans can buy signed albums, drumsticks and even Starkey's Epiphone Les Paul guitar. All proceeds go to the Teen Cancer America.
The pair feels it makes perfect sense that the money goes to charity. Explains Starkey: "There's about 20 people on it. Everyone was giving their time for free. It's other people's songs … we don't want to go out and cash in."
Starkey's other gig is drummer for The Who. He also drummed for Oasis between 2004 and 2008.
Of course, Starkey may best be known as the son of Beatle Ringo Starr. He and Liguz knew they would make music together from the moment they met at an MC5 concert more than a decade ago. Now, they're like the couple in When Harry Met Sally. They even interrupt each other to pipe in. However, they are unable to accurately finish each other's sentences. They chide each other constantly but are quick to apologize when it matters. She's feisty. He's no wallflower.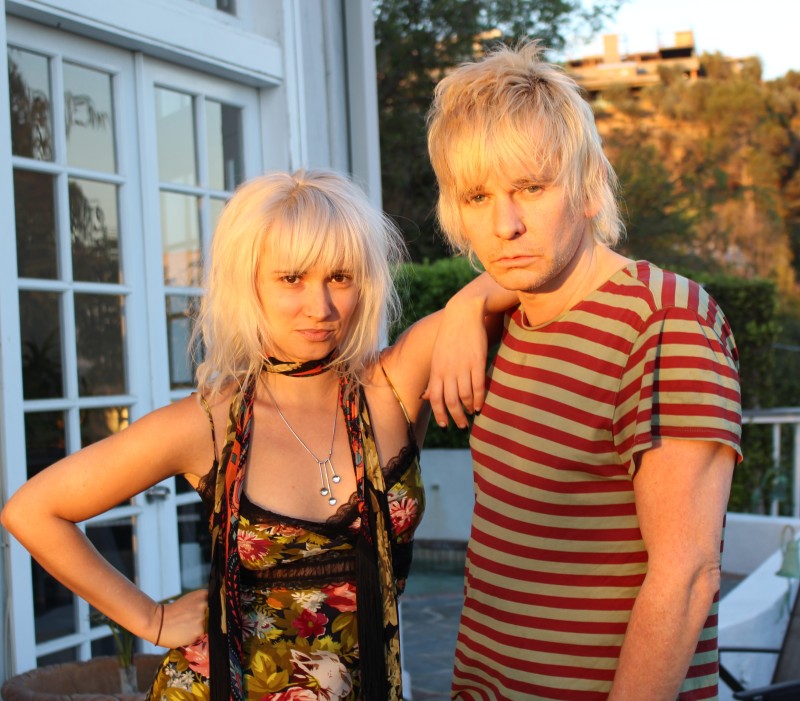 "I know when to pull back," he insists.
"That's bollocks!" quips Liguz.
As lovers working in a band, their main issue is arguing about band business.
"There are times when we split up on the way to gigs and get back just in time for the sound check," Liguz says. "The majority of our arguments are about the band. Which photograph to use? Which mix to use?"
Which songs to include on the album?
"We grew up in different eras so we were exposed to different music," she says. "My tunes were 'Dominoes,' Amy Winehouse, 'All The Young Dudes,' whereas Zak was like, 'We've got the Sex Pistols. Yeah!'"
Starkey's picks also included pioneer punks The Ruts and Blondie. "The Ruts were the first band I was old enough to see, because I couldn't get in to see The Pistols or The Damned," he says. "I was just that little bit too young. For Blondie, Clem the drummer has always been a great influence on me, flying that Keith Moon flag."
They called their band SSHH—pronounced like the demand for silence—because Liguz is incredibly chatty. There's a 15-minute stretch in our talk where Starkey, unable to get a word in, actually steps away. "I just did a spot of gardening and some plumbing," he cheekily says later.
Liguz's singing voice is flawlessly punk—ice queen Siouxsie Sioux, with the spunk of Johnny Rotten, and the balls to take on any genre of music. From reggae ("Get Up Stand Up") to modern electronic ("Dominoes"), to punk ("Trouble") to spacey Madchester dirge ("Shoot Speed Kill Light") and to genre-pushing Grace Jones ("Private Life"), Liguz could sing the instructions off a microwave manual and you would pay attention.
What makes the project unique is that Starkey and Liguz now have rhythm sections in three cities and can perform with any one of them and still sound like SSHH.
In the lead up to the album's launch they played with the Sex Pistols' Glen Matlock and Paul Cook in London. In New York, it was with Blondie's Clem Burke and Steve Fishman. And in Los Angeles, they played at the Viper Room with the Wailers. On the album, Eddie Vedder sings back-up vocals on "Get Up Stand Up."
Starkey plays me a video of the London show on his laptop. A week prior, I watched them play The Viper Room in L.A. with Wailers' legends Tony Chin, Fully Fullwood and Santa Davis. The vibe is different but they are as tight a unit as with the Pistols.
"One of the reasons we did this project was we wanted to shine a light on the rhythm section of these bands," Starkey says. "We cut ("Get Up Stand Up") because I am a big fan of Peter Tosh and we felt like everyone kind of forgot about him. He was in the Wailers, too, and he co-wrote [one of two versions of] this song with Bob Marley. It's Peter Tosh's version of the song that we do."
Tosh, whose  was an advocate for disadvantaged people everywhere. In 1987 he was shot in his Kingston home during a burglary. His killer was a man he had sought to help in the past.
"He was a militant and totally uncompromising with his beliefs," Liguz says.
The enormity of "Get Up Stand Up," its legacy as a protest song and the fact that the pair were recording with Tosh's band, sent both into a tailspin.
"I was soaking in sweat just from the nerves," explains Starkey. "I had to step outside to breathe. When we got back in, we did it a bit punk. Like The Clash. And they just got it."
The guest musicians came together for the project without much drama. "Mind you, there's definitely some egos around," Liguz jokes, "mostly mine."
Thankfully, Starkey has experience working with big personalities.
After spending a good portion of his life not wanting anything to do with the legacy of the Beatles, and working to carve out a name for himself away from his father's shadow, Starkey is finally at ease stepping out from behind the drum kit, with Liguz by his side.
"I'm cool with that shadow now," he says. "But not when I was a teenager. For most of my life, I hated it. Some of it was very stupid and ignorant, but I think I had to go through it in order to have my own identity. I think it also makes a difference [that] my dad is still alive and he is not put on a pedestal. To me, my dad is a guy chasing me 'round the garden, saying, 'Wait 'til I get my hands on you!
"I've always played the guitar, since I was 7—even before the drums. So this is natural to me. I've always had a band, too. This just happens to be the best one.
"And I've got a great singer."
Follow Celine Teo-Blockey at Twitter.com/CelineT_Blockey.