Interview: SF's The New Up strikes back with Tiny Mirrors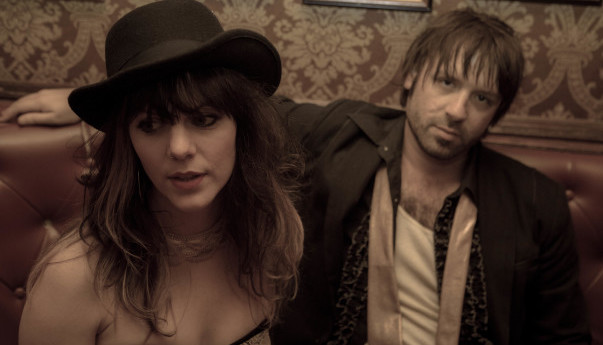 After being unsatisfied by the results of 2010 EP Gold, The New Up took a step back to reflect on the direction of its pop music, which skewed heavily toward grunge and psychedelia.
Over the past seven years, the San Francisco duo (and couple) built a studio and wrote songs endlessly to produce a contemplative and politically engaged sophomore follow-up in Tiny Mirrors.
The Slants, The New Up, Goh Nakamura
7 p.m., Sunday
The New Parish, Oakland
Tickets: $12.
"We did a lot of soul searching," vocalist and guitarist Noah Reid said. "We were trying to figure out why we weren't connecting with people through music."
Reid and vocalist-guitarist Emily Pitcher finally realized the music wasn't vibing with their interests and tastes either. They took control of their musical journey to uncover their artistic endeavors. Tiny Mirrors explores the emotions experienced in everyday life. Happiness and sadness are common, but as Reid explains, there is a plethora of different feelings more difficult to pinpoint. The duo hopes Tiny Mirrors helps listeners identify them and turn them into something positive and meaningful.
Tiny Mirrors is very much a DIY project and required Pitcher and Reid to extensively plan. The band first started an Indiegogo crowdfunding campaign. Once the two raised the cash, they invested in better equipment and wrote more than 40 new songs. 
"A million little decisions were made, in every direction of the album—we did not compromise on quality on any decision," Reid said. "So this whole album, from stem to stern, is exactly what we wanted it to be."
Concentrating on the authenticity, Reid and Pitcher made Tiny Mirrors in three locations throughout Northern California. Besides their home studio, The New Up also recorded in a barn near Mendocino and at their engineer's home in Marin.
The lonesome barn was the basis for the acoustic drums and bass. The San Francisco studio staged the dubbing and electronic tones. Pitcher and Reid intertwined the sounds together while surrounded by redwoods.
"All the places where we played were magical and they also were places we felt really relaxed and at home," Reid said. "I think that allowed the whole album to come from a real place."
During a time of political unrest, The New Up tried to separate its music from the current political climate. After processing the songs and the purpose of the album, the duo knew what it was making precisely pertained to what was happening now.
On "Almost Human," Pitcher belts, "It's a beat down world/ Do you think we should/ Let it all go/ Forget about things that we can't change/ Oh we'll, forget about the things we could." The duo embraces the unrest and harshness of the world. Sonically, the song follows mid-2000s Muse, with blaring, overbearing guitar, mirrored by echoing synths, and simple-but-powerful percussion.
"I think that was my fear," said Pitcher about incorporating politics into the music. "I didn't want to turn anyone off. This album is so much more political than I thought. The only thing that keeps me going is thinking that maybe all of us will wake up a little bit more."
The social and political renaissance, as Reid describes it, allows connectivity to thrive on Tiny Mirrors. The relationship between music and politics has the ability to make waves. The New Up continues to push for stronger community growth and political knowledge throughout its musical journey.
Alongside the struggle of producing an album, the band experienced personal struggles and gains throughout the process. After a close friend passed away, Pitcher and Reid had a child; their first. Making music became a form of therapy during the emotional roller coaster.
"I always find where there is death, there is life," Pitcher said. "For us it was literal. There was major death in our life then I got pregnant. I think throwing myself into the creative process was the way that helped me through it."
The unexpected twists and turns personify Tiny Mirrors. The uncertainty and possibilities that any ordinary day can bring are exemplified through the raw acoustics and amplified electric drums. Pitcher and Reid want to empower listeners to do the impossible and break boundaries.
"We want to spark people's imaginations and their emotions so that they can make their own connection with the music and with what everything on the album means," Reid said.
Follow columnist Ruby Virchow at Twitter.com/RubyVirchow.