Vagabon trades engineering for emoting on first LP Infinite Worlds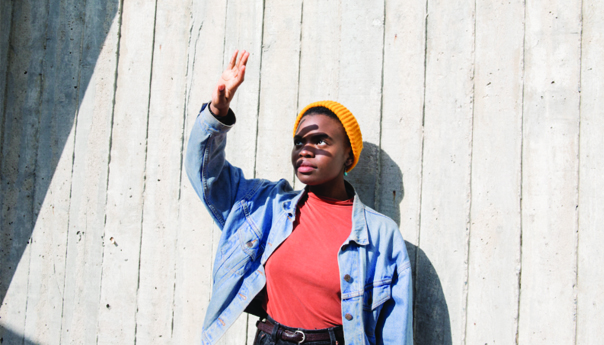 Allison Crutchfield & The Fizz, Vagabon, Joyride! 
8 p.m., Thursday
Rickshaw Stop
Tickets:
$12-$14
"I feel so small," begins Vagabon's opening song "The Embers" on the full-length debut album Infinite Worlds, which is an interesting choice for an artist with such a strong voice.
Vagabon is Laeticia Tamko, who immigrated to New York from Cameroon as a teenager. She taught herself how to play guitar while she was in high school, but set aside the instrument when she decided to pursue a degree in engineering.
"With engineering, I've learned to exercise extreme analysis of virtually anything. Engineers are problem solvers," Tamko said. "The overlaps between the two disciplines is that my background in electrical engineering correlates with recording and producing. Music has allowed me to put all the conceptual knowledge into practice."
She came to that realization in 2014, toward the end of her time at the City University of New York. It was then that she reacquainted herself with the music she loved playing and started performing shows as Vagabon. That year, she released her first EP, Persian Garden, which allowed Tamko to showcase her talent as a singer, lyricist and multi-instrumentalist on six songs.
"Writing takes different shapes at different times for me," she said. "Sometimes lyrics are about characters in books I've read or from the perspective of said characters. Sometimes a line or two is autobiographical, sometimes imaginative. There is no set formula and these things are always changing."
Though they may not always be autobiographical, Tamko's lyrics often feel incredibly personal, as though the listener is reading her diary. On Persian Garden's "Vermont II," for example, Tamko starts timidly, singing about "hiding in the smallest places," as she weighs following the person she loves to Vermont. Rebranded as "Fear & Force" on her newest release, the song is softened even further.
"It has been fun to experiment and execute ideas in a new light," Tamko said of working on Infinite Worlds. "I think over the years, the way I approach songwriting shifts to include everything from the song to little production nuances."
"Vermont II"/"Fear & Force" isn't the only song to get an update on the new album. Tamko also revisits "Sharks" (now "The Embers") and "Cold Apartment" ("Cold Apartment Floors). Though the names and some mild production may change, what doesn't is the power of Tamko's soaring voice.
Having performed solo for years, Tamko is now on tour with a backing band for the first time. She said the addition of more musicians on stage allows her to add new elements to her arrangement. As a solo artist, that was something she'd been unable to execute before.
"It's still important to me to keep the intimacy of my solo set, so this tour will be an even mix of these two iterations," Tamko said.
She brings her fragile, yet funky and catchy sound to Rickshaw Stop when she opens for Allison Crutchfield & The Fizz on Thursday.
Follow journalist Brandi Smith on Twitter, Facebook and BrandiSmith.me.