Tuesday Tracks: Your weekly new music discovery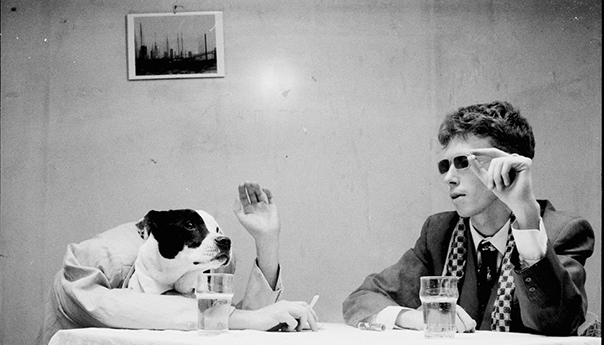 Every week, there's a plethora of new music at our fingertips.
Artists on platforms such as Spotify and Bandcamp are plentiful, and the radio offers a steady deluge of new singles, but who has time to sort through all that? RIFF does!
We pooled our resources to find some of the best new singles from all genres and backgrounds, so you can find your newest earworm without all the drama. Enjoy this week's hidden gems:
***
King Krule, "Half Man Half Shark" — I've seen a lot of love for Archy Marshall (better known as King Krule) on social media, so I feel long overdue for a first listen. For those like myself who are totally new to Marshall's sound, you might be surprised to find that "Half Man Half Shark" is not just mutant in its name. The single fuses gritty grunge textures, jazz rhythms, and trip-hop embellishments—together forming a distorted melody that magnificently makes sense. The panic-like turbulence goes perfectly with Marshall's anecdotes of "Simplest soft thoughts become menacing/ Twisted raw adrenaline." The new single is off King Krule's upcoming sophomore album, THE OOZ, out Oct. 13.
***
Blonde Maze, "Thunder" — Unlike the actual daunting sound of thunder, "Thunder" by Blonde Maze has the playfulness of bubblegum pop, but glazed with a mystical aura. Amid the music, Blonde Maze's Amanda Steckler reflects on a relationship where both individuals are dynamic forces that ultimately find strength in each other.  "You say my heart won't stop beating like thunder," sings Steckler, then adding "You're lightning, I'm thunder." A hypnotizing groove to get into, "Thunder" is just a sample of what's to come from Blonde Maze in the next year.

***
Mimicking Birds, "Sunlight Daze" — With hazy vocals and ambient, swirling instrumentals, "Sunlight Daze" by Mimicking Birds puts the title's meaning into sound form. The song takes on each day as it comes, using cosmic cues to make sense of everything: "There's a long sun bleached highway that inches along between each age/ Unilluminated we have no way of knowing what way's which way."  While the track shows it's easy to slip into going through the motions, Mimicking Birds reminds us that beauty still exists, even in things that feel routine. "Sunlight Daze" is the lead single off Mimicking Birds's upcoming album, Layers of Us, out Jan. 26, 2018.
 ***
NHD, "The Boys are Back in Town" — When I think of "The Boys are Back in Town," my mind immediately plays the Full House episode where '80s dreamboat John Stamos wows a partying crowd by performing the Thin Lizzy song. The song is renowned for its edgy, free spiritedness, but NHD strips it down into an easygoing folk jam. The Americana trio, comprised of seasoned musicians Salim Nourallah, Billy Harvey and Alex Dezen, reimagines the classic rock hit with twinkling guitar lines and cheery group chants. Despite the huge shift from the original tone, this rendition still works well with the song's spirit, making it as celebratory as ever.
***
Private Island, "Crime" — Starting with electronic trills and pulsating synths, I expected "Crime" to eventually break into a full-blown electronic song. Instead, it takes an indie-soul route: smooth vocals, groovy bass line and all. Private Island's hybrid sound makes it challenging to fit the L.A. group into one particular music scene. But it is definitely infectious and diverse enough to get anyone listening to nod their heads and jam along. "Crime" is off Private Island's next album, Night Drive, set to release later this year.
***
Chloe's Pick – This week, I'm really digging King Krule. Archy Marshall has a knack for bending genres and mashing up crazy diverse ideas, with the end result always tasteful, dark, and offbeat. "Half Man Half Shark" and the rest of King Krule's catalog have the same feel as David Lynch films, which is a quality I'm definitely all for.
Follow Chloe Catajan at Instagram.com/riannachloe and Twitter.com/riannachloe.