Tuesday Tracks: Your Weekly New Music Discovery – Aug. 14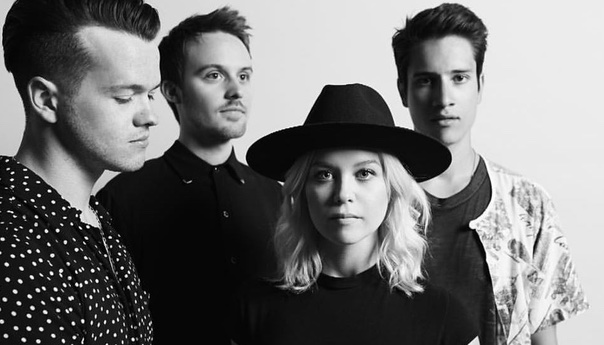 Every week, there's a plethora of new music at our fingertips.
Artists on platforms such as Spotify and Bandcamp are plentiful, and the radio offers a steady deluge of new singles, but who has time to sort through all that? RIFF does!
We pooled our resources to find some of the best new singles from all genres and backgrounds, so you can find your newest earworm without all the drama. Enjoy this week's hidden gems:
***
Transviolet, "Undo" – Having opened for the likes of Mikky Ekko and LANY, Transviolet shades the indie realm in its particularly edgy hue. The band coined the name as its own derivative of transcendence, giving voice to the band's desire to produce music to help people rise above a careless disregard for connection. The group balances clever lightheartedness with the darkness of intrinsic demons. Frontwoman Sarah McTaggart has a lot to say with "Undo." She breaks down psychologically abusive relationships in this angrily catchy cry for independence. With a video that brings this vision to life, this song proves to be one of Transviolet's most moving.
***
Louis Cole, "Things" – Some may be surprised to find out that synth acolyte Louis Cole actually graduated from the jazz studies program at the University of Southern California. His style ranges from upbeat techno to groovy electronic ambiance. Cole doesn't scream jazz at the surface, but observant listeners can find that stylistic undertone. The man contrasts rave-starting synths with his relaxing piano riffs. On "Things," Cole capitalizes on his softer side, with staccato drum beats and stunning vocals. The track only scratches the surface of the flurry of talent he encapsulates with his new album, Time. "Things" is a definite departure; still musically fascinating but much more low-key.
***
Jesse and the Dandelions, "Give Up the Gold" – The quintet serenades listeners like a prom band. The crossover between past and present is fluid as Jesse Northey creates swoon-worthy vibes with funky reverb and emphasized wordplay, providing a convincing psychedelic pop vibe. Northey is a distinct storyteller, providing a fun aesthetic suitably renovated for those growing tired of the 2010's ongoing fascination with '80s nostalgia.
***
EXES, "Bones Break" – A duo that falls into the vibe of acts like Oh Wonder and Sylvan Esso through the sexy harmonies and the raw emotion lyricism. EXES' motto is blunt and to-the-point: "We write songs about our exes." They also don't want anyone misreading their identity. Allie McDonald and Mike Derenzo have a lot to work through and "Bones Break" allows listeners to infiltrate their bouts with heartbreaking losses. Although love stands out as a stalwart topic within plenty of music, EXES' natural ability to evoke empathy through dreamy electronic musicality is memorably pleasurable. "Bones Break" is a bruising last kiss, and you'll feel it all through the night.
***
The Dodos, "Forum" – San Francisco stalwarts the Dodos have released six albums, proving themselves a vivid marriage of indie rock and psych-folk. Meric Long and Logan Kroeber are musical soulmates. On "Forum," the Dodos open with a powerful violins, but quickly divulge in a harsher percussive sound. "Forum" has an intense midpoint filled with bottled passion spurting out of intense vocals. The emotion on this track remains palpable, creating a magnetic pull with each note they play.
***
Vic's Pick – This week's pick for me felt rather easy, and I'll be truthful about my glaring bias toward Transviolet. Since I first saw then opening for LANY two years ago, I immediately took to McTaggart's voice on the infectious pop beat of songs like "Future" and "New Bohemia." With the thought-provoking  "Undo," the band provided some bold material for listeners to wrestle. "Undo" tells relatable a tale of a woman overthinking matters to an unhealthy degree, expounding on an unbalanced relationship. Clothed in a darker pop style, this song invokes a challenging introspection.
Follow writer Vic Silva at twitter.com/VicSilvaaaa.