Wham!, Prince, and Madonna headline RIFF Rewind's best of 1984
The cuts in this top five songs of 1984 were tough.
The Cars' "You Might Think" and Sheila E's "The Glamorous Life" are favorites of mine, and I'm sure I'm going to get backlash about leaving out Frankie Goes to Hollywood, the Talking Heads and Tina Turner. But who was I supposed to cut? Metallica? That's definitely not going to happen.
Twisted Sister — "We're Not Gonna Take It"
Yes, yes, I left Bruce Springsteen's "Dancing in the Dark" off the list but included Twisted Sister.
I love the band and the song, yes, but more important was the effect Twisted Sister had on music thanks to future second lady Tipper Gore. They were one of the Big Bads she cited in her crusade against her definition of obscenity in music, and in 1984, frontman Dee Snider was called to testify before the Senate to defend his lyrics.
He did. And they did not expect the eloquent, articulate defense of "We're Not Gonna Take It" and its associated music video they got from the thoughtful, intellectual Snider. I highly recommend you click that link in the last sentence; his calm, systematic disassembly of the argument against him is amazing.
Prince — "When Doves Cry"
Purple Rain is Prince's answer to Thriller, and like Thriller, just about every song could have been on this list. I went with "When Doves Cry" because it's my favorite, but if you prefer any of the others, by all means, just pretend I included that instead; it's a valid choice.
Metallica — "Fight Fire With Fire"
I wasn't kidding; there really are going to be a lot of Metallica songs in this series.
Wham! — "Careless Whisper"
You may be surprised by this choice and, frankly, I wouldn't blame you. I just added my second Metallica song in two years and waxed poetic about how much I love Dee Snider. So why did "Careless Whisper" make the list?
Well, you see, I absolutely love "Careless Whisper." I love it so much. According to Spotify here are my most played songs of 2017: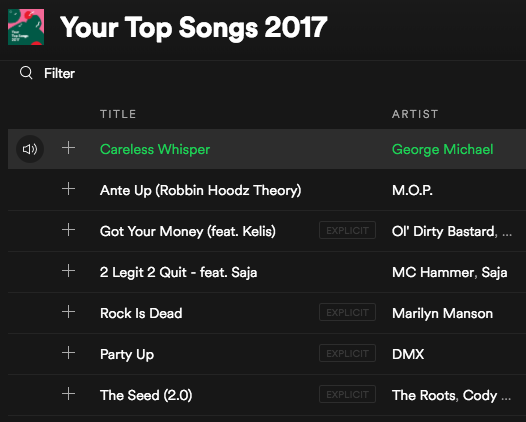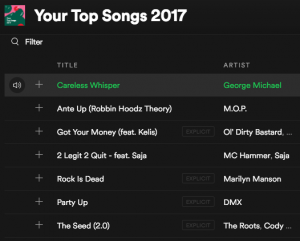 You may notice that when I pulled up that list I took the opportunity to listen to "Careless Whisper." I am not kidding about my love of this song.
Madonna — "Like a Virgin"
If I'm going over the history of the '80s, I have to include Madonna. She was as much a cultural phenomenon as Michael Jackson, and she shaped music as much as anyone else I've raved about. It's not really my cup of tea, but I've gotta give respect where it's due.
Honorable Mentions
Van Halen — "Jump"
Kenny Loggins — "Footloose"
The Cars — "You Might Think"
Run-DMC — "It's Like That"
Ratt — "Round and Round"
Meat Puppets — "Plateau"
Tina Turner — "Private Dancer"
Fat Boys — "Stick 'Em"
Bruce Springsteen — "Dancing in the Dark"
Sheila E. — "The Glamorous Life"
Stevie Wonder — "I Just Called to Say I Love You"
Mercyful Fate — "To One Far Away"
Talking Heads — "Burning Down the House"
Frankie Goes to Hollywood — "Relax"
Follow editor Daniel J. Willis at Twitter.com/BayAreaData.