RIFF Rewind: Public Enemy, Deee-Lite and They Might Be Giants had the top 10 songs of 1990
Double-length edition again!
I try to keep to my rules, but it was looking I'd have to cut either Sex Packets or Flood, and I'm just not going to do that. Turns out way too many of my favorite albums came out in 1990 to cut anything. And, like I said the last couple times, it's my column so I can do what I want.
Speaking of great albums…
They Might Be Giants — "Birdhouse in Your Soul"
If you don't like Flood you might not have a soul. It's an album so great the band will periodically just play it, the whole thing, as their entire concert. And people go out of their way to see it!
I nearly broke one of my less-breakable-than-the-five-song-limit rules and included both "Birdhouse in Your Soul" and "Istanbul (Not Constantinople)," because how could I be expected to choose just one? In the end, I went with the former because it's an original composition rather than a cover.
That's right. "Istanbul" is a cover. Did I just blow your mind?
MC Hammer — "U Can't Touch This"
If you're from the East Bay and you don't like MC Hammer you have to move. That's the law. Hammer is to the Mayor of Oakland what the Queen of Great Britain is to the Prime Minister; technically the elected one has the power, but the other is the embodiment of the government.
I mean, just take a look at this picture I took during the Warriors' victory parade a couple week ago: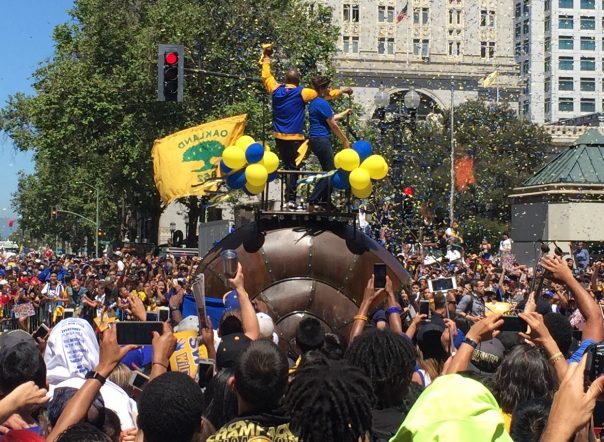 That's MC Hammer and Mayor Libby Schaaf riding a fire-breathing metal snail past City Hall.
So yes, I included Hammer.
Sinead O'Connor — "Nothing Compares 2 U"
Described by Steve Smith from American Dad as the saddest song ever, "Nothing Compares 2 U" is one of Prince's greatest achievements, and he didn't even perform it himself. But as brilliant as his recently-unearthed version is, I still prefer the O'Connor version. And it takes a lot to prefer something to the Prince version; in a previous edition he usurped a Beatles song.
Digital Underground — "The Humpty Dance"
We're to another of those favorite albums I mentioned. Part of it is that I'm an Oakland homer I'm sure, but Digital Underground's "Sex Packets" never gets old for me. I picked the well-known single rather than part of the overarching story–because, yes, it's a concept album–but the whole thing is great.
When the late Combat Jack was getting near the end of an interview, he'd often ask for their top five MCs, and you can't hear that without considering how you'd answer. I decided that Shock G of Digital Underground would definitely be on my list.
He's good as himself, but what sets him apart is that he's good as several different people. He's Shock G, but he's also Humpty with a totally different voice, style and flow. He takes on the persona of a rapping blowfish with a Jimmy Cagney accent for one verse, and it's not only distinct but better than some other signed rappers with multiple albums. It's incredible.
Public Enemy — "Fight the Power"
Another on my top five list would obviously be Chuck D.
I've gone into my love of his work before, but Fear of a Black Planet is a better album than It Takes a Nation of Millions to Hold Us Back, which is itself better than most other hip-hop albums. This was another close call between "Fight the Power," "911 is a Joke" and the title track, but then I remembered I already promised this one would come up in a prior edition. Thanks for breaking the tie, Past Me!
Billy Idol — "Cradle of Love"
I know Billy Idol doesn't really fit in the overall vibe of this top 10, but he hasn't been included so far, and that just doesn't feel right. I'm not letting four whole albums pass by without him getting on the list; that just doesn't make sense.
Jon Bon Jovi — "Blaze of Glory"
Yeah, yeah, I know this is a cheesy song for a movie that Jon Bon Jovi supposedly wrote in an afternoon. But it's still so good. Some people just have a knack for a sound, I guess.
Deee-Lite — "Groove is in the Heart"
I have a soft spot for songs that are impossible to pin down. Some, like Fantastic Negrito, because they straddle genres. Others, like Deee-Lite, because they straddle eras.
The aesthetic of the song, and obviously the video, places it squarely in the '60s. But elements of the sound could be from the '00s. As it turns out, it actually split the difference with 1990, meaning it manages to be an innovative throwback. And that an impressive achievement.
LL Cool J — "Mama Said Knock You Out"
Believe it or not, before LL Cool J was one of the few black actors on CBS, he was a rapper. It's true! And he did songs that CBS' target audience probably didn't approve of even one bit! It's hard to believe for me too.
AC/DC — "Thunderstruck"
I'll admit it: This one's just because I love AC/DC. It gives me an excuse to listen to "Thunderstruck" a few times. I consider it self-care.
Honorable Mentions
The Black Crowes — "Hard to Handle"
Depeche Mode — "Enjoy the Silence"
A Tribe Called Quest — "Bonita Applebum"
Wilson Phillips — "Hold On"
Ice Cube — "A Gangsta's Fairytale"
Madonna — "Vogue"
Jane's Addiction — "Been Caught Stealing"
Alice in Chains — "Man in the Box"
Vanilla Ice — "Ice Ice Baby"
Follow editor Daniel J. Willis at Twitter.com/BayAreaData.