Tuesday Tracks: Your Weekly New Music Discovery – Feb. 5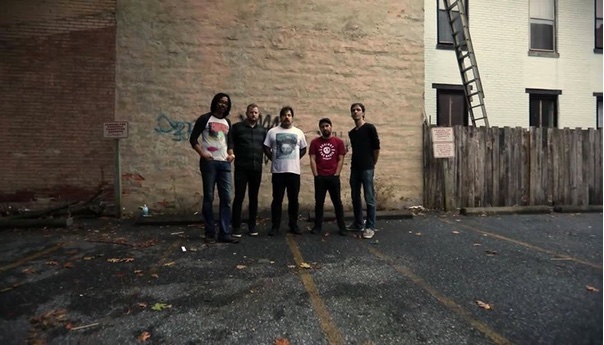 It's easy to get overwhelmed by the sheer volume of music on the internet.
Don't get me wrong, I love how platforms like YouTube, Bandcamp and Soundcloud have opened the floodgates of independent artists. But navigating the flood is easier said than done.
That's where RIFF steps in. We do the heavy lifting for you, scouring the sea of sound with ears perked for choice listens.
Enjoy this week's memorable tunes!
***
The Y Axes, "How We Begin" — The San Francisco group's new single is the embodiment of everything that made '90s alt-rock great. The difference between this foursome and its more crestfallen peers is, well, they make you smile. Everything from the singalong vocal melodies and relatable lyrics of band leader Alexi Rose Belchere to the anthemic guitar riffs and punchy drums is genuinely uplifting. "How We Begin" also manages to avoid relying on nostalgia too much, thanks to some compelling violin lingering in the background. It's a remarkably creative tune, considering how familiar the template has become.
***
Zao, "Transmission 1: I Saw The End" — Pennsylvanian metalcore legends Zao have experienced quite the renaissance over the past handful of years, having released a seven-inch, an LP and an EP on the band's own DIY label, Observed Observer. In anticipation of a new album, the quintet has released a couple teaser tracks, including "I Saw The End." This song tends toward the more atmospheric, melancholic side of Zao's approach. It's a refreshing direction after the face-breaking riff fest that was 2016's The Well-Intentioned Virus. Guitarists Scott Mellinger and Russ Cogdell ballance their sludgy and eerie feels, as drummer Jeff Gretz and bassist Martin Lunn delivers a sludgy groove. As usual, the icing on the cake remains vocalist Dan Weyandt as he croakes out his apocalyptic diatribe.
***
Lowland Hum, "Slow" — Charlottesville's tag team of minimalist "hush folk" combat the breakneck speed of modern society with this rapturing audio-visual offering. "That's enough/ Stop and stare into the glare/ Cut it out," Daniel Levi Goans and Lauren Plank Goans sing over a lackadaisical acoustic guitar. Complete with a tasteful resonator guitar solo, this song works perfectly well as a chill-out soundtrack. There's much more too it than that, though, as contrasting imagery and sonics invite listeners to depart from life's mad dash and take a rest in the rustic arragement.
***
Pretty Vicious, "These Four Walls" — Hailing from Wales, these bodacious rockers find the perfect balance of blues rock boogie,  power pop hooks and unhinged U.K. punk. No four walls will keep them contained much longer, as the live concert footage proves. It's the kind of music to experience live after listening on record. The nonstop groove, vocal caterwauling and wailing guitar solos demand to be played at maximum volume. The musicality is evident in how easily the song gets stuck in your head, but it's hard not to get jealous of the stage divers and moshers feeding off the unfiltered energy these guys naturally exude.
***
PUP, "KIDS" — It might begin with "fuck you, dad" and end with the band digging their own graves, but this Toronto pop-punk quartet may have graced the genre with its most touching song of the year. Amid sticky guitar licks and passionate singing, the video's narrative deals with the process of growing old and dying. It acknowldges the passage of time that inevitably leaves everyone behind, but unearths a thread of meaningful light in the midst of the mortal coil. Luckily, the creative cinematography is matched with a well-written punk rock song.
***
Christopher the Conquered, "Too Many Teardrops Away" — He may have given up on rock and roll, but the Denver singer-songwriter has found his stride with a more soft-spoken and nuanced approach. At once a bedroom pop number and a soulful piano ballad, this tracks showcases Christopher's husky, emotive vocal timbre to a terrific effect. Whether he follows the piano melody or throws in some curveball register jumps, this guy knows exactly what his song needs to hit hard without trying too much. Within the classic heartbreak mantra, he balances a bouncy rhythm with some believable angst.
***
Max's Pick: Frankly, every self-respecting fan of heavy music should pay attention whenever Zao does anything at all. This band has stood the test of time  and tribulation, due to its genuine love of writing music together and its multifaceted approach to metalcore. "I Saw The End" runs with a haunting aura instead of mosh-ready breakdowns, but Zao has always had more to offer than mere heaviness. They can also scare the living crap out of you, and make you think. At the end of the day, that's why these guys have stuck around since '93.
Follow editor Max Heilman at Twitter.com/madmaxx1995 and Instagram.com/maxlikessound.