Q&A: Con Brio's Benjamin Andrews talks being a throwback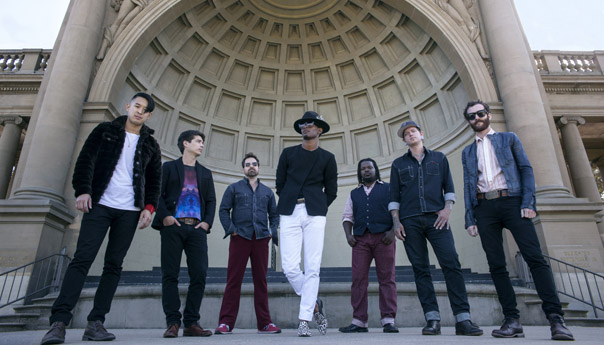 Con Brio is a hard band to pin down. Known for its energetic (to say the least) live shows, the San Francisco septet is part funk and part rock, compared to everyone from Sly and the Family Stone to Prince to James Brown.
Blue Bear School of Music 11th Annual Concert featuring Con Brio and The Stone Foxes
9 p.m., Saturday
The Fillmore
Tickets: $30.
"Somebody said, 'This is what America should be really be afraid of, or maybe what America needs right now: A multiracial band making people feel good,'" Con Brio's guitarist, Benjamin Andrews, said. "I think we relate to people a general sense of inclusiveness, of good times. Not necessarily that we're a cheap party band that's just trying to get everybody laid—well, I do want everybody to get laid—but there's a general sense of positivity and a communal vibe that we try to spread around."
We spoke to Andrews in the lead-up to the band's first headlining show at the Fillmore, this Saturday, which will be opened by another great Bay Area soul rock band, The Stone Foxes. He also struggled to define Con Brio's sound: "It's a little bit rock and roll. We're a funk band without being a funk band, and what does R&B even mean anymore?" he said. "A radio DJ friend of mine made a comparison to Chicago, and I thought that's actually a better reference point than anything."
RIFF: That is a Bay Area thing these days; bands of indecipherable genre.
Andrews: There's a lot of people making very approachable and easily digestible music that isn't really pop music. It goes kinda across lines. Like, Geographer, or even Fantastic Negrito, who got a ton of press and just got a Grammy. He's kinda a blues artist and kinda not. He's kinda a soul thing, not really rock and roll, but it's very consumable by everyone.
So you guys are playing the Fillmore.
That's the idea, but it is April Fool's Day. You might show up and be locked outside. Thousand people standing outside the Fillmore and the doors are locked and we're like, "Gotcha!" But really, I'm really looking forward to the thing. It's a little surreal, actually. I've played the Fillmore with other bands but this is the first time headlining for all of us. It's the first time it's our show. I'm looking forward to it.
What else have you guys got coming up?
This Thursday [today] we'll be in Grass Valley; at Moe's Alley in Santa Cruz on Friday, then the Fillmore on Saturday. Then we're headed to Colorado to play a festival in Steamboat Springs, playing in Denver, playing the State Room in Salt Lake, then back home. After that we go to Europe again.
What are the crowds like in Europe?
It's funny, when you leave the States, things immediately change. I think that the way people consume music and the way people treat live music is very different. We've had experiences in the Netherlands [where] we'll play a show, then an hour-and-a-half away the next day see people from the last show, drove all the way out of their way. [They] … brought their friends, bought a ticket, bought a record. They want to take it all in. And I have a hard time getting my friends from the East Bay to come out to a show.
Your inspirations are pretty uniquely American, being that well-received by European audiences is interesting.
That might be something about entertainment in general, Hollywood and America are seen as the source of things. It's not necessarily true but there's a perception. When we're in Japan, I think just because we're an American band it gets us some mileage. Not that it's assumed we're going to be better, but it is different. It's novel, I guess. … It's interesting to me that so many people make comparisons to bands that were around 40 years ago, because that's music that we all love and do identify with. Without it being intentional, there is that throwback element to what we do.
For a lot of musicians it's a badge of honor to have to reach back in time to make a comparison.
You look at my frontman, Ziek [McCarter], the way that he sings and dances his ass off, people always compare him to James Brown [and] say they see some Prince dance moves. If he's being compared to these people because he's really like these people, or is it just that there's been nobody around who's doing that? Is it because people aren't dancing like that anymore?
People say, "It reminds me of back in the day!" Well maybe people should still be dancing like that. People should still be relaying those good vibes to people and getting them to party like that. That's not an old thing. Maybe we've just lost focus and forgotten what the value in that aspect of the performance is.
All these references; it was all in a similar political climate. You had Vietnam, Watergate, bad stuff coming every day.
Well, we're living in a modern Watergate era. It'll be interesting to see how we come out the other side. Frank Zappa had a great perspective. The way things have been since the Cold War, people had gotten complacent. There was a false sense of peace and comfort. But, he said, "We've been in World War 3 since World War 2." Things change but we're kinda doing the same thing. We've been living with this stuff, and for a long time it didn't seem like it. Or were we just more comfortable at the time? And now we're at a time where it's not comfortable, and it's like it was back in the late '60s and early '70s. And it will be interesting to see how that affects the arts, how it affects what people are making and what people want to consume. There's a lot of room for something new.
Follow editor Daniel J. Willis at Twitter.com/BayAreaData.