Q&A: Vancouver's Current Swell gets serious, charts new sonic course on sixth album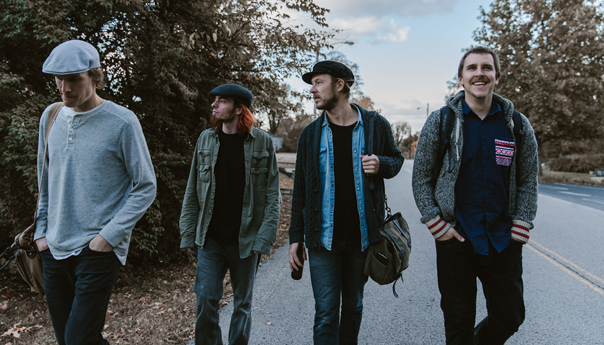 Folky Vancouver, B.C. band Current Swell spent its first 12 years and five albums making breezy reggae-tinged pop tracks about carefree travels and youthful living. This makes their latest, When To Talk and When To Listen, either an anomaly or a distinct change of direction.
Current Swell
9 p.m., Friday
Bottom of the Hill
Tickets: $12-$15.
9 p.m., Sunday
The Catalyst, Santa Cruz
Tickets: $12-$15.
The quartet, singer-guitarists Scott Stanton and Dave Lang, bassist Ghosty Boy and drummer Chris Petersen, leans distinctly in a blues and roots rock direction reminiscent of Kings of Leon. Lyrically, the new album, out May 12, was influenced by growing older and better understanding of the turning of time.
First track "Marsha" is about Stanton's mother, who passed away from breast cancer when he was still in high school. He still has internal conversations with her, and this song is one. The title track is about the passing of Lang's father-in-law as he and his wife were awaiting the birth of their daughter.
The poignant track, like the others, was heavily influenced by producer Jacquire King (Kings of Leon, Tom Waits, Norah Jones, Cold War Kids). Stanton and Lang are not shy about crediting the producer for the record, and how at their first recording session, he shot the band down, saying they needed to go back and come back with the same performance they impressed him with on a demo Current Swell used to recruit him. King pushed the band, which returned to the studio in a big way to record its best album to date.
Prior to the album's release, Stanton and Lang took time to answer some questions for RIFF.
You've made a point of producer Jacquire King playing a large role in the final version of your songs. Why did you want to work with him? When he said your songs weren't good enough initially, what kept you from simply finding another producer?
Lang: We wanted to work with him because we respected his body of work, and after we spoke to him the first time, he showed us he was ready to get involved in the songs right away. He had done his homework and liked the songs. The fact that he was involved and invested in the process was enough to trust him. The producer-artist relationship works best when you allow the producer "inside" to critique and judge your work to make it better. He never said he didn't like the songs. He just said we were not playing them well enough in the studio session to make a great album. It was inspiring to be pushed.
King told you to go back to work and come back when you cured what ailed you. What was it?
Stanton: I think most of the time, it's time that we are looking for, and it's time that we need. It seems silly to ask for something like that, but when you are creating an album, asking the most of yourself creatively, especially with When to Talk and When to Listen–it only makes sense. It's only fair to take some time to myself, and also make time to hang out with the band to recharge and reset. It can be pretty demanding at times, and we are in it together, so it's important that we take care of each other and ourselves.
What would have been different about When to Talk and When to Listen, had he not been involved? 
Stanton: In a lot of ways, he made it what it is. He came in with a leadership role that shocked us at first, but it's what we needed. We bring a lot as a band, and we can be a lot, as well. He managed to organize us in a way that channelled our creativity into something cohesive, and the finished product of When to Talk and When to Listen is proof of that. We are so proud of the finished product. It was a new process that was so dynamic and asked a lot and asked different things of us, and we definitely could not have done it without him.
"Marsha" is about a personal connection you have with your late mom. Was it hard taking something personal and sharing it with everyone? Were you OK giving that up?
Stanton: It stands out a lot on the record and I think stands out in relation to all our records. It's catchy and has a certain vibe that we were striving for; it's short but sweet.
When I go for a walk, or I have an argument with somebody, or even when I just need to figure something out, it's about the inner dialogue that I have with my Mum. I always think, "What would she do." "Marsha" is a result of exactly one of those moments. I came home from a walk one day, and I picked up my guitar and this riff came out; the lyrics fell perfectly into place. It figured itself out really quickly and really nicely. It was a pretty undeniable process, and as an artist, when that intuition takes over, you don't want to fight it. I showed it to the band, and everybody sort of gravitated towards it and it made it on our record.
A lot of your earlier material is more along the lines of reggae pop, both in terms of composition and lyrical content. But with the new album you went from singing about sand between your toes to about the human condition, death, birth, loss and heartbreak. And the lyrical content aspires more to Tom Petty or Neil Young rather than Michael Franti. What brought on that change? 
Lang: That's a good question. As you get older, the experiences you have shape you, and your focus on the world changes. That probably comes out in our writing naturally; what we want to talk about and say. We had an obsession with listening to reggae early on our career—around album no. 2—back when we were travelling a lot for fun around Australia and Indonesia, and that came out in our music a bit. Our heart and soul has always been in rock and folk and blues music, and that's what we always come back to.
"When To Talk And When To Listen" is one of the most poignant songs I've heard in a while. Can you tell me what it was like to write about the loss of a parent while your child was on the way?
Lang: Thanks very much. It's amazing to be able to sing and write about something so polarizing. Life has never handed me a year like this last one, both positive and negative. This song will always be a marker for that time in my life. I'm thankful to have been able to channel a bit of that. I remember talking with Scott about where I wanted to go with the song and sharing some tears, opening up and having him support me and share how he felt a similar sense of pride for the song "Marsha." It's been an amazing year.
Follow Roman Gokhman at Twitter.com/RomiTheWriter and RomiTheWriter.Tumblr.com.