DIIV's Cole Smith and Colin Caulfield on redefining guitar rock, inspirations
Cole Smith is not a fan of the popular perception of guitar rock. He and his bandmantes in New York rock band DIIV stray as far as possible from blues-heavy chugging guitar chord that lean on the contributions of others during the past five or six decades.
Instead, the 31-year-old Smith, guitarist Andrew Bailey, keyboardist Colin Caulfield, bassist Devin Ruben Perez and drummer Ben Newman layer swirling vortices of feedback-drenched guitars with pulsating synths and trancy drums to make something that's not quite dream pop and not quite shoegaze, something Smith and Co. are proud to hang their baseball caps on.
Less than a year since releasing the hourlong, 17-track Is the Is Are, DIIV is planning on writing and recording new material. One of Smith's goals is to shift focus away from his public misstep (he was arrested in 2013 when heroin was found in his car) and back to the music. When he and Caulfield met up with RIFF at Outside Lands, both stressed that while some artists create art from their misfortunes, they don't want to consciously fall into that stereotype.
RIFF: You said numerous times that you want to make guitar rock relevant again. What do you mean by that? Because there are many, popular guitar bands today.
Cole Smith: People always ask me that question and I kind of expound on that. I did say once, a long time ago, (that) I only play guitar. I love guitar music so I'm always going to make it. I don't think I have some power to make it relevant necessarily. I want to make it and if people like it, I hope they do. I want to always present a case for guitar music.
What DIIV does with guitars is different from a lot of guitar bands. Most of them lean on blues and the kind of stuff; influenced from the past 30, 40, 50 years. You guys, not so much.
Colin Caulfield: Yeah. There's less power chords. There's still tropes of guitar music from post-punk, like Sonic Youth, similar ideas. But there's no standard guitar rock ideas that are happening anymore that I can see.
Smith: I feel my goal is to take what I like about guitar music and then build a band around it. Crisp, clean and sonically interesting melody lines. Instead of [imitating current blues rock bands], 'Whamma, whamma, whamma,' kind-of like solo-y shit, or like chunky chords or whatever. That's guitar music too, and that's what I don't like. What I like about it is big crisp melody lines, that's basically all we play. We just kind of layer them and it's for me taking the best parts of the guitar and using that as a starting point.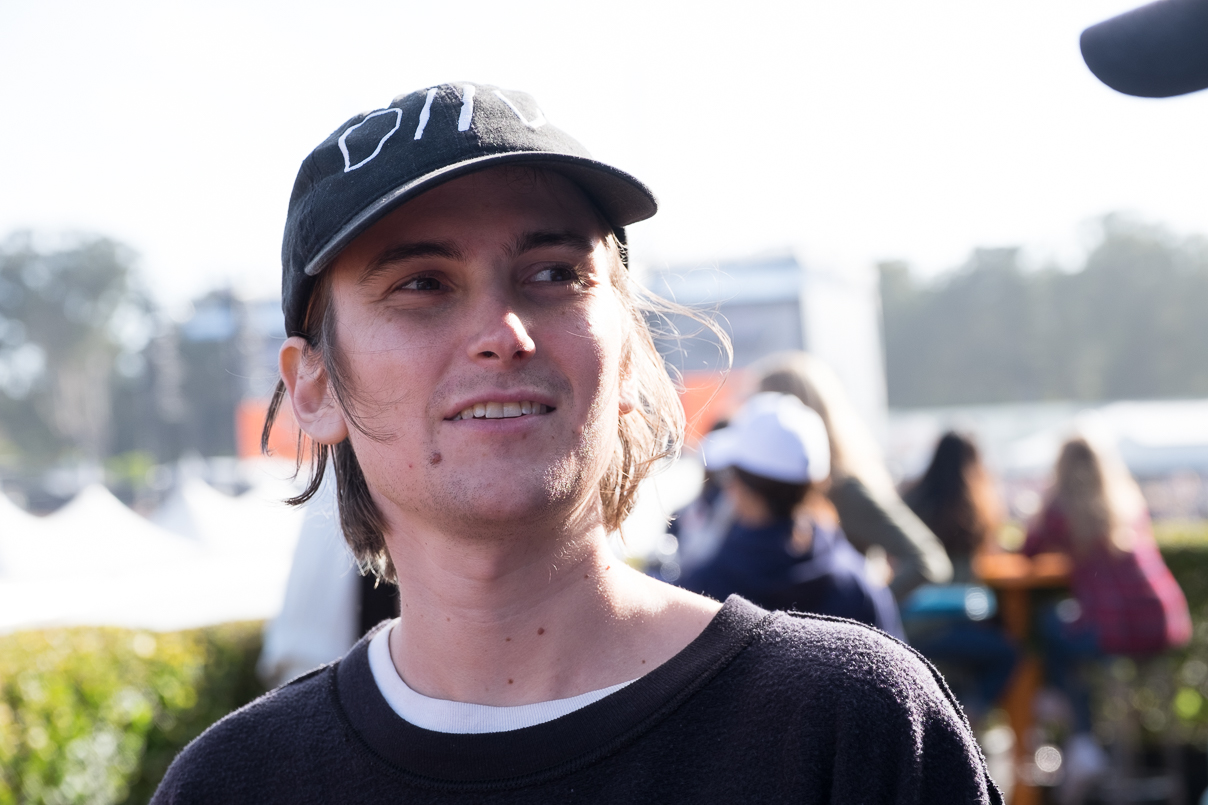 You want to change the public perception of your band; from your drug missteps to being about the music itself. Do you accomplish that by letting the music speak for itself from now on?
Smith: Kind of, but like also I think we exist in a genre of, like, white male ennui. I feel like such a hated genre at the moment. I feel like being troubled is what fuels the music in the first place. It's hard to say. It's kind of a paradox in itself.
"There's no happy musician," something along those lines?
Smith: It makes you think of the musician who fucks up his own life up just to give himself material. I don't think that I'm that person. But, like, in some ways I think maybe subconsciously maybe I am. I mean, I could have a healthy relationship with my girlfriend or whatever, but instead, I just fuck it all up because, you know…
You want to give yourself something to write about?
Smith:  Yeah.
Caulfield: That's what John Berryman, the poet, always said. 'I always wish bad shit would happen to me, so I'm not a shitty writer.'
Smith: In a way it's this dark subconscious thing that I feel probably drives all my failures. If everything works out, then I'll probably believe like I have nothing to say.
Follow Roman Gokhman at Twitter.com/RomiTheWriter and RomiTheWriter.Tumblr.com.
Live photos: Adrian Jusue