Q&A: Eric Rachmany of reggae rockers Rebelution reflects on SF homecoming, new music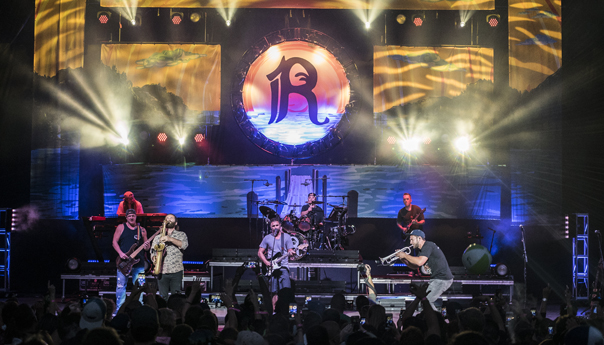 Santa Barbara reggae-rock band Rebelution released Falling Into Place, it's sixth album in nine years, in 2016. But the band's follow-up record is already in the works, singer-guitarist Eric Rachmany said. Rebelution will be hitting the studio sometimes this autumn.
Rebelution at Outside Lands Music Festival
6:50 p.m., Sutro stage
Sunday
Golden Gate Park
Tickets: $150-$400.
First, Rachmany, keyboardist Rory Carey, drummer Wesley Finley, bassist Marley Williams and their touring crew have to complete an extensive summer amphitheater tour, which makes a stop at the 10th annual Outside Lands Music Festival.
For Rachmany, the show is a homecoming. He grew up in the Sunset District, bordering Golden Gate Park and has avidly rooted for the Golden State Warriors for more than 20 years, counting their second championship among his favorite memories.
This will be Rebelution's second time playing at Outside Lands; the band was also on the 2012 lineup. Rachmany hopes to recreate the magic of the band's first performance in the park. What is he looking forward to most this time around?
"Playing one of the best festivals in the country, which happens to be in my hometown, and then being able to literally walk home."
RIFF: How has the Rebelution songwriting approach changed over the last decade?
Eric Rachmany: Not much has changed. Ninety-nine percent of our music is created internally. On the last album, Falling Into Place, we collaborated with producers and a few songwriters but most of the ideas and lyrics come from us.
What influences your band from a lyrical perspective?
Fortunately there is a lot of inspiration because of how much we travel. We meet all sorts of different people on the road with experiences to share with us. We get a feel for an area simply by talking to someone. Usually a story or personal experience inspires me to write.
Are there any artists you'd still love to collaborate with on Rebelution projects?
There are so many talented musicians that we would love to collaborate with. We always try to have a feature or two on our album. [We are] hoping to collaborate with an amazing group called New Kingston on our next album.
Where do you prefer to write new material; in the studio or on the road?
Both. I usually get more song writing done when I am off tour but sometimes things happen quickly on the road
What do you like to do in your spare time? What's a typical day like? Does the band hang out all the time or do you lead separate lives?
Everyone in the band has different interests and hobbies. If we are on the road, touring, we usually wake up and go right to sound check, explore the town we are in for a couple hours, and then get ready for our show. We have so many friends and family all over the country now that it's rare being in a town and not knowing anybody.
Is there a difference in your fan base in your hometown compared with outside of California?
Every city has a different vibe. To us it doesn't matter how the crowd reacts to the music just as long as they are respectful to the people next to them watching the show. Thankfully our fans look at each other like family. Generally there is a great respect for each other at our shows
How is reggae music received outside of North America?
Reggae music is huge all over the world. The music we play is certainly inspired by reggae music but it has a lot of other genres mixed in with it. I understand if people want to consider it reggae but I also understand if people don't want to consider it reggae. I'm honored people just enjoy the music and message. We have found fans all over the world that listen to Rebelution. It's difficult for us to get everywhere but when we can play internationally it's always a pleasure. The few times we've played internationally have been nothing short of spectacular.