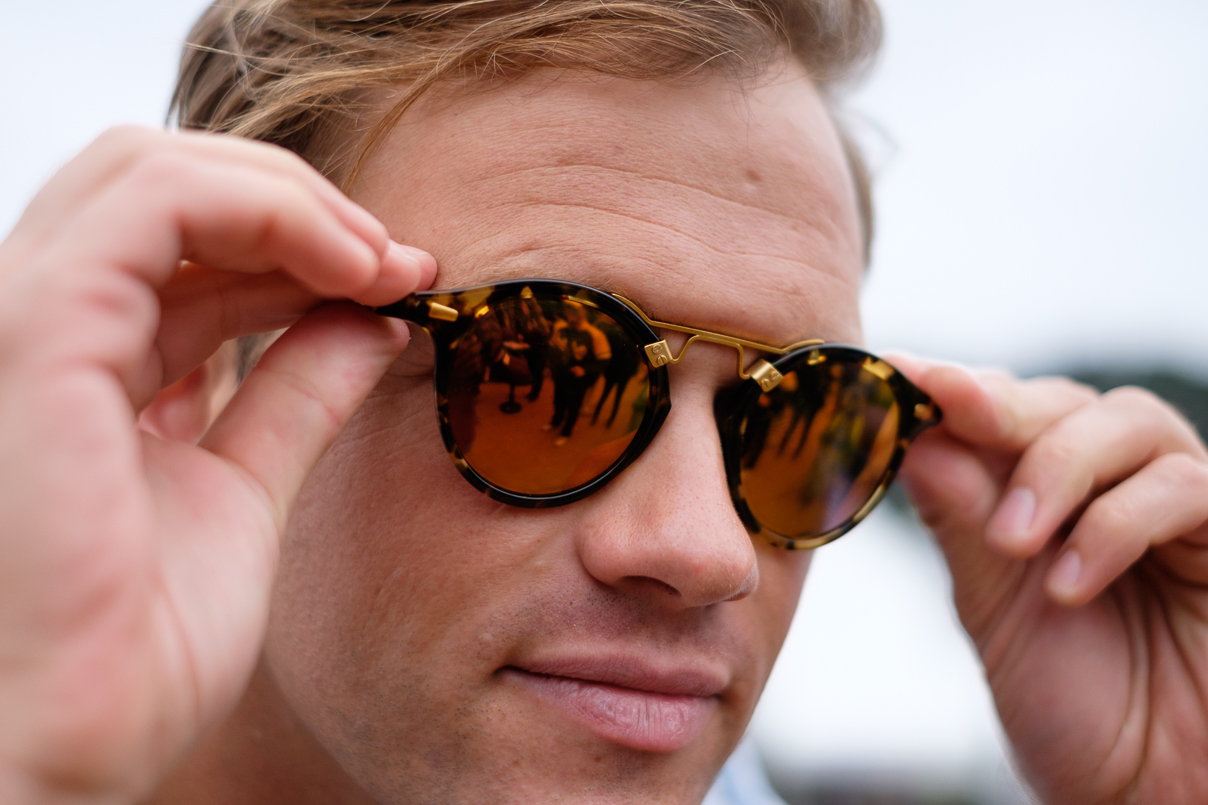 Tastemaking with St. Lucia's Jean-Philip Grobler
Midway through Brooklyn synthpop band St. Lucia's set at Outside Lands last week, frontman Jean-Philip Grobler lied down on the stage, collecting his breath. But within seconds, his band launched into '80s-drenched, euphoric "Physical." Grobler took one last breath, got up and began sprinting in circles around his bandmates.
Grobler continued the run every time he wasn't singing a verse, his zebra-patterened shirt turned darker with each chorus and later told RIFF "Physical" is currently his favorite track to perform live.
That kind of exercise is bound to make one hungry. Luckily, Grobler already knows his favorite San Francisco eateries, and was happy to recollect them for us. After buying tickets for St. Lucia's return to Oakland's Fox Theater in November, check out this Outside Lands Q&A.
RIFF: How long have you been in town and have you had a chance to do anything besides come straight to Golden Gate Park?
Grobler: We got in to town yesterday and we went and had lunch at a place called The Chairman. It was a really great bao spot with amazing, fantastic baos. We went and did some shopping on Hayes Street. We love walking around there. That's really cool. Then, for dinner we went to a place called Chubby Noodle. It was really, really, really cool. It almost feels like the "greatest hits of Asia" place; really authentic. We had this really amazing barbecue pork fried rice, amazing green beans, really good fried chicken. A lot of different stuff, a little bit fusion-y, but really delicious.
You have a good recollection of what you ate.
Yeah, yeah! We love food, we love trying out good places when we go to different cities because I feel like that says a lot about that city or the place that you're in; what the people like to eat.
Who's on your must watch-list at Outside Lands?
These guys (Miike Snow). They're great. Duran Duran, obviously, will be awesome. I haven't seen LCD since the summer. We've played so many festivals with them. Tomorrow, I'm really excited. I didn't even realize Air is playing but Air is one of my favorite bands and big influences. And then Radiohead is right after them. I'm just going to be there the whole time. Hiatus Kaiyote, as well. I hope we get to catch them tonight. I really want to catch a bit of Grimes.
Anybody you want to meet here who you haven't met before?
No. I don't actively go out to meet people. If we meet that's great, but I … want it to just be natural.
You've been playing lots of festivals. What are the best and worst things about all of them?
The best thing is just being outside in the summer. Hopefully, it's in the summer. If it's not then it's terrible. Even this is fine [Friday's high was 62 degrees and the sun didn't come out]. At least we have this beautiful park. The worst thing is generally the toilet situation. I feel like, as an artist, it's not as bad because often they'll have somewhat nice toilets for you to use.
Follow Roman Gokhman at Twitter.com/RomiTheWriter and RomiTheWriter.Tumblr.com.