Q&A: Aussies The Jezabels push back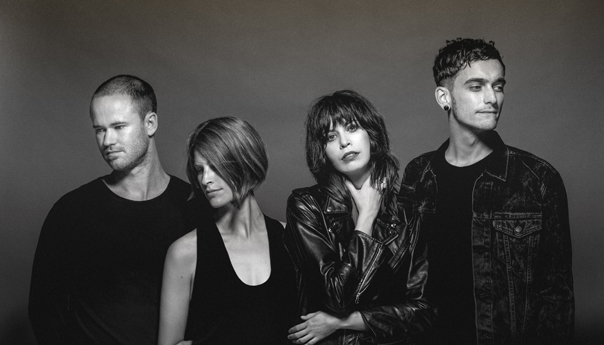 Singer-songwriter Hayley Mary and her Australian indie rock quartet, the Jezabels, fly into the United States on Nov. 7 and kick off the band's first American tour in support of its third album, Synthia. Being able to look on to the country's significant election from U.S. soil will be the latest of several improbable opportunities for the Jezabels in 2016.
Shortly prior to releasing the album in February, all touring was postponed as the band announced keyboardist and co-founder Heather Shannon had been battling ovarian cancer for more than three years and needed emergency treatment.
The band, which includes drummer Nik Kaloper and guitarist Samuel Lockwood, had to cancel all of its plans. It turns out it was just the latest instance of the Jezabels questioning whether the band would survive. The first came after Shannon's initial diagnosis, in 2014, as the band was two weeks into writing its sophomore album, The Brink, Mary said earlier this week in a phone call from Australia.
Jezabels, Stal
8 p.m., Thursday, Nov. 10
The Independent
Tickets: $15.
"You're 20-something and discover that one of your band mates has cancer, and you've never been through that before," Mary said. "We were like, 'Oh, the band's over.' And then Heather came out from her first operation and was, like, 'No, I want to keep writing!'"
From that moment onward, Mary and her band wrote, recorded and performed with the "constant knowledge that it might be your last album and your last tour." That led to The Brink being a darker album for reasons not fully known to fans. But it made the Jezabels appreciate their time together.
Writing a third album wasn't even in their plans. The four gathered to rehearse for a show when the songs for Synthia started coming to them. It felt like a new beginning to Mary, Shannon, Kaloper and Lockwood. They felt no need to make radio hits or chart toppers, or to please anyone besides themselves. That's why the album kicks off and ends with songs longer than seven minutes.
Still, dark, synthy and sexy tracks such as"Smile" and "My Love is My Disease" incorporate the flourishes and choruses to make people dance or swoon. As Mary told RIFF, "Pleasure Drive" was inspired by Death Valley drive between Los Angeles and Las Vegas, at a time when she was trying to break out from a funk and push herself into unfamiliar waters.
Shannon is feeling better and stronger these days, which has the band excited about performing again. And being in America during the presidential election has the politically conscious Mary, a friend of whistle-blowing WikiLeaks founder Julian Assange, excited to be in the middle of history as it happens.
The Jezabels' narrative has been dominated by Heather's cancer this year. First of all, how is she doing?
She's doing well. It's been successful this year. It's a case of continuing to monitor it, as we've had to do for the last few years. So far, it's the best that it can be. We just did our Australian tour, which we'd obviously postponed, like our American tour, and she was really enjoying it and coming out afterward — socializing and having fun.
This is something she's have been dealing with for more than three years.  How did it affect the band in that time, and how difficult was it to cancel the tour earlier this year?
It's a multifaceted kind of thing. There's a personal element, which is probably the hardest. For Heather, it was a big, confronting life question. She had to be forced to drop everything for a while. It was very difficult for her because she's a very hard worker and likes being busy. Aside from the illness and the fear attached to that, the frustration was (most difficult). That's the nature of cancer. It gets in the way of everything. One of the hardest parts was the constant uncertainty for both Heather's health and also for how to move forward. I guess we learned to adapt and plan in three- to six-month increments. We used to plan for a year or a year-and-a-half in advance. Not knowing … whether we were going to be touring, writing or doing anything at all has been hard.
One of the biggest things to come out of it has been watching how strong she has been through it and the band evolving how we're looking through the silver lining of every situation. When a problem is seriously real and an issue of mortality, it does make you change your perspective. You have to be optimistic. It's the only way to move forward. We found optimism through the difficulty of the process. We're playing better than ever together, and little things that might have been trivial problems, they really do seem that; trivial. 
In so much symbolism, The Jezabels have always promoted the empowerment of women. From the name of the band itself, to naming the album for an amalgamation of strong women, to the video for "Smile," in which the song is set against (Hayley Mary) making a "walk of shame." Is that a core mission or goal for all four of you?
I do. It's never been questioned by any members of the band. We're ultimately behind the idea of self-empowerment. We happen to have two females and be living in an age where feminism is quite relevant and growing. The singer is a female, and I talk about that a lot because it's a part of my own narrative; growing out of the oppressions I feel as a person. You tend to naturally go toward ideas that you understand and can personally speak about.
Last month you took part in a collaborative video project with other Australian artists, including Courtney Barnett, that aimed at combating sexual assault at concerts.
I think it's really important to have a lot of voices and be in on these ideas together. The campaign is … called "It Takes One." Nik actually did the video. A lot of guys are getting on board and saying 'We don't agree with this and this isn't just an issue for women to be speaking about.' It's an issue for everyone and it makes an environment that's better for everyone. Even though the majority of victims are women and the majority of perpetrators tend to be men, the point is that no one wants this.
Assault at concerts isn't something that you hear a lot about, although there were three reported at an EDM concert here in Berkeley in September. Why is this particular message important?
I've never heard about anything at any of our concerts, but as a teenager and going to punk shows or hip hop shows, I often felt a bit alienated and a bit scared to enter the crowd as a girl.
It's been a while since you toured in the States, but visited Southern California recently and the desert inspired the song "Pleasure Drive."
After recording and touring the second album, and dealing with Heather's initial diagnosis, the band felt like we needed to have a rest; to collect our thoughts and have some time apart. I went to L.A. I went to the U.K. as well, and had a lot of fun. I partied, and socialized, and a lot of things that I felt I didn't have a lot of time for in all the years of touring. I hired a Ford Mustang convertible and drove from L.A. to Vegas. I have an auntie in Vegas who I'd never met. It was part of a "facing of fear" campaign I have going on in my life. There's a little bit of history of agoraphobia in my family. I was becoming a little antisocial in the past and that was leading me to be quite sad and have a pessimistic outlook on life. So I decided to start doing things that scared me. I started saying yes to things and having a celebratory approach on life. Driving through the desert in a convertible, I was just thinking, "This is going to stay with me for a long time because it's such an iconic moment." It was an empowering feeling of enjoying your life in the moment.
How did you come to be friends with WikiLeaks founder Julian Assange, for whom you'd written two songs during your The Brink sessions? And you visited him at the Ecuadorian embassy in London, where he's been for four years.
Julian's father and my father have known each other for years. He has quite a following and some family connections in Byron Bay, where three of our band (members) grew up. It's kind of a hippy town; quite progressive, so a lot of people support WikiLeaks over there. There's some support everywhere you go, and, obviously, some animosity as well, depending on who you're talking to.
Regardless of the politics, I feel like that's such a terrible situation for such a wonderful mind. I found it quite sad. It was his birthday. His dad said, 'I'd love it if you wrote him a song.' And I ended up writing ("No Country" and "Marianne") for him.
They're both inspired by his situation and him as a person. He's larger than life. Like other heroes, he has his fatal flaws that people like to focus on.
He's locked in this room that's a sort of purgatory, and I guess the powers that be hope he fades into nothingness. But he's still very active in things, and publishing things, much to the dismay of the powers that be.
You're touring America during a very divisive time. Assange railed against many of the people in charge here. What were your feelings about being here now?
What I've noticed, coming to the States the last five or six years: You used to not be able to talk politics with Americans. And the last two times there, everyone asks you, 'So, what do you think about our election campaign?' What I think is happening … is that maybe Americans are waking up and that there is potentially no correct or good answer is telling of systemic problems that are deep-seeded. I'm not standing here and saying that Australia is great, either … but America is the leader of the free world. It matters what goes on there to everyone in the world.
Opening the album with a seven-and-a-half-minute song is a ballsy move. What went into creating "Stand and Deliver," and who made the decision to stick it first on the album?
We've always had pretty long songs. Maybe subconsciously it's a challenge to people to have a longer attention span. It sometimes takes that long to make the arc of a song. In that song, there are two arcs, because there are two halves. … Each part needs its moment to shine. When you're making an album, I don't think you have to worry about shortness of a track. You could drive to it, or paint to it, but it was never intended to be a radio hit. The album is book-ended by two incredibly long songs. We do things by gut, we don't really know why we're doing them.
Follow Roman Gokhman at Twitter.com/RomiTheWriter and RomiTheWriter.Tumblr.com.