Review: Catfish and the Bottlemen start strong, fall into repetition at the Fillmore
SAN FRANCISCO — Catfish and the Bottlemen found a formula for mainstream success, at least in the United Kingdom. Their hard-charging, uptempo anthems have attracted the fans of Oasis, Kaiser Chiefs and other Brit pop bands, and the band fits neatly into that genre. It's been a while since a U.K. band has crossed over with American audiences, which is what Catfish is trying to accomplish.
Judging by the enthusiasm of a near sell-out crowd at the Fillmore Sunday evening, on the band's first date of their biggest U.S. headlining tour to-date, they have a chance. What they are in need of, however, is more songs that stand out from the pack. Sunday's show started with a bang but quickly got repetitive.
The band took the stage to Dean Martin's "Ain't That a Kick in the Head" and launched into "Homesick," off 2014 debut The Balcony. The Fillmore's floor began to sway with hundreds of pogoing teens for the first of roughly seven or eight songs. The three-minute tune starts off beautifully with some simply arranged fingerpicking and longing-filled lyrics from frontman Van McCann, before shifting into familiar territory until the fingerpicking returns at the end.
From their they transitioned into "Kathleen," another debut album track; one of The Balcony's two biggest hits. It was straight-ahead rock and roll with the perfect amount of variety in tempo and vocal delivery (it was a hit for a reason).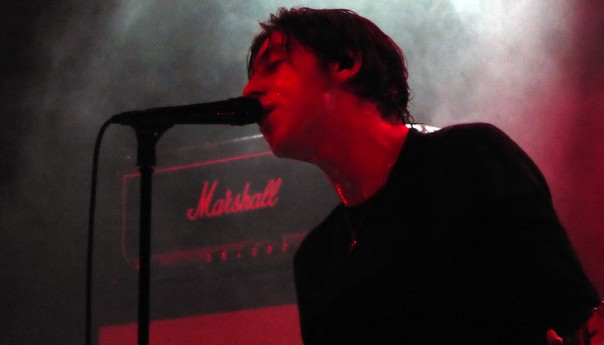 From there Catfish shifted to material off 2016's sophomore album, The Ride, beginning with single "Soundcheck." And this was where the show reached its peak. McCann worked the crowd into a tizzy, waving his arms, lowering his microphone stand in rock star gesticulation, the song building and crescendoing, the crowd—still jumping enthusiastically—going nuts. They continued to jump for several songs after that. Then they began to run out of juice and the band didn't have enough ammunition to reignite them. The middle section of the 80-minute set consisted of songs with nearly identical tempo, none of them standing out.
Because the vocals did not come across cleanly, the songs began to blur into one-another, losing any distinguishable characteristics until the show neared its end. While the band and McCann continued to deliver emphatically, not having lost any energy, it was too much for the audience to sustain.
Luckily, following an encore break, McCann returned to the stage with an acoustic guitar and performed "Hourglass" solo. The change-of-pace was sorely needed by that point, and McCann delivered with the first highlight of the latter part of the set. Hundreds sang along, proving that Catfish and the Bottlemen really are onto something and have a chance to succeed where many bands have been halted.
Catfish regained some steam after that with a rousing performance of The Ride opening track "7," which has a loud-quiet-load structure with that needed change of pace, and "Cocoon," another hit off their debut.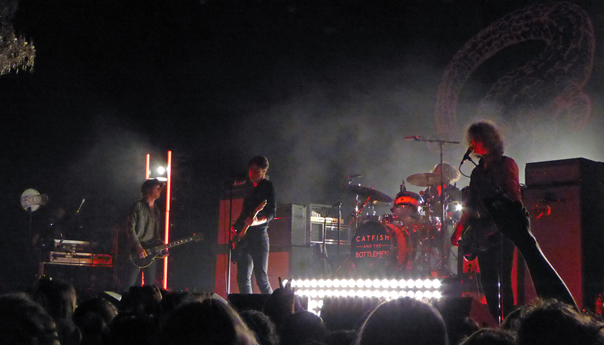 Unheralded openers The Worn Flints presented many questions with a very intriguing set. Are they a nerdier Foals, a beefier  Fang Island, a less serious Black Keys? Their fun performance was certainly in the vein of Spın̈al Tap, as the hirsute, mustached trio are showmen. The Columbus, Ohio psych and math rockers, led by frontman Kenny Stiegele, seemed to come from some portal to the late '70s. Stiegele growled , waved his arms and tore open his shirt at one point to remind some that rock and roll is fun.
Follow Roman Gokhman at Twitter.com/RomiTheWriter and RomiTheWriter.Tumblr.com.