Dave Matthews Band shows age in Greek Theatre stop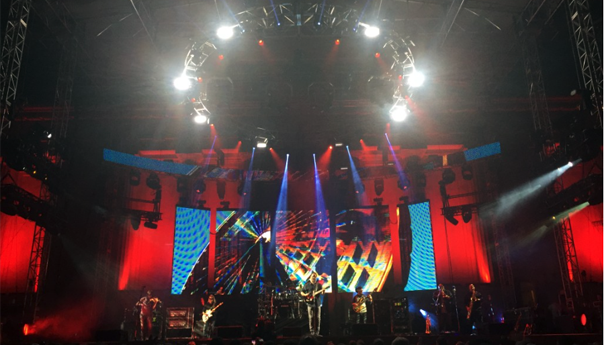 BERKELEY — No band should be expected to deliver the same level of intensity at the 25-year mark as it did in its hungry, vibrant youth.
While Dave Matthews Band has reached that age in its career, it has little left to prove. It's also fair to say that the group's fire doesn't burn as hot as it once did.
Monday night's stop at the Greek Theatre in Berkeley, the first of two sold-out gigs, was a prime example. The Virginia band — which swells to a septet with the inclusion of touring members Tim Reynolds, Rashawn Ross and Jeff Coffin — served several classic DMB cuts: "Warehouse," "#41," "Lie in Our Graves," "Grey Street."
However, in moments when the band could turn up the heat in the past, Monday's show felt like it had a temperature ceiling. In the closing section of "You Might Die Trying," in which Matthews scats as the horns introduce a new dizzying phrase, the song builds to a boil. But it felt like Matthews held back, never putting the stove all the way up to 11 at being as unhinged as he might've a decade ago.
Violinist Boyd Tinsley, known for enthusiastically roaming the stage during his solos, never seemed to feel the fire on his extended jam during "Lie in Our Graves." Behind dark sunglasses, Reynolds looked effortlessly cool mimicking the solo from Led Zeppelin's "Stairway to Heaven" during "All Along the Watchtower," but he was never a flashy showman who did power slides or pumped his fist at his own fret work.
The most unpredictable moment of the night also was its silliest, when the band improvised a brief jam in response to Matthews joking about making moves at the keyboard.
"This instrument is completely different from the guitar," he said with joking surprise in his voice. "It's really just a machine and as soon as I touch, it just plays the whole song. … Then I do all my moves." Then Matthews stood and danced disjointedly, waving his arms and hamming it up.
His move to the keyboard was for "Bob Law," one of two new songs played. The other, the guitar-based "Samurai Cop," is named after a so-bad-it's-good 1991 direct-to-video action movie, he told the crowd. The band was watching it while writing the song, he said, while its lyrics seem to reference childbirth and childhood.
Monday's show also ditched the bifurcated setup of the band's 2014 and 2015 shows, which saw DMB effectively open for itself as an acoustic band. That format offered a change of pace for a group that has toured the United States every summer but one since 1992.
DMB's touring frequency also begs another question: Has the band lost its heat or, after two and a half decades, have they become too much of a known quantity?
It's difficult for a magician to pull off an act when everyone knows how the tricks are performed. While DMB's milieu is not magic, there seem to be few tricks remaining up the band's sleeve that its fans haven't seen.
That's unlikely to bring any new fans to the flock, but probably enough to satisfy the band's cadre of diehard fans, some of whom claimed to be in line as early as eight hours before the gates opened Monday.
Dave Matthews Band returns Tuesday night to the Greek before finishing its summer tour this weekend at The Gorge in George, Washington. Matthews and Reynolds will return to the Bay Oct. 22 and 23 for the annual Bridge School Benefit.
Setlist
One Sweet World
Old Dirt Hill (Bring That Beat Back)
The Song That Jane Likes
Proudest Monkey
Satellite
Lie in Our Graves
Gravedigger
Samurai Cop
Warehouse
#41
Minarets
Improv Jam
Bob Law
Grey Street
Burning Down the House
You and Me
Belly Belly Nice
You Might Die Trying
Encore
Oh
All Along the Watchtower