Review: Wet resonates with emotional rawness at the Mezzanine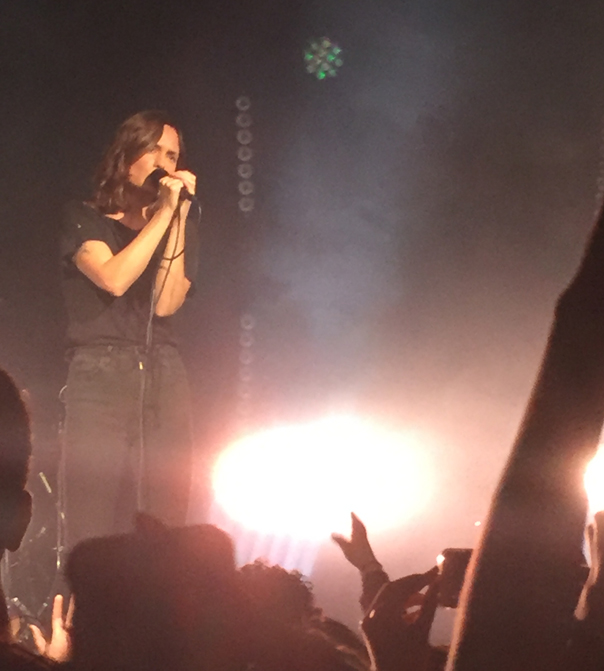 SAN FRANCISCO — Wet is an unusual band to schedule for a Friday night at the Mezzanine.
The bar and club atmosphere of the venue prior the show wasn't telling at all of the performance to come. With Rihanna and Drake blasting over the speakers before the New York band took the stage, if you didn't already know the music of Wet, you certainly weren't expecting what they delivered: A powerful and soulful performance.
The relatively young, self-described electronic indie trio Wet held the room in near silence throughout their short performance. The audience was quietly fixated on the enigmatic lead singer, Kelly Zutrau, whose piercing voice, emotional intensity and sincerity seemed to mesmerize them. Zutrau had a great stage presence despite not doing very little beyond singing—her voice is remarkably, consistently on pitch. The crowd seemingly knew every word she sang and shrieked every time she spoke.
Having released their first full-length album Don't You, in January, Wet didn't have a ton of material to pull from, but that worked in their favor Friday. Zutrau, along with bandmates Joe Valle and Marty Sulkow—switching among instruments like champions throughout the set—produced an album that weighs heavily on love and heartbreak, incorporating influences of R&B into their minimalist indie sound. The result is music to which everyone at the show related; the universal pain of love that doesn't always work out.
Their songs are, in large part, very similar in sound, structure and lyrics. Whether Wet can evolve their sound or whether they're bound to produce more of the same remains to be seen. For now, though, that rare emotional honesty they bring seems to work well for them and clearly resonates with their growing legion of fans.
Atlanta's Demo Taped opened the show with an interesting set of electronic pop layered with the silky smooth R&B vocals of Adam Alexander. His performance was tarnished; however, by the chatter of the audience, who weren't yet ready to settle down.
Follow writer Heather Ah San at Twitter.com/heathermalia.