Advertise with us and reach devoted music lovers
---


RIFF is a music news site run by real journalists instead of bloggers. Our stories are more engaging and better written. We cover the music scene in the Bay Area with compelling issue-focused stories as well profiles, features and professional videos and photo galleries.
While still small, we're very highly targeted to music fans in the Bay Area and Sacramento. All core metrics rise each month and we have more than doubled in many key categories over the past 9 months. Readers view more pages per visit than the traditional media such as the San Jose Mercury News. RIFF is hyper-local and those readers are even more devoted.
We've been around for one year and have grown to a staff of 30 journalists. We're also the only music news site in the Bay Area with a formal internship program for college journalism students.
Some readership info:
100,000 unique monthly visitors.
3.5 pages per visit—higher than traditional media or other Bay Area


music blogs. They come for one story but stay for a second.

45% of traffic is from the Bay Area and 65% from California.
Bay Area readers are 50% returning and 50% new (optimal split), visit more than 4.5 pages per visit and spend 5 minutes on the


site at a time.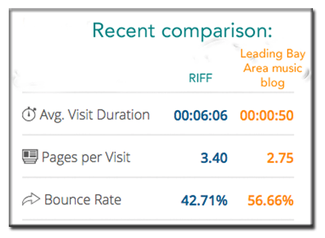 Ad placement possibilities