REVIEW: 3TEETH paint a dystopian, punishing portrait with 'METAWAR'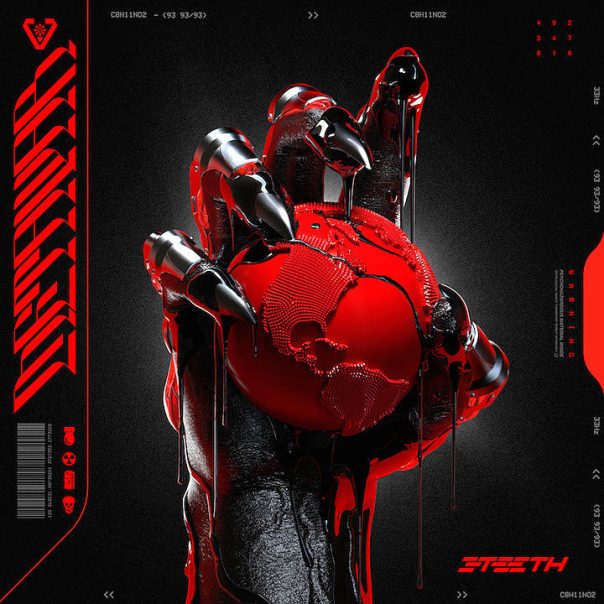 Alexis Mincolla, frontman of 3TEETH, started the recording process for his band's latest record with a clear mindset: taking industrial music back to its roots. Still, METAWAR is more than a throwback. Its complex and aggressive execution drives home the band's questioning of modern social and political constructs. Influenced in concept by politically minded acts like Rage Against the Machine and MC5, 3TEETH's music takes a bold, unflinching approach to heavy electro-rock—imagine The Fever 333 mixed with Rammstein.
What stands out the most about3TEETH's album is that it isn't fueled entirely on aggressive rage. METAWAR makes heavy use of sequenced beats, samples and synthetic melodies, providing an experience as unpredictable as it is punishing.
METAWAR
3TEETH
Century Media Records, July 5
The dramatic chaos of "HYPERSTITION" leads into the album's ferocious opening track, "AFFLUENZA," a song that combines synth-tinged riffing on the melodic verses with the chorus's unrelenting aggressiveness. Vocally, Mincolla shows an expansive range. He occasionally shows a slight White Zombie influence with his guttural singing, but can scream on par with the industrial underground. The second track, "EXXXIT," churns out frenetic industrial rhythms that recall vintage Nine Inch Nails.
Ever since Mincolla and keyboardist Xavier Swafford started 3TEETH in Los Angeles, the combination of musical, visual and performance art found in metal-influenced industrial music has remained central. METAWAR essentially takes everything about this concept even farther.
Sonically, 3TEETH leave no stone unturned and no musical space unfilled. The band's wall of sound is massive, with chugging guitars, pounding drumming and electronic flourishes tied together by Mincolla's effusive vocals. From a political standpoint, the band doesn't take a bent to the left or right, but rather serves scathing contempt at all sides and offers a challenging perspective of the downfall of modern society.
That message comes through most boldly on the surging "AMERICAN LANDFILL" and "PRESIDENT X"—the latter of which has the executive branch of government in in its cross hairs, as opposed to attacking the current administration. Such a lofty, yet intense mindset is informed by influences like Tool, Sepultura and Deftones. The nihilistic outlook goes hand and hand with 3TEETH'S punishing sound.
The spacey, atmospheric pulse of "ALTAER" provides a solid counter to the unrelenting cuts. It becomes a more thoughtful soundtrack to the future 3TEETH foresees—an dystopian industrial assembly line of mass production. Mid-tempo rocker "TIME SLAVE" even provides a surprising melodic component, supplanted by Mincolla's ferocious growls. The band's down-tuned riffing packs a razor-sharp viciousness without losing clarity and becoming a muddy dirge. This is how "BORNLESS" becomes an earworm within its brutal template. Mincolla's aggressive vocal performance calls Hellyeah's Chad Gray to mind with its balance of accessibility and savagery.
The dramatic textures of "Surrender" provide one of METAWAR's more experimental surprises. It manages to incorporate an undercurrent of electro-pop loops into an eclectic, energetic performance. The pulsing "SELL YOUR FACE 2.0" presents a scorching Marilyn-Manson-meets-Deftones stew of minor-key eeriness fleshed out with soaring synth leads, a sound that reappears in "BLACKOUT" and "THE FALL."
The band saves the biggest surprise for last: a well-executed industrial metal take on Foster the People's "Pumped Up Kicks." If nothing else, this shows how willing these guys are to do whatever they want. Luckily, 3TEETH also do it well. These guys make a bold statement on METAWAR. This is an industrial metal band to be reckoned with, as this album proves with ample surprises and a fresh approach from the first listen and beyond.
Follow writer Mike DeWald at Twitter.com/mike_dewald.