ALBUM REVIEW: Altin Gün goes new wave on 'Yol'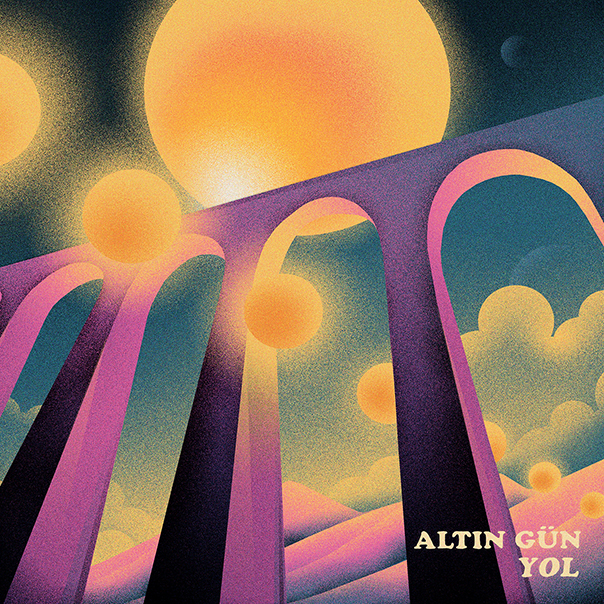 Altin Gün is an Amsterdam-based psychedelic rock band with funk and Turkish folk influences.
Yol
Altin Gün
ATO Records, Feb. 26
7/10
Usually that description wouldn't be required in a review of a band's third album. In this case it's necessary, because while the band is still from Amsterdam and the lyrics are still in Turkish, Yol does not begin as a psychedelic rock album. It starts off sounding more like The Cars in the early '80s than Altin Gün's 2019 Grammy-nominated sophomore album, Gece.
Eventually the band returns to its wheelhouse. It's just easy to be caught off-guard by the heavy use of synths and drum machines, let alone the digital new wave zaps and whoosh sound effects that pepper the tracks, right out the gate.
After a short intro, Yol jumps right into the new wave with "Ordunun Dereleri," which spends its first minute with synth over a drum machine… and that's it. The following track, "Bulunur Mu," has a poppy digital beat behind a surf-rock-inspired guitar riff and singer Merve Daşdemir's '80s-inspired vaguely staccato vocals.
"Hey Nari" is less new wave, but the clear influence is still the '80s. The synths bend toward a yacht rock meets "Miami Vice" vibe. Proper physical drumming also makes an appearance along with a decidedly psychedelic guitar solo that begins to hint at the band that fans expected to hear. Then, after that tease, the following track sounds like a lost deep cut from the Human League.
By "Kesik Çayir" the psychedelic grooves are officially starting to find their way back among the new sound. That's followed by a song that amounts to a nearly three-minute palate-cleansing interlude, and we're thrown right back into the funky bass lines and late '60s meandering guitar playing that was the hallmark of Gece with "Kara Toprak."
"Sevda Olmasaydi" brings it all the way back home, mixing a full-blown psychedelic groove with distinctly Turkish bağlama jams at the chorus. There are still synths and possibly a theremin in the mix, but it's the closest that Altin Gün comes to its debut album in terms of sound. Accordingly, it's the highlight of Yol, and where the band seems most comfortable.
That same vibe—synths supplementing but not replacing the signature Altin Gün sound—carries the album through the next two tracks, before Yol closes out with the thematic conclusion of the arc begun with the intro and interlude. Those final songs cement an impressive evolution of the band to incorporate even more genres beyond the handful it fused from the start.
Altin Gün wrote and recorded Yol in quarantine. For a band that thrives in live shows and operates in part like a jam band, the lack of synchronicity of operating primarily off email was bound to somewhat change the result. The extreme shift to synth-pop, however, is a lot to handle all at once. The band's newfound ability and desire to incorporate Europop sounds and concepts into the formula it's been refining for years bodes well for its future pursuits and evolution. It will be interesting to see how Altin Gün incorporates a very different set of instruments into its live shows and whether that sound will leak into older material.
For now, though, half of Yol is the next phase of the band's development, and the other half is a time machine to when Magnum was Tom Selleck and MacGyver was Richard Dean Anderson. Both halves are solid and combine surprisingly well. But Altin Gün isn't as good at being a new wave band as it is at being Altin Gün, so one of those halves is decidedly better.
Follow editor Daniel J. Willis at Twitter.com/BayAreaData.