REVIEW: Ani DiFranco looks for answers and new kind of 'Revolutionary Love'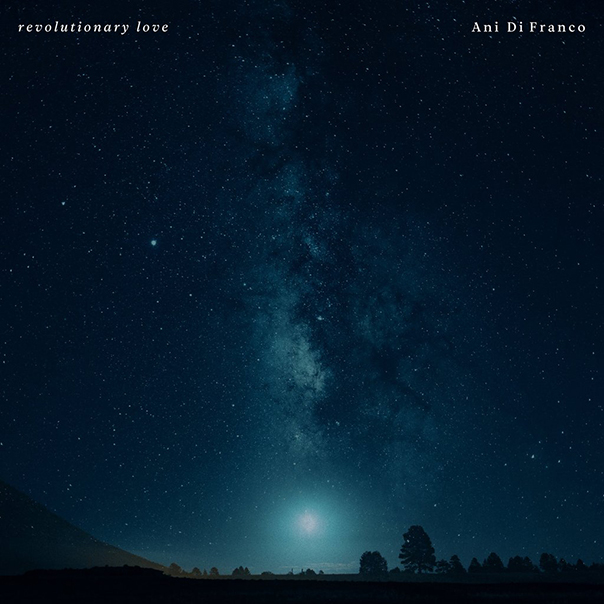 It is not hard to relate to what's been on Ani DiFranco's mind the last year that inspired Revolutionary Love. The veteran artist and activist found herself, like so many others, stuck in isolation with shows and other events halted. But for DiFranco, isolation instigated a creative burst to record an album with songs she'd begun writing just weeks earlier, before the severity of the pandemic really set in.
Revolutionary Love
Ani DiFranco
Righteous Babe, Jan. 29
7/10
Recorded almost entirely over two days at producer Brad Cook's studio, the album is her take on 2020. Released independently, her 22nd studio release is heavily inspired by Valarie Kaur's memoir, "See No Stranger." Kaur's work is a piece on revolutionary love, which Ani DiFranco called "a radical and joyful practice to heal ourselves and transform the world around us." DiFranco said this spoke to her own mission. Throughout the album, she grows by centering herself and making love the driving force for social change. She questions her identity and begs you to do the same.
The title track, a seven-minute guitar ballad used as her initial call to action, opens the album. Despite desiring drastic social changes, the song remains down to earth. Here, DiFranco sets us up to understand her message, a tone that dominates the entire record. She's taking care of herself and is a creator of change. To her, revolution is not loud, but a powerful and transformative process. "I will ask you questions/ I will try to understand/ And if you give me your story/ I will hold it in my hands," she sings. She's not spiteful, and she does not have time to be.
The album progresses with a sprinkling of jazz, pop and funk, alongside guitar interludes and DiFranco's smooth vocals. The references to the increasingly toxic political climate are abundant.
"When they go low, we go high," she sings on "Contagious," a direct flashback to Michelle Obama's 2016 DNC speech. And on mid-tempo jazz- and Latin-tinged tune "Do or Die," the album's lead single written just pre-pandemic, she throws a jab directly at Donald Trump and his supporters: "And right there on Pennsylvania Avenue, the sheetless KKK."
Midway through, on "Station Identification," DiFranco pulls back completely. A twinkling, fantastical opening progresses into an array of instruments and beats playing alongside and over one another. Nearly two-thirds of the way through the song, the sole lyric begins to echo: "I have a dream/ And you have a dream/ Why are we fighting each other?/ We should be working together." She's spent the album laying out why we need a new kind of love, but here she lets us make up our own story.
Directly following is "Shrinking Violet," which is slow, sweet and perhaps the most personal song on the album. Ani DiFranco professes she's afraid and struggling to regain the power she let others have over her.
"Yes I sleep with one eye open/ And hold my breath 'til dawn/ Yes I'm no shrinking violet/ But I got my head strong," she sings on the metaphoric, poetic piece.
How fitting for DiFranco's album to drop just a week after the United States undergoes yet another drastic political shift, one where the outcomes have yet to be felt. Change is all that can be predicted. DiFranco conjures her own stories and dreams for this change, full of reflection, hope and camaraderie.
Follow Domenic Strazzabosco at Twitter.com/domenicstrazz and Instagram.com/domenicstrazz.