ALBUM REVIEW: Anne-Marie pops off and dances her way through 'Therapy'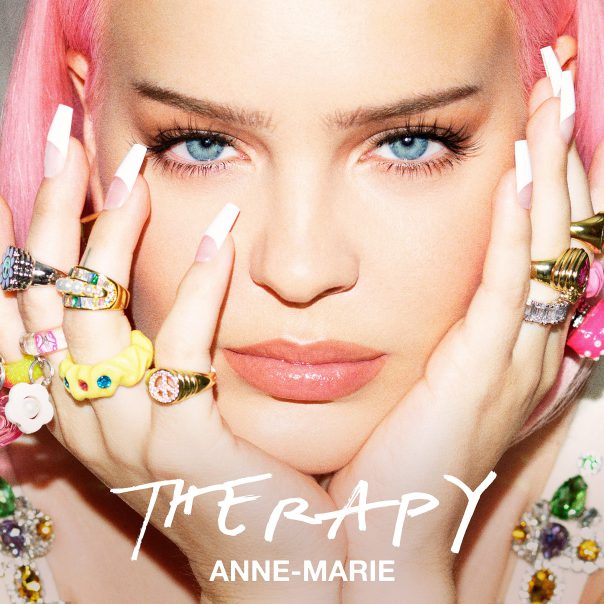 Over three years after her international breakthrough with debut album Speak Your Mind, British pop star Anne-Marie Rose Nicholson (who goes by Anne-Marie) is back with her sophomore effort, Therapy. Following in the vein of the hyper and upbeat dance-pop tracks that launched previous singles like "Friends" and "2002" to worldwide popularity, her new album features an array of collaborations with, primarily, famous British singers, rappers and producers.
Therapy
Anne-Marie
Major Tom's/Asylum, July 23
6/10
Similar to other pop stars like Bebe Rexha or Zara Larsson with her style of music and pastel hair colors, Anne-Marie has a passion for obsessive pop, upbeat hooks and repetitive choruses. There's nothing wrong with the style, but it becomes clear as the album progresses that Anne-Marie hasn't quite found a production or writing style that really distinguishes her from her contemporaries. Though each individual track tends to work fine on its own, when strung together and listened to in full, the intense beats and not particularly personal lyrics begin to feel less worthwhile.
In 2020's pop terms, this sophomore project is no Future Nostalgia, Dua Lipa's record that's still dominating charts around the world year later, after her start a few years before doing major collaborations with DJs like Calvin Harris and Martin Garrix.
She kicked off promotion for the album with "Don't Play," an upbeat, pop-oriented track where the beats and feels hit deeply and differently. On the collaboration with rapper KSI and DJ-producer Digital Farm Animals, the three work together to create a lead single worthy of nightclubs and further remixes. Anne-Marie and KSI's voices work well with one another's, both supported by the deep beats and accented with lighter keyboards and slight vocal distortion to close the song out.
"Every game you're playin'/ Yeah, boy, I've played them all before/ And I win them all," she sings, chuckling slightly. She knows her voice and style work for dance-pop and is on that grind, full steam ahead.
There are several other collaborations on the project. "Way Too Long," with Nathan Dawe and rapper MoStack, is about the memories of a love that's nothing more than flashbacks in the back of a car. MoStack's delivery is strong, though he makes a very mainstream reference to Cardi B, who seems to have worked her way into most radio-friendly rap collaborations.
"Kiss My (Uh-Oh)," a duet with British group Little Mix, is riddled with clichés and production so hyper that it becomes exhausting. The repetitive "you can kiss my (uh-oh)" hook is so simple that it's frustrating. It would've been far less irritating if they'd actually just sung "ass," but ultimately, the beat blending and vocalizing sounds are juvenile. In fact, it's not too dissimilar from Little Mix's discography, which for years has strived for an international mega-hit that has yet to happen.
Duet "Our Song," with Niall Horan, starts with his verse, sounding very reminiscent of his time in One Direction. Fans of the former boy band phenomenon will find nostalgia in it. The video features the two on the run from the police, donning a tweed jacket and pastels. The crime? A bit unclear, but they look good, regardless.
"Beautiful" is one of the better tracks on the album, though it tends to ask questions we've all heard from pop music before. Anne-Marie's voice sounds fluid over the track with more low-key—though still bopping—beats and lyrics of insecurities and overcoming body dysmorphia. The end features young, feminine voices singing the hook. This could easily come off as cheesy, but is also never something young girls shouldn't hear. "Who I Am" is another anthemic self-love track. "Don't need anyone to understand/ If you don't like it I don't give a damn," Anne-Marie sings before a carefree "sorry," to end the track. "All my nails; chewed up/ All my credit; screwed up," she sings. This one is pretty fun.
The title track closes out the album where. The pop star blames herself for pursuing more love, kisses and tattoos before actually going to therapy. But by this point in the album, it becomes clears clear her real therapy is pop music. And if you listened to the entirely of Therapy, it's likely yours as well.
Follow Domenic Strazzabosco at Twitter.com/domenicstrazz and Instagram.com/domenicstrazz.