ALBUM REVIEW: Aseethe depict damned epochs on 'Throes'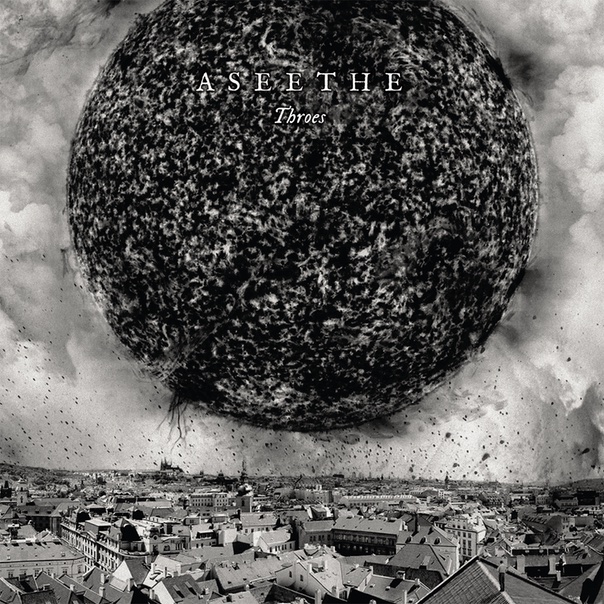 Within the isolated DIY metal and punk music communities of Iowa, Aseethe has championed leveling riffs, nuanced ambiance and conscientious themes since 2007. What started as a solo project for guitarist-singer Brian Barr is now a power trio with drummer Eric Diercks and bassist Noah Koester. Like contemporaries Thou and Primitive Man, these guys take a more thoughtful approach to the nihilistic brutality. After the introspective despair of 2017's Hopes of Failure, Throes takes a rageful turn. Aseethe's visceral doom metal observes a ruined world from the enclosed perspective in Iowa City.
Throes
Aseethe
Thrill Jockey Records, May 17
Though Barr wrote most of the album, the chemistry between him, Koester and Diercks is evident. The massive, dissonant chords and bombshell drumming are as tight as they are sluggish on the title track. While maintaining doom metal's repetitive nature, tactful sonic developments emerge from the slow-motion chaos.
Barr's guttural growls and Koester's Khanate-esque shrieks interweave and stack over gargantuan instruments as they juggle memorable motifs and suffocating volume worship. The song's midpoint welcomes a chilling tremolo melody, before the central riff bulldozes everything in its path. The trio slows the riff with every pass, plunging deeper into the sludge metal swamp. This balance of heaviness and dynamism provides ample room for Aseethe's musical and destructive sides.
Coming in at almost half the runtime of "Throes," "No Realm" provides a vital tempo boost without losing weight and impact. A nimble guitar lick soon acquires a groovy beat, only to drop into a stomping fight riff. "Take the pill/ Nothing dictator/ Struggling existence/ Inhospitable direction/ The prescription/ Is death," Barr roars, sounding like a barbaric prophet of doom as the band seamlessly switches time signatures. Aseethe's despondent viscera paints a picture of a dying world, made strikingly vivid by esoteric lyrics and dynamic arrangements. The trio's accomplishment is only possible through a keen sense of intensity and taste.
Throes makes good use of Aseethe's drone music component, as spotlighted on the ambient "Suffocating Burden." Mike Boyd adds additional layers of noise to the expansive soundscape, deepening a non-melodic, texture-based ocean. The band's attention to minutiae is impressive, but the way it incorporates those details into an earth-shattering doom album is where it really sets itself apart. If the guitar line and cymbal swells of "To Victory" represent the lonesome fields of Iowa, then the pulverizing downbeat represents an asteroid colliding with those fields.
After such a cathartic drop, Aseethe continues hacking away with punishing syncopation and barbaric riffing. Diercks's drumming provides a constant sense of movement, even within this slow-moving environment. While far away from any traditional song structure, the band organizes blunt force trauma and atmospheric resonance to a terrific affect. The emotional resonance of the low and high screams captures the hollow triumphs in a world devoid of meaning, as Barr's inventive chords commingle with Koester's subterranean bass tone.
Closing track "Our Worth Is the New Measure" lands Throes in its namesake. The pain is a gateway into striking expression when taking on the vile nature of this world. "The blind/ Obtuse/ The hoarders of wealth/ The loud/ The blessed/ Will have their regrets," Koester and Barr's imprecatory venom leads the music from catchy progressions into brown-noise battery. The dissonance reaches critical mass, collapsing into cavernous band hits that that drone on into oblivion. It's a fitting ending for an album's worth of apocalyptic diatribe.
For such a doom-and-gloom outing, Aseethe isn't just a sulking harbinger. Throes is as savage and heavy as one would expect from these doom metal veterans, but the album's soundscapes develop with purpose and relevance. It's a bit redundant to say a doom album sounds like the end of the world, but it's hard not to stare our crumbling civilization in the face when confronted with such an urgent dirge.
Follow editor Max Heilman at Twitter.com/madmaxx1995 and Instagram.com/maxlikessound.